EVERY WEEK MM COVERS THE INSTRUMENT SCENE.
THIS WEEK: ROD DE'ATH TALKS ABOUT DRUMMING
Sound check
Down in the sticks
by Brian Harrigan
ROD DE'ATH, despite his pipe cleaner-thin limbs and overall diminutive frame, is a powerful drummer. Maybe it's playing with bluesmaster Rory Gallagher that makes him draw on some fount of inner strength.
But wherever he gets it from, de' Ath seemingly has the strength of ten men.
And he needs it, with Gallagher being prone to playing two-hour sets in the most remarkable conditions. Take one of de'Ath's first gigs with Gallagher about four years ago in Louisville, Kentucky. .
The guy who owned the place packed so many people in that, with it being the middle of summer, the whole audience had their shirts off. It was like a sauna. But we played the gig and we did an average length set ľover an hour -and then we just couldn't take it.
" We finished off with 'Bullfrog Blues' and I collapsed. I just fell straight through the cymbals."
During that gig, de'Ath was playing his faithful old Slingerland outfit which dates back to about 1960. But recently he's switched to CBS/ Arbiter's new Autotune kits which have been featured in Melody Maker recently.
Arbiter rang me up last year about the Autotunes and I got them to bring over a set so that I could try them out during a sound check. I'm using them now -the first real outing was on our last album Calling Card and I've been playing them ever since.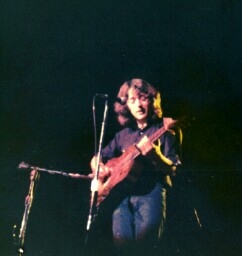 "I was a bit put off by them at first, because they're fiberglass and I was definitely a wood man - the Slingerland kit was made of lovely old wood - because I never could stand plastic drums.
"We were doing a Don Kirshner in the States a while back and I was using their studio outfit, a green and white see-through Ludwig thing. Lou Martin's Leslie fell right on top of the bass drum and it just squished flat. No strength in it at all."
De' Ath uses a straightforward Autotune kit with a 22 inch bass, 12- and 13-inch hanging toms and a 16-inch floor tom, plus a 14-inch snare.
" The interesting thing about them is that though you have a 12-inch head on your tom the shell is actually 13 inches. That's simply because of the basic engineering principle behind the Autotune.
" Arbiter explains it by saying the head is like the top of a jam jar and the shell like the jar itself. As you screw the top down onto the shell it changes the tension of the skin and therefore the tone of the drums.
They're really strange kits as far as looks are concerned, with them not having tension rods or nut boxes, but that's easily gotten over. And you can change a skin on them in about 30 seconds.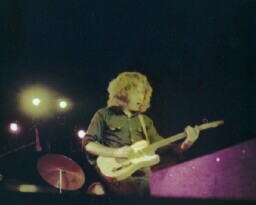 " I'm glad they've been developed because really it was about time someone did something new for drums. They've been the same for hundreds of years. But of course the thing I really like about them is the sound and anyway they're strong, heavy drums, which is handy since I'm no featherweight drummer. I'm a bit of a thumper, so they have to take some stick.
" And speaking of sticks, I use quite big ones. I get them made for me. I used to use Gretsch 35 sticks, but they stopped producing them.
" For cymbals, I use Paiste. I used to play Zildjians, but for my own personal taste, I simply prefer Paiste. They seem to have a much purer sound."
As far as musical taste is concerned, de' Ath professes similar likings to Gallagher. " That's certainly true as far as blues and rock and roll is concerned and my record collection is mainly blues. But I also like bands such as Poco or ZZ Top.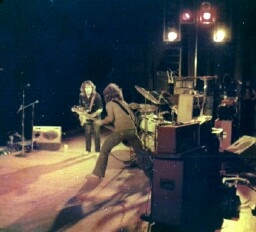 " Blues is what I enjoy playing mostly. It isn't difficult to play from a technical point of view. I mean, a shuffle is something almost anyone can do.
But a lot of drummers get bored playing blues. They think it isn't demanding and sure, anyone can play it technically well, but not everyone can do it with the right feeling.
"Drumming is back-line job unless you're someone like Billy Cobham or Elvin Jones. But the young ones don't see it that way and keep on cluttering things up with unnecessary fills and stuff. After a while, though, you learn to play what's needed.
"A drummer must have a sympathy for the other musicians and it helps if you can play another instrument anyway. I piddle around on piano a bit. I took lessons, on my father's advise, until I was about 12 and annoyed at myself for not having carried on. My father was a pianist and I got my first gig with his triad jazz band when I was 16. His regular drummer had a heart attack and died in the middle of the summer season. Very inconvenient thing to do! My father got me to dep in the band using his own standby kit - an old white thing.
"He sat me down and explained what a waltz was and how to play a quick-step, and I did the gig.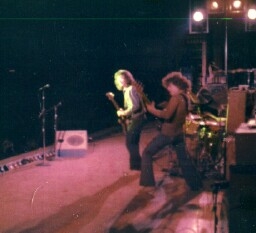 "That first gig wasn't as bad as the first with Rory, though. Wilgar Campbell had been taken ill and I got a call from Rory to take the first plane from London to Cork. I got there with about a minute to spare and I didn't know any of Rory's numbers. So I'm in the dressing room changing my trousers and Rory saying " I'll signal when this number's coming to an end and I'll stamp my foot when this one's starting. We rushed out on stage and I jumped behind this totally strange kit. Then I looked up - straight into a TV camera. They still show it every now and then. I wasn't too bad either!"

---
This one comes from the Nov.20, 1976 issue of Melody Maker
Thanks to Lotte Lieb Dula for sending the article and photos
All photos by Lotte from the Shrine Auditorium Los Angeles Nov.23, 1974*
reformatted by roryfan
148