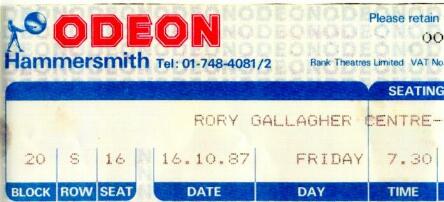 Caught in the Act
review by Harry Doherty
Rory Gallagher's return to London, with two shows at the Hammersmith Odeon at the weekend, emphasized the sway the eternally youthful Irish guitarist holds over his fans. Gallagher came, not having released an album in almost two years, saw an expectant audience and pulverized them with a set of brutal hard rock 'n' blues.
Gallagher's trick is, of course, that he transcends all trends. It is hip to dig Gallagher, the Sex Pistols and Led Zeppelin and still keep our friends.
Not much has changed since Rory last played London. The set is practically the same, apart from two new songs from his forthcoming, but yet unfinished studio album, and although it was a bit on the long side – clocking in at nearly two-and-a-half hours – it was enough to send the kids home happy.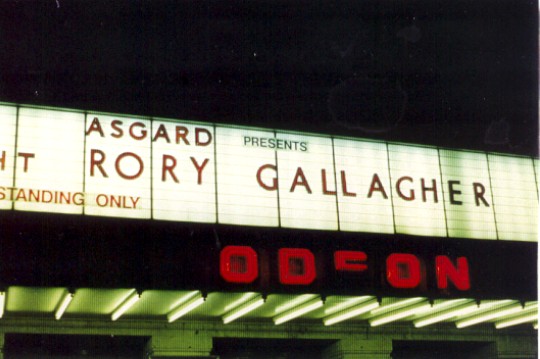 Friday night, however, looked to be a disaster for Gallagher and his fine band – Gerry McAvoy (bass), Lou Martin (keyboard) and Rod De'Ath (drums). The first part of the set was hampered by an abysmal mix and an irritating buzz. We had the drums of De'Ath far too high and Gallagher's playing sunk to an almost backing sound.
Having a good memory for what the songs should sound like, the audience got off on Rory's traditional enthusiasm, but with the boy apparently playing better than ever on this tour, it was a pity the mix didn't allow for this London audience to hear his progress. During this particularly bumpy sound night, Rory played one new number, "Feels Like a Fire", a taunting, atmospheric song ("Pink-Floydish," Gerry McAvoy later joked) and the obvious subtleties of the number disappeared so we never got the full effect.
("Feels Like a Fire!! don't blame me!! rf)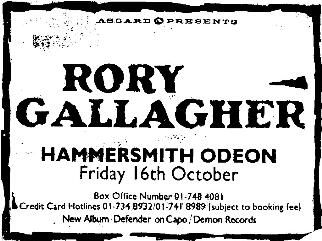 It was after Rory's enjoyable acoustic set that the sound sorted itself out, and that was when the place really erupted. He played another new one, 'Brute Force and Ignorance," which sounded like another departure, chugging delectably along, again with the impact neatly hidden. From then on in, Gallagher boogied to his heart's content and left the Odeon in ruins.
When you get an artist as totally frank and direct as Gallagher, it's hard to fault him. He gives a good time and everybody has a little space in their soul for that.
-----------------------------------------------------------------------------------------------------------------------------
From Melody Maker 5/6/78
Thanks to Lotte Lieb Dula for sharing the article
Photos from John Wainwright
reformatted by roryfan

170