JOHN PERRY'S FRETWORK
RORY GALLAGHER
He's played with Jerry Lee Lewis, Muddy Waters and Albert King; he's rated by the press, Segovia and U2,
and now Rory reveals his favourite riffs to John Perry
Of the great flowering of British Blues guitarists that occurred in the 60s, relatively few have survived in a good playing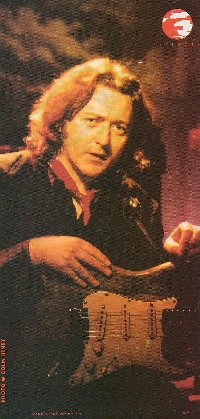 condition. Clapton has built a second career that owes little to Blues, Page is inscrutable, Beck is as eccentric as ever and can still delight the ear with his surprises, and the great Peter Green is lost, sadly, to all intents. Mick Taylor crops up sometimes on Dylan LP's or on Keith's new album and shows he still has a lovely fluid touch.
Although there were other guitarists who played well, such as Sammy Mitchell, the only name that is well known and missing from the above list is Rory Gallagher.
Anybody who saw the three piece, Taste, during the late Sixties was left in no doubt that there was another young guitarist who deserved to be included in the First Division.
When Rory first appeared to an English audience his formula was perfect for the times. Blues based songs with melodies instead of constant 12 bars, an uncluttered 3 piece line up, a fierce, fast attacking style, and a memorable searing tone which came from a battered sunburst 61 Strat, an AC30 and a Rangemaster treble booster.
Right to this day it is a similar mix of ingredients that keeps Gallagher playing to a large, appreciative audience, but his roots are firmly in the Blues - he has done albums with many of the original US players - and a love of vintage Dylan, which shows in his songwriting.
Rory was born in Cork on the West coast of Ireland and got an acoustic guitar at nine. At 12, he decided to get a Rosetti Solid 7 electric, and at 15 he was playing in that great staple of the Irish scene, the showband. With the Fontana Showband he was playing "everything from Jim Reeves to Chuck Berry" and forcing in as much 'borderline' R&B as he could.
The next step was to the port of Hamburg, which was still rocking in the wake of The Beatles and was the breeding ground of many good bands, such as Spooky Tooth, and guitarists like Blackmore. With the bassist and drummer from the showband Rory found himself free to play Blues and R&B with no restrictions, and also free of any record company control - they owned their equipment and van, and answered to nobody.
Next came Belfast which had an R&B scene centered around Van Morrison and Them, then it was over to England for residencies at The Marquee and dates at the festivals which were then just starting to appear.
It didn't take long for managers and A&R men to spot Rory's potential and Robert Stigwood became involved. The first album was done for Polydor and Taste went off to tour the States opening for Stigwood's main act, Blind Faith. Gallagher was still just 21.
We started talking about the guitarists and songwriters who had influenced Rory. Obviously he has a good knowledge of the Blues going back to Charley Patton and on thru' Robert Johnson and into the Fifties of Muddy and Howlin' Wolf, but he was keen to dissociate himself from what he described as 'The Blue Horizon School'.
"While I don't want to knock them, cos they did some good stuff, it was all a little bit academic, a bit too purist and inbred, it could never have led anywhere."
"Other than the Blues players, I liked Dylan a lot. The Albert Hall - which you know was actually the Liverpool gig - bootleg is one of the great pieces… CBS recorded that Liverpool gig and put out one track as a B side, they still have the rest of the show, but they won't put it out."
This is rightly deemed one of the all time great live recordings; at the end of an exhausting world tour Dylan is operating on one hundred per cent pure venom, with audience slow hand claps and cries of Judas for turning electric goading him and the Band to greater heights.
"I love what Robbie Robertson is doing on that record, that great Telecaster sound. On

Highway 61

and

Blonde on Blonde

you have Robbie, Mike Bloomfield - with one of the new Guild amps, distant miked - Joe South, Wayne Moss all playing great stuff. If I've one unfulfilled ambition it's to play with Dylan, but with a Dylan doing songs like that, not like Infidels or the current stuff… and of course that's not possible."
Robbie Robertson and Rory are two of the greatest exponents of fake or pinched harmonics, produced by touching the string with your finger next to the pick, and I wondered whether this was conscious.
"No, I think I just started doing it, and of course that set up, the Rangemaster treble boost and the Strat was perfect for generating those harmonics. I don't claim credit for it, but I have been doing it a long time."
There were no 5 way switches in those days, you just jammed the selector between back and middle. Rory has his guitars set up with the neck slightly pulled back from the body. This set up with large frets gives more sustain, more fluidity, and also helps with playing bottleneck which Rory does both on regular and open tuned guitars.
Rory uses both open G and open D, but tunes up to A or E for electric guitars.


He also uses DADGAD, (which John Martyn described in these columns) a common folk tuning probably originated by Davy Graham or Martin Carthy, who along with Bert Jansch are favourites with Rory.
"I like the way John Lee Hooker and Lightnin' Hopkins use open tuning, I also like some of what Keith does, take the intro to All Down The Line (Fig.1), that is neat. These (figs 2, 3, & 4) are some of the chords I use on open G.
"I have the action up quite high, but I've seen guitars used by say, Waylon Jennings for Country, which have an action so low you get that distinctive slapping, fretty, sound."
"I still have a Burns NuSonic I use for bottleneck there's also tunings like Skip Jame's (I'm So Glad) E minor tuning which, from the bottom goes EBEGBE. Stephan Grossman used that. If you play I'm So Glad on it, it comes out very different from Cream's version."
"I keep the 6th string on for open G, and use my thumb for some of the bass notes on the 5th and 6th strings (mostly on 2nd and 3rd frets)."
"Albert King has a special E Minor Sixth tuning - I did some recording with Albert, he was using a Flying V and really hammers the strings. He used it with the pickups out of phase for a long time before people started fitting switches for that purpose."
"I still use an AC30 with treble booster, plug into the Normal channel, I also have a 100W Marshall with 4 by 12 and a 50W Marshall combo. The Vox counteracts the harshness of the Marshall sound."
Currently recording for Demon Records Rory has made a total of 13 albums on his own, plus LPs with Albert King, Jerry Lee Lewis, Muddy Waters and Freddy King.
"You know, I don't use especially light strings, but I remember when they were hard to get. Joe Brown says it was Eddie Cochran who introduced to Britain the idea of light stringing, with a plain third and a banjo string top, when Cochran toured here in the Fifties."
"Other guitar players I like are Hubert Sumlin, who played in Howlin' Wolf's band, and of course I grew up hearing Leadbelly and Bukka White on American Forces Network radio."
On his current album,

Defender

, Rory used the sunburst Strat already mentioned, and another 57 maple neck Strat, again with large frets, "I prefer the Rosewood neck."
He also uses a Telecaster, a Martin D35 acoustic and a National Steel. A Gibson Melody Maker is used for bottleneck.
Rory's tone is still that distinctive 'biting' tone from Taste, though of course it's recorded in a contemporary manner. It is the tone of the guitar which dominates the album and the live shows, the tone plus a nice melodic approach to the Blues-based structures of the songs.
"I play to a cross section of a crowd these days. There are some guitar fans there, some people who've followed my whole career, some CD smartset, a real mixture."
Both

Defender

and the preceding album,

Jinx

, are recommended to anyone who doesn't know Rory's work. Listen to the slow Bluesy song,

Easy Come Easy Go

, for a good idea of Rory's haunting tone, or any of the up tempo songs on

Defender

for an idea of what to expect in concert.
And remember Rory is one of the very few players from that great school of British guitarists who you can still see playing good hard Rock.


John Perry
---
Written by John Perry for

International Musician & Recording World

- February 1989
Many thanks to Brenda O'Brien for sharing & preparing this article!
reformatted by roryfan

314

added January 8, 2006