Rory Gallagher
by Jan de Rooij

Rory Gallagher, formerly of Taste, recently made his appearance at the Amsterdam Concert Hall. That was December if I'm not mistaken. A few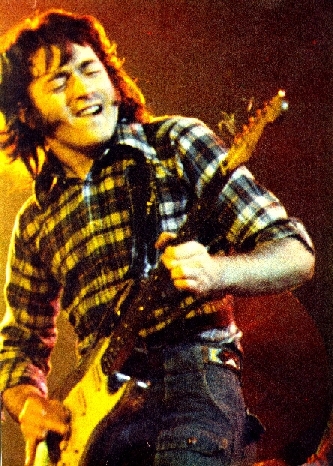 months earlier he was seen on the TV show, "VARA-POPGALA". Despite these appearances and his five released albums, he isn't well known in our country. The music he brings: heavy blues with Rory on guitar, harp, mandolin, and sometimes saxophone, is part of the reason for this. In short, guys and sweet ladies, it's music those who loves a modern sound, are wild about guitar music and those who need a shot of special mood in their music.

Music, therefore for those that love straight forward music.

Rory tries to play as direct as possible. And that feels very pleasant. Most the guitarists play with a fuzz-box and other complicated equipment to let the chords run into each other. This is not Rory's style. He tries rather, to use both with his fingers and the plectrum to pick the strings. On his records/albums, Rory doesn't experiment too much either. Pop music in the sense that the sound is skimmed, that studio equipment is applied to create a sound as "nicely" as possible, that highest degree of musical perfection is pursued and that all strong emotions that stand out to the ear are repressed, you won't find with Rory Gallagher. A complete relief.



Rory Gallagher was born in 1949, in Ballyshannon, Ireland, but moved in his fourth or fifth year to Cork, where, as a small child, he played on his little plastic Woolworth's guitar, songs of Gene Autry and Roy Rogers. On his ninth birthday, he got his first acoustic guitar. Rory Gallagher "I played on pathfinders and school meetings, especially songs of Lonnie Donegan and gospel material. Through Donegan, I came to the music of Buddy Holly and Steve Cochran (Eddie?). A little later, I became an admirer of Chuck Berry. Rock, skiffle and folk, that was about it. In fact I listened to everything I could lay my hands on. Records were, in fact, terribly scarce at that time. As a result, I heard blues guys like Jimmy Reed, John Lee Hooker and Buddy Guy very late. The advantage, however, was that I already had formed my own style. Therefore I wasn't overly influenced by them."

For Rory, at that time, there wasn't yet a place in the Irish pop scene. There was hardly talk of a scene. There were, however, a few bands. But they could be counted on the fingers of one hand. Rory joined one such band, called The Impact, when he was fifteen. He played with that band for 2 1/2 years and toured Spain, along other countries. Their repertoire was not that extensive. Top twenty-hits and the numbers by Jim Reeves and the Clancy Brothers. When the showband - a type of entertainment orchestra - fell apart, Rory, with the bass player and the drummer left for Hamburg in an imitation of the Beatles to find his luck. They didn't have much success there and after a couple months they returned to Cork. With a couple of boys from the formation of the Axels, a half year later Rory formed the first Taste. With that he went back to Hamburg. Germany kept pulling him back.



Rory Gallagher: "I have had a marvelous time there. In the evening, we played five sets of about 45 minutes. Saturday we even did seven sets. Hard work, though I've never found that a problem. Presently I play two hours to a show. Everybody thinks that's very long, but it is just what one's gotten used to. I wouldn't mind playing longer. Whenever possible, I go to a club to jam after a concert. Playing is the absolute end for me."



In the summer of 1968, the first version of Taste broke up. A couple of months later, Rory formed the second and last Taste. Richard McCracken became the bass player and John Wilson the drummer. Those three left for London, where, after an audition they were offered a contract by Polydor. In the second Taste period, which lasted to November 1970, four albums have appeared: Taste (1968), On The Boards (1969) Taste Live (1970) and Taste- Live At The Isle of Wight (1970).

The group split up because of personal difficulties between Rory and his two accompanists.

Gallagher: "We no longer got along well with each other. Some wanted a manager and others didn't. And then there was still the problem that Richard and John wanted the more jazzy direction, whereas I wanted to stick to the blues as much as possible. With Gerry McAvoy, the bass player from the group Deep Joy, and drummer, Wilgar Campbell,

(who was replaced by Rod de'Ath)

, I've started a new trio. I still play with these boys."



The first album from the new band, entitled Rory Gallagher , appeared beginning 1971 and contained perfect electric and acoustic blues tunes. Yet when you play it now, three years later, the record sounds once more as a loempia without sambal.(roughly meaning a sweet roll without hot sauce) Nice, however, still not yet seasoned enough. In November 1971, Rory's second album, Deuce, appeared. What is notable about those two albums is that there is little space left open for Gerry McAvoy and Wilgar Campbell. That fault has been corrected on the last two records, Blueprint and Tattoo.
Rory has even attracted the pianist, Lou Martin, for these albums who regularly performs solos and duels with him. The albums contain rock-hard, swinging, and, especially very direct r&b. Only Gallagher's voice (which has a too limited volume), doesn't excite me. His guitar technique, on the other hand, is fabulous. In the field of the rhythm & blues in the United Kingdom, there doesn't exists any better or any faster.

---
Awhile back, I bought a packet of clippings, most with no indication of where they came from. To complicate things, many of the clippings were in Dutch. Two fine Continental Ops (members of The Loop), who prefer to remain nameless, volunteered to translate the article to English. I did some rewordingand hopefully our collaborative efforts have ended up with an English version of the article that didn't alter the original too much in substance and tone.
From the March 1974 issue of

Pep

magazine.
~~~~~~~~~~~~~~~~~~~~~~~~~~~~~~~~~~~~~~~~~~~~~~~~~~~~~~~~~~~~~~~~~~~~~~~~~~~~~~~~~~~~~~~~~~~~~~~
photo from the article
reformatted by roryfan
277


added 12/19/04