IN YOUR TOWN - but not THIS week!
By the

Continental Op.


Jan. 05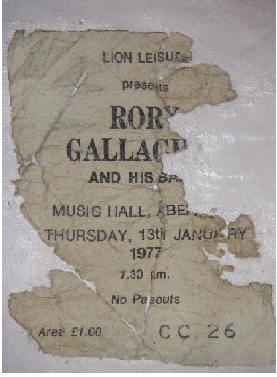 13th January 1977 and Aberdeen eagerly awaits the appearance of Rory Gallagher and Band after more than 3 years absence which had seen Rory touring, continually, as was his habit, all over the world. New fans have been regaled with stories of previous gigs, personal meetings, handshakes and autographs; set-lists have been recounted verbatim, new albums have been discussed and listened to repeatedly. Who are the personnel on this tour and what have the music papers said?
Aberdeen, seaport and administrative centre of Northeast Scotland was traditionally Rory's most northerly gig in the British Isles bar a fond-remembered appearance in Inverness in 1973. That tour had been the Blueprint album tour which had seen Rory at one of his career peaks soon after the 1972 Melody Maker award for 'best guitarist'. 3 albums had been released since Rory's 1973 visit to Northern Scotland; 'Tattoo', 'Against the Grain' and 'Calling Card'. The Music Hall, on Union Street, a massive grey granite building with a frontage of classical columns had seen that year the appearance of Led Zeppelin, David Bowie (at the height of 'Ziggy Stardust'), Jethro Tull, Status Quo, Groundhogs, Hawkwind and many others. Despite the northern location the city was fortunate with many of the mainstream bands of the 70s arriving to appreciative crowds.
As we approached the Music Hall that evening of 13th Jan 1977 something appeared different though; the gig, which as was later confirmed had almost sold out. The crowd had queued, as was usual, right round the block; but instead of appearing purposeful and facing in the direction of the entrance ready to enter the venue they were standing in huddles of 4 to 8 people and the main door was ominously shut. One enquiry was all that it took - Rory was stuck in Ireland and had tried to charter an aircraft but snow had prevented take off or there was some problem with landing at Aberdeen. The gig truck had arrived as was plain to see: a large white articulated lorry with parking permit in the small square behind the venue. All hope was given up and the army of sad fans dwindled and eventually left the area. The local newspapers reported the situation:
---
'Press and Journal'


14 Jan 1977

Pop-concert blow for Aberdeen fans

Hundreds of disappointed rock music fans were turned away from the Music Hall last night when they arrived for the Rory Gallagher concert.

The concert, which was almost a sellout, was canceled after Rory was stranded at Cork Airport, Ireland, due to weather conditions- but the news arrived too late to stop fans from turning out.

Oil worker, Mr. Alexander Tait (29), 23 Hillside Pitmedden, was very disappointed the concert was off. He saw Rory Gal in London. "These people will really be missing something by not seeing him, " he said.

Charlotte Bain (17) 61 Provost Barclay Drive, Stonehaven, a Civil Servant, was another disappointed fan, "I hope we get our money back", she said.

COMPENSATE

Third year biochemistry student, Sarah Meredith (21) Johnston Halls of Residence, Aberdeen said " I hope he agrees to do another concert."

Last night, Telemech manager, Mr. Allen Booth, organiser of the Aberdeen concert, was trying to arrange another one, but it was not yet certain whether it would come off.

Mr. Booth said Rory had made every effort to get to Aberdeen. He had hired a taxi from Cork to Dublin and chartered a pane there, but had been refused permission to take off.

"I cannot say for certain, but we hope to get the band here at the end of their Scottish tour. I will be provisionally booking the Music Hall tomorrow, but I cannot give a definite date until I have spoken to the promoter, " he said.

Mr. Booth added that last night's tickets would be valid for the new concert, if there was one. He could give no guarantee of anyone getting their money back until he had consulted the promoter.
---
'

Evening Express'


14 Jan 1977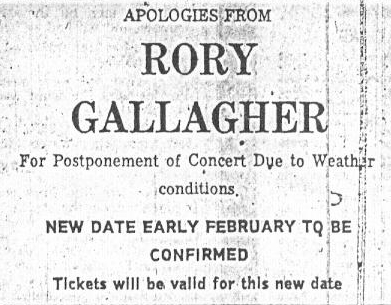 An apology is posted on behalf of Rory stating a new concert date early February 1977 is to be confirmed.
'Tickets will be valid'
---
'

Press and Journal'


14 Jan 1977

RORY BACK NEXT MONTH


Rock Guitarist Rory Gallagher, who failed to make it to Aberdeen last night for his concert at the Music hall is likely to return to the city early next month.
The concert, which was almost a sell-out, was canceled after Gallagher was stranded at Cork Airport in Ireland.
Mr. Alian Booth, manager of Telemech in Aberdeen, said the guitarist had made every effort to fly to Aberdeen, but weather conditions prevented his plane taking off.
Mr. Booth said ticket holders for last night's concert should hold on to their tickets, as they will be valid for the replacement date.
He added: "The wheels are in motion to get another date fixed up and we should have him back early next month."
And he certainly was; the date was rescheduled for 10 Feb. 1977. The papers again say it all:
---
'Press and Journal'


11 Feb. 1977

Gallagher has fans dancing in aisles
Four years ago, Rory Gallagher made a promise to return to Aberdeen
some day. At the Music Hall last night, the Irish rock guitarist fulfilled his pledge- and the capacity audience loved every one of the 150 minutes of gutsy, driving rock music.
Gallagher must be unique in that he has never attempted to elevate himself into the superstar status, but to the dedicated band of followers he has built up over the years, he is just that.
Nursing and cajoling his battered and worn guitar into producing sounds mere mortal guitarists can only dream of, Gallagher and his solid band tore into the music with incredible zest.
Over 10 hard years working in halls, universities and clubs have brought a finely polished edge to his music and the tracks from his latest album, "Calling Card" were a bit special.
"Moonchild" and "Can You Read Me" brought the fans to their feet and the remaining two hours were spent with everyone dancing in the aisles thoroughly enjoying the entertainment.

Gallagher's customary acoustic set midway through the evening served to prove that there is more to the man than bashing out notes on the electric guitar.

"On the Western Plain", a composition by the late American bluesman, Leadbelly, received a special ovation, and of course there couldn't be a Rory Gallagher gig without "Too Much Alcohol."

The raw power of Gallagher's music was demonstrated in his closing number "Bullfrog Blues" which also provided bassist Gerry McAvoy and drummer Rod de'Ath with a chance to show their versatility and talent with brief solo spots.

Finally, the clock was turned back a few years with a four number encore comprising mainly vintage Gallagher material like "Messin' with the Kid" and "Laundromat."

For sheer enjoyment, very few artists can match Gallagher's energy and skill- a feeling shared by the hundreds of fans who continued chants of "more' long after he and the band were cooling off in the dressing room.

Please....call back anytime, Rory. C.S.
---
'Evening Express'


11 Feb. 1977

'Nice one Rory!'
By John Linklater
After last night, Rory Gallagher hasn't a thing left to prove.
That he is the finest exponent of the blues/rock guitar to visit this city for some considerable time is beyond argument.
That he is the most healthy survivor of the late-sixties guitar superstar era is completely self-evident.
Rory Gallagher generated more excitement in his opening number last night than the rest of the gigs Aberdeen has seen this year put together.
Every number from his dazzling 150 minute set received what could have been described as an ecstatic standing ovation- had any of the full-house audience at the Music Hall ever been in their seats to begin with.
When music comes as unconditionally good as this, reviews are superfluous – what's the point of selecting moments out of a set that was one continuous highlight.
Worth recording are snapshot images; Rory with his head flung right back snapping out beautifully inventive riffs from the hip....Rory with one leg raised, the other on an imaginary rollerskate, propelling him across the stage... fans leaping in the air, arms raised to applaud each number and joining him on stage.
Anyhow, the rockstar/fan relationship doesn't apply to Rory Gallagher concerts.
The people who pack halls to see him are his mates – he grins and waves, enjoys them enjoying him, and springs forward to the front of the stage to shake hands between numbers.
Rory has been treading the circuit for ten years now, but he has energy and vitality to equal anything the 'new wave' has to offer.
Worthy of more than a mention were masters of interchange, bass Gerry MacAvoy, and keyboards Lou Martin. And kicking up a storm on drums was Rod de'Ath.
Let's just echo the delirious audience last night--- "Nice one, Rory."
---
My own recollections of this gig are those of the stage brightly lit in green with 'Edged in Blue' played over the PA at the start prior to Rory running on-stage 'machine-gunning' with the Strat. We had listened and enjoyed Calling Card for months and this album had been well-received so it was superb to get it direct from Rory. I recall, as stated in the press reports, a brilliant blast towards the end of the gig of 'Messin' with the Kid' and 'Laundromat'. Rory's return to Aberdeen within a month to do the gig was indeed a happy resolution following the acute disappointment of the unavoidable cancellation on 13 Jan 1977 and it says a great deal in endorsing Rory's reputation as an utterly decent person committed to his fans. As the 'Timeline' http://www.roryon.com/time.html created and maintained by Joachim Matz states, Rory returned to Aberdeen on 10 Feb. 1977 between a Leicester gig on 8 Feb. and an Ipswich gig on 12 Feb.; to return to Aberdeen from these locations requires a round trip of approximately 800 miles. Which other artist would have been so willing or committed to do this? Thanks again, Rory.
Refs;
Joachim Matz, 'Timeline' online; available at http://www.roryon.com/time.html
Aberdeen 'Press & Journal' and 'Evening Express' - and grateful thanks to Staff at Central Library, Aberdeen.
The 'Continental Op'
Jan 2005

---
"This article was written and compiled by "
The 'Continental Op'" after the "Op" found the ticket stub in an old wallet while cleaning out the attic. I'd like to pass along my thanks to Dave M for telling the story and for taking a good deal of time in rounding up the articles supplied to fill in the whole story. (original images processed by Kristy M and Brian R) "
reformatted by roryfan

279
added 1/9/05