Don't worry, you won't lose the Taste
RORY GALLAGHER:  no singles in Britain
WHAT'S HAPPENED to Taste?, asked a letter in Mailbag last week.  The letter went on to plead with the group to stay as they are and not give up the club circuit.
But Taste freaks have no need to worry.  The group is firmly planted in the club and college circuit, and apart from trips to the Continent, have no plans to give up the circuit.
"Sometimes you get exhausted, working night after night," says Rory Gallagher, guitarist and singer.  "But I would hate to retire to the country, and play a gig a week, a gig a month or a gig a year, like some bands."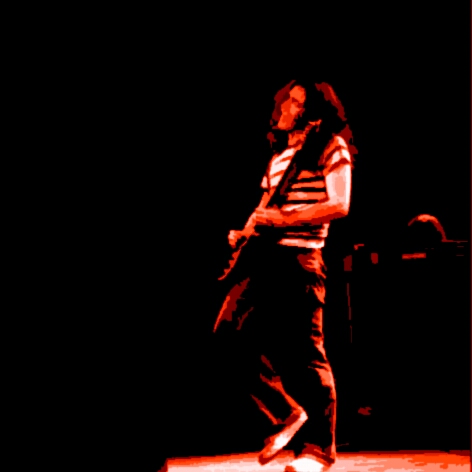 Richard McCracken, a tall quietly spoken Irishman, who plays bass, shares Rory's views.  "After a week or so you begin to wonder what to do with yourself, and look forward to the next gig."
Drummer John Wilson, an Irishman like the rest of the group, doesn't talk a lot, and made no comment about getting off the road, but he nodded his head and agreed with the other two.
With Free riding high a lot of groups with a similar style to them, like Taste, will be rushing out singles, hoping to get their share of the
rebound market.  Making their mothers proud as their son glares from the telly and their bank manager's smile as their accounts go sky high. 
But not Taste.
"We have never released a single in Britain, although our record company has released some in places like Germany.  But that scene is not ours."
"With Free riding high, people are bound to draw comparisons, but to be frank, I have no wish to share the chart with any of the groups in it.  The chart was at its best about ten years ago, when rock and roll was in its hey day," says Rory.
"With most top ten records, I can see all the ingredients:  One, two, three bang.  That's all you need and you're there," added Rory.
Taste have got their reputation the hard way.  When a group gets hardly any publicity, fame travels by word of mouth.  "We could do with more publicity I suppose.  But with a group like ours the publicity comes from people who have seen us live."
"They come to see a show, enjoy it and tell a friend or two, who come along the next time we play that area.  Then they tell a couple of friends each, and so it goes," explained Rory.
Taste are probably better known on the Continent than they are at home.
"We spend about half the time playing on the Continent, the other half playing this country.  But the Continent is much larger, of course, so it gives you more time to expand."
Being Irishmen, the troubles over the water in the old country are very close at heart.  "It's an ingrained problem, a very deep thing.  You can't just go over to Ireland and understand the problems in a week.  The problems are much more complex than the papers make them seem.
"But an answer has to be found," says Rory.
"You know the answers if you live there," said Richard.
Rory writes most of their material, although they use a few classic oldies.  "Most of my best ones come from ideas I get.  You might say something to me, which I turn around in my head.  And sometimes they come when I am playing my guitar, just strumming away you can get some great ideas."
"Also, of course you get ideas from other records, not that I steal from other people, but they come from being aware of what you are listening too."
Taste's last album was released in January.  Soon the group will be back in the studio recording a follow up.  "I have a few ideas to record, and we may do an oldie, if we feel it's good enough, but we'll wait and see.  I hope the album will be released in the autumn, but it might be later.  Better late and good than early and bad."
MARK PLUMMER
---
 from Melody Maker, August 1, 1970
Thanks to Brenda O'Brien for passing it along
artwork by John Wainwright
reformatted by roryfan
207