Rory Gallagher: The man from West Cork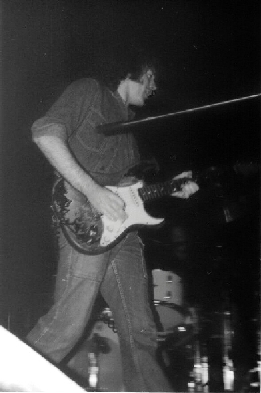 Rory Gallagher is the sort of person who would be stopped at the door trying to get into his own concert; his personal appeal depends firmly upon his insignificance. His is a remarkable musical success story, typical of the split between the music played on radio and television, and what pop audiences are glad to hear in the concert halls and on album.
One of the main barriers between Gallagher and the mass media is that he has never released a
" single ", and has no intention of ever doing so. His business is making albums, and it is a following built up from these that is currently selling out the halls on a 17-stop tour of Britain. This is all the more remarkable because in the autumn of 1970, it seemed his career was about to come to an abrupt end. He was the leader of a group called Taste, and their lifespan ended in bitter managerial wrangling and personality clashes.
I caught up with his current tour at the De Montfort Hall, Leicester, that monument to the Midlands middle classes, where the young promoter, Peter Bowyer, recalled: "When I first booked him out as plain Rory Gallagher with his band after the Taste business, I remember putting him into the Philharmonic Hall, Liverpool. He only sold 500 seats, which is 25 per cent of capacity, but when he came on stage he was incredible. It was like Rod Stewart."
Bowyer kept faith with him and gradually the audiences have built until this tour, in which the "full house" notices have been regular occurrences. Undoubtedly Gallagher does have charisma. The ultimate in musical anti-heroes, he still lives in a bed-sitter in Earls Court: " Yes, I must leave it, but I never seem to have the time to do anything about it!"
When you ring him up an uninviting Irish lady answers the phone. You say you want Mr. Gallagher in room 16 and you hear the number echo up the stairs as he is called.
He comes from Cork and returns there for most of his free time, having installed his parents in a larger house with a garden near the city centre. "What I'd like is an old shack in West Cork by the sea ", he says, "but I haven't got round to doing anything about that either." In fact he never seems to get around to do anything except playing his guitar.
His shirts, more often than not, come from Woolworth's; he still wears denims,when other artists are beginning to dress up again; in the end it is his music which speaks for him. He is one of the few guitarists whose playing you could tell within seconds, so individual is his style.
It is something that he claims happened by accident. It has something to do with his Stratocaster guitar, a battered object which he has owned for nearly 10 years. It is a sound that whines and soars with a ferocious speed during a Gallagher set, a fusing of harmonics which he gets by holding the plectrum at a certain angle between thumb and finger, causing a constant wear on the fingernail: " I didn't think about it until people started writing about it and it developed from there. It's a sound I can't get on my bottleneck."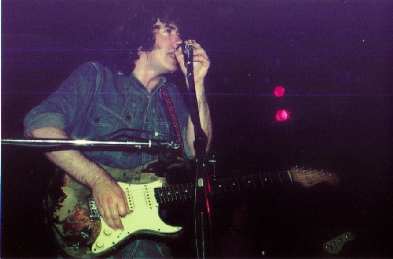 His work is mostly self-composed and the words are definitely second in importance to the music, which is firmly based in the blues, again at a time when this would seem highly unfashionable. In fact, his greatest thrill came last year when he was invited to play on an album being made in London by Muddy Waters. He justifies his interest thus: "Rock'n' roll isn't as personal as the blues, I can express myself playing slow blues like an Irish traditional musician can express himself playing an old slow song. Playing with Muddy Waters was great, you really learn from a man like that. He is 57 now, yet he is all energy, he is talking about next year, not the past or even this year. He'll say something like 'Next April we're doing such and such a club'. Amazing."
The latest American star who asked him to play on an album with him was Jerry Lee Lewis. But Gallagher was less impressed than he had been with Muddy Waters: " He was very loose, no rehearsal. He'd just start something at the piano and that would be that."
Gallagher, you feel, is more of a perfectionist. On the road. he demands at least 20 minutes tuning-up time in his dressing room with the rest of his group, and on stage he drives himself for over an hour and a half until he comes off wringing wet and in need of every towel available to rub him down.
There are musical signs that he is a ready successor to John Mayall, that other musician who has kept faith with the blues while being able to fill concert halls. Mayall is a great believer in one-night tours of great length, once claiming the world record of 80 different dates in as many days. Gallagher seems out to challenge that; recently he was booked as a support group in America for a month, but the lead band returned suddenly to England and Gallagher was left alone: "We just took the dates that came up and in the end we were touring across America for four months."
Michael Wale
---
Photos from Don O'Neil taken at The Orlando Sports Stadium 8/29/74
---
From the 3/23/1973 issue of The Times from the UK.
reformatted by roryfan
---
435
added 3/3/2013