The Weeley Festival
Clacton On Sea
Essex
August 27th-29th 1971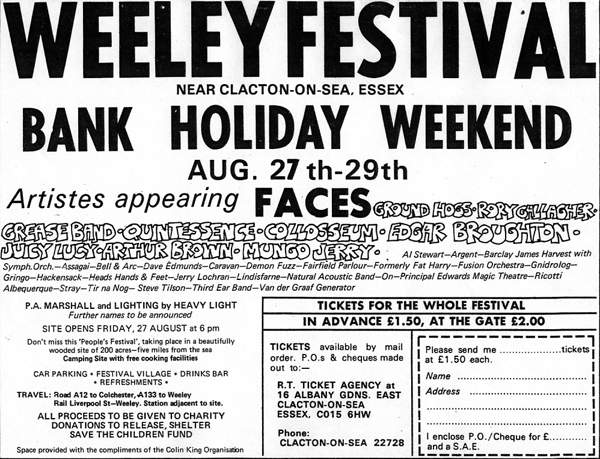 Weeley, though apparently attracting a very large crowd, (estimated to be
110,000 ), is one of those festivals that just seems to have been ignored by the rock media. However, due to the kindness of the folks listed at the bottom of the page, we can now find out just who played and when. You can find out why the festival was held and some of the wilder goings on as related by the underground press.
Thanks to Brian Nugent, we have more or less the complete program on-line and now all we need is the straight press reports of how good the various bands actually were on the day and some more of your own ravings about how much you enjoyed yourselves staying up the two days and nights that the festival took place, as it was continuous , starting at midnight on the Friday and finishing at 5 am on Sunday !.
Rory spent the early months of this year laying the foundations for a new band to continue where Taste left off. With fellow Irishmen, Wilgar Campbell on drums and Gerry McAvoy on bass, backing Rory, he made his first album in February and March at Advision studios. With Vincent Crane of Atomic Rooster playing piano on a couple of tracks, the album, simply entitled "Rory Gallagher" gives a wider picture of his talents than previously.
Taste's asset was its ability to generate an enormous physical excitement,- to which the new album adds depth and subtlety. Taste made two albums, called "Taste" and "On The Boards" the title being a reminder that Taste had built up their huge following entirely on the strength of their volcanic live appearances and shortly after the band finally broke up, "Live Taste," recorded at Montreux, was released and made the charts.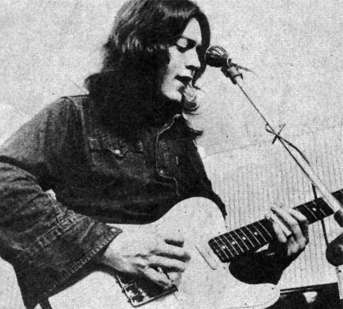 Rory is happy. A trip to America is in the air, probably late this year. the last time he went it was with Taste, who found themselves playing only to vast stadium crowds as part of the Blind Faith tour. This time he wants to get to more of the smaller clubs. He has changed since Taste, Rory says, "With a new line-up and a new bunch of songs certainly, but for better or worse I'm still recognisable. As far as style goes, I don't like playing twelve-bars all the time. The blues field goes right from Charlie Patton to Lowell Fulson, and my aim is to play the blues well and feel them."
---


Many thanks to

gwshark

from Australia for granting permission to use the Rory related portion of his archive on the Weeley Festival.
See http://tinpan.fortunecity.com/ebony/546/weeley-rory-on.html.

This page is part of a large archive on festivals in the UK from 1965-1985. see

http://users.bigpond.net.au/the-archive/


Check out this site for some great photos and lots of information on the Festival, including fan memories.



---
Some notes I compiled.
This was originally to be a small, free festival that kept growing and growing. Scouting around the web for information on this event, I found that it must have been a pretty crazy scene. Squabbles between Mark Bolan of T-Rex and Faces over who would be the headliner. Battles between the Hell's Angels and a security force composed of caterer's workers. Reportedly, the Angels got the worst of it (one died) and later in the week, 67 of their members ended up in court.
The lineup included The Faces, Rory Gallagher, The Groundhogs, The Grease Band, Quintessance, Colosseum, Edgar Broughton Band, Juicy Lucy, Arthur Brown, Mungo Jerry, Al Stewart, Argent, Barclay James Harvest, Assagai, Bell & Arc, Dave Edmunds, Caravan, Demon Fuzz, Fairfield Parlour, Formerly Fat Harry, Fusion Orchestra, Gnidrolog, Gringo, Hackenshack, Heads Hands and Feet, Jerry Lochran, Lindisfarne, Natural Acoustic Band, On, Principal Edwards Magic Theatre, Ricotti Alberquerque, Stray, Tir Na Nog, Steve Tilson, The Third Ear Band and Van Der Graaf Generator
I found various accounts from fans on the show. Some of the big name acts were trashed, but Rory got only favorable mentions here and there. A couple of samples taken from the Archives pages

"To me the music was all good, only some was better than the other. Main revelation must have been Rory Gallagher. After the festival we all went to the local `Army & Navy `stores and bought checked lumberjack shirts!"

"Rory Gallagher blew a set that was an example to some of the lesser heavy groups in how to mix volume and sledge hammer techniques with tone and musicianship. The audience loved them, but maybe for the wrong reason in that their brasher parts are far more numerous and obvious. But the audience, and tired, cold people back-stage, needed a release from King Crimson's classical rock. Their boogey-roogie earned them an encore when encores are completely out with the time schedules hours behind."

"Didn't Rory Gallagher (the main reason we came to the festival) do a solo acoustic slot for a group that never turned up ? , he was , as usual, par excellence "

The show started at midnight on Friday night and never stopped. Rory's set ran from 5 in the morning until 7 AM!! Imagine not only playing at that time, after a long night, but drawing an encore to top it off! Another quote taken from the Archives.......

"Rory Gallagher (who woke me from deep slumber with his opening riff from "Laundromat")"



Finally, I found a rough BBC clip of the festival on the BBC site. A narrator tells the story of the growth of the festival from a modest local, one day show expecting 3000-4000 people to a mega-show that drew between 100000-150000 fans. Go to

Inside Out (click), then click on" Watch extra behind the scenes footage of Weeley". It's a 3 minute clip that will play on Real Player etc. (Sorry, the background music isn't R.G., it's Faces and Mungo Jerry)


In an odd coincidence, Rory was followed onstage by a band called "ON". (Rory & ON....catchy name)
---
Thanks again to GWSHARK for allowing me to use the material on his page!!!!
reformatted by roryfan

228