Interview with

Donal Gallagher
Donal Gallagher spent the better part of forty-five years in the presence of his older brother, Rory. Even now, more than eight years after guitarist Rory Gallagher's death, Donal continues to look after his brother's affairs. It's always been that way. Even before Rory hit pay dirt, so to speak, with influential Irish blues band Taste in the late 60's, Donal was becoming a more integral part of the progress that Rory would make in the music scene. In his brother, Rory found someone dedicated to his cause, a manager he could trust and a personal confidant. It was this unity that would free Rory to concentrate fully on the electrifying rock, folk and blues that would forge new inroads for Irish music in the world market. And while he may not have had a string of chart successes, albums such as 'Irish Tour 74', 'Calling Card' and 'Tattoo' nevertheless left an indelible impression on all who heard them.
A fear of flying, coupled with a growing dependency problem, began to hamper the guitarist's career. In June of 1995, Rory Gallagher succumbed to complications following a liver transplant. He left in his wake, and in his debt, a variety of Irish bands for whom, without Rory, the door may never have been opened. Donal Gallagher, always a tenacious defender of his brother's music, in the late 1990's oversaw the remastering and reissuing of Rory's entire catalog. He authorized an exhaustive biography of Rory by French author Jean-Noel Coghe. In March of 2003, Donal received on his brother's behalf a great honor from the Irish government when it paid tribute to Rory Gallagher's contributions to Ireland's musical heritage by including him in a series of commemorative stamps, along with contemporaries Van Morrison, Thin Lizzy's Phil Lynott and U2. Most recently, Donal has nurtured the release of 'Wheels Within Wheels', a posthumous collection of previously unheard acoustic material that marks the first new Rory Gallagher album since 1990's 'Fresh Evidence', and fulfills Rory's longtime wish to release an album of folk music. Join The Fuze as we engage Donal Gallagher in a comprehensive, thought-provoking interview about his life and times with brother Rory. We hope you enjoy our 'Meeting with the G-Man'.
---
In a somewhat bittersweet turn of events, Rory's music has had a sort of resurgence as of late. Eight years after his passing, why does Rory's music mean so much to so many people?
Well, he had such a long career, and so much music. I think there's a connection because he traveled and toured so much. I don't think there's a corner of the Western world that he hadn't played – and not just the main cities, but peoples' home towns. Be it club or arena, Rory sort of always wanted a stage. And the absence of Rory…I think it took a while for people to realize that A) he wasn't coming back, and B) his performance was always good - there was nothing to replace it, to be quite honest.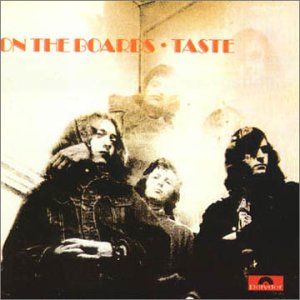 I've read that you never actually signed on as Rory's manager – that your business relationship just evolved naturally. How much of a strain was this arrangement on your relationship as brothers?
It was one of those unspoken things. I had come up through the ranks, as it were, with Taste, Rory's first band, in the late 60's. He had gone through a kind of horrendous management situation. Back then, you didn't really have too many lawyers who were aware of the industry. It was extremely difficult to get any regress to any problems. When Rory struck out, then, after Taste split up, he vowed that he didn't want managers. He clearly had his own direction. He knew what he wanted musically. What he needed was officers to carry out his duties, if you like. Fortunately, on the last tour with Taste, one of the support bands was co-managed by a guy called Peter Grant, who managed Led Zeppelin. He was infamous in the industry. He was very artist-oriented. I had met him and we had become friendly at one of the gigs. I explained to him Rory's predicament – at that time he was tied up in all sorts of legal wranglings and contracts – and he came in to assist whenever needed be. He basically helped Rory get sorted out, get a new deal and put backbone to the situation. While Rory was served directly by managers, he had a group of people around him that he knew he could go to for particular needs. I was back to being road manager, tour manager – doing everything on the road. And effectively, Rory spent all his time on the road. By the mid-70's he wasn't happy with the people at his agency. It meant leaving that agency. We formed our own. I used to book Rory out in Europe. So not only would I be on tour as tour manager, but I was also agent, booking manager and having to make managerial decisions. It evolved that way. But Rory, being an older brother, also didn't like to be told by a younger brother. (laughs) Sibling rivalry would come into it.

Were you and Rory always very close as brothers?
It was only the two of us. We weren't from a large family. We were quite close. We'd been born in the north of Ireland, and we moved south to Cork. We'd heard music in the north which had been an effect of having a US Navy base in the city that we were dwelling. This was post-war. They had their own station which could be picked up. At the age of seven Rory wanted to listen to jazz and blues, so he tuned into the station. When we came south, there was a complete absence of that, and a complete ignorance of that kind of music. I was the only one he could talk to, or play with, in a sense. So I always ended up being the drummer or whatever. When he started to do school shows or socials, he wouldn't necessarily have enough material that he could perform to that type of audience. I'd be brought on, then, to harmonize and we'd sort of do an Everly Brothers set. I had a row onstage with him one night – long before Liam and Noel [Gallagher, of Oasis] (laughs) – so I got fired from the band. And that was it – Rory would never have me onstage again.
Never again?
I think it took some twenty years – until one night when his band didn't show up. He'd gotten to the city early in the afternoon, and they got stuck on the highway because of some severe fog and accident. He went on and entertained the crowd anyway. (laughs) All the equipment was set up. He found a piano player and a bass player, so I was allowed to sit in on drums for once.
I was going to ask, later in the interview, if you ever wished you were more musically inclined, or had been able to play music with Rory. But it sounds like you might have butted heads more than collaborated.
Well, he was always very keen that I would. He was always very supportive. He really tried to get me playing guitar, because he was quite keen to have a rhythm guitarist. He always understood the value of a good rhythm player – someone who could get in there behind you. And the difficulty with learning guitar - when he was learning – was from an early age it was so natural to him. It certainly wasn't natural to me. I did learn a few chords, but it would take me hours. In the end, I suppose at that age you're quite competitive. You think "I'll never be as good as him," so you drop it entirely. It's like sports, in a way.
"I'll do something else, then…"
Yeah. Then I switched to drums. And I liked drums, but the problem was that a guitar and amplifier had arrived in the house – there was no way a drum kit was going to be brought in! So I never got the opportunity to play. As I became the road manager and set the kits up, I could play all afternoon. So I developed, but at that time Rory already had drummers. I was kind of out of the loop, for becoming a professional musician. I suppose the opportunity was there. It was up to me to take it.
Buddha Records recently released Rory's entire back catalog – was this in the works at the time of Rory's passing in 1995?
No. I suppose what would have been in the works prior to his death was he was planning to do a folk-blues album. He was putting out feelers, and drawing in ideas. He was also going to do another studio rock album, releasing the two at the same time. That was the idea. He was developing material for both albums. And because all of the catalog had reverted, we were then going to make a new deal. Up to then, it was coming out on IRS Records in America. IRS actually folded in 1995/96, and ceased to be as a company. The reissues onto CD had already been out, in some cases. But the technology of remastering and remixing – you took a master tape and just transferred it onto digital. It seemed to be such a good, clean sound and people didn't realize how much more you could get out of it if you spent time in the studio with the tapes. Sadly, after Rory died, I contacted the engineer that he was going to work with. I wanted to see if a folk album could be created out of thirty years of material. Also, the catalog was out of contract. At that time there was huge demand – "Give us the Best of Rory or The Anthology of Rory", which I didn't want to do. One, it could be deemed cashing in. Secondly, I thought "Well, here's an opportunity to really take time out – a couple years – and clean the recordings up, get the best from them and reunite the tracks that were done at that time." Because of vinyl, you were restricted to forty-four minutes. Rory would always have additional material. I thought "Well, here's the opportunity to put out the sessions as they were, in full." Trying to get the album delivered to a record company was nigh impossible with Rory, because it was like post-natal depression. Rory was always in the throes, the week after the mixing, of going back and remixing, seeing if he could get more volume, re-sequencing the tracks, taking this track off, re-jigging this one…it used to cause him great pain that he had to leave a couple of numbers off. It was 'Defender', I think, where he made the record company give a free single with the two extra tracks that he couldn't get on the album.
I'm sure they loved that.
Yeah, but that's the way he did it.
And Rory was not keen on releasing singles, so there weren't many opportunities to release those extra tracks as B-sides.
Rory was completely anti-single. This is the one area you mentioned earlier – as brothers, as management – I was always for. And I knew his stance on it. But I felt it had done him a disservice. Each of the albums he'd brought out, he'd certainly have two or three single-types, if not hits – "Tattooed Lady", "Million Miles Away"…. Each of the albums had a key cut. Not only that, but it would have netted him a lot more airplay than he ever got. It also stifled him from getting wider recognition, particularly in America. Looking back, people say "Oh yeah, Rory was great." But they can't remember a single track, sometimes. If you had singles, you'd have milestones. And you could have a greatest hits package! (laughs)
I thought it interesting that 'Etched in Blue' was kind of a best of, in that blues tracks were taken from each of his albums – yet 'Etched in Blue' was not billed as 'Best of Rory' or 'Rory's Greatest Blues'.
When I cemented the relationship to go through BMG, the contract was done out of London. The guy who was heading the department, I knew quite well from a previous company. I liked his efforts – what he was doing with the catalog division, the respect he was showing and the assistance he was giving me to get the best out of Rory's catalog. He then also had the task of revamping a label called Camden. He asked me if I'd give him a Rory title. Now effectively, it's a budget label. I said "With Rory, we've never done a budget release." But I wanted to help his situation, so I said "Well, what if we could take that album and turn it into a sampler - i.e. one track from every album - you do a good booklet with it, and I pick the tracks?" Which wouldn't be a 'Best of' because it didn't have "A Million Miles Away", "Tattooed Lady", "Messin' With The Kid", and "Bullfrog Blues" – all the obvious ones. I said "I'd like to pick a bunch of tracks that I feel are melodic, and that show Rory in a different light." That's how that album came along. It's done extremely well, for what it was. In fact, they want to do a live one, but that's another tale.
That's a good sign, though.
Indeed. Yeah.
Let's talk about the newest Rory Gallagher album, 'Wheels Within Wheels'. Is this the acoustic album Rory long talked about making?
It is and it isn't. Obviously if he was alive, he would have been writing songs for that, and he probably would have had more emphasis on the Irish music side of it. So in a way, I was restricted in what I could achieve. I think the parallels really are pointing out to people that he was capable of playing Irish music, folk music, flamenco – a whole range of songs. I think that's what he would have wanted to achieve with an album that he would have done himself – to highlight the folk factors. I think I've managed to achieve that on the album.
Were those your main considerations – trying to bring together influences that hadn't been accented on Rory's other albums?
Yeah. I knew from conversations where he would have driven his own album, and who he had huge admiration for, be it Bert Jansch or Martin Carthy. I'd go around to his place and he'd be playing Martin Carthy's album nonstop, or he'd be talking about Bert Jansch or the Dubliners. In a way, this is what has been brought out in the album. How different Rory would have made it, God only knows. The whole album, in a way, becomes ones beliefs in the mystic, or what's beyond. I had some extraordinary dream encounters with Rory. In one that I had just as I finished the album, Rory turned up in the office one day as if he'd just been away for months. And he wanted me to play the album. In my dream, I sat down and played the whole album to him and he quite liked it. He had a smile on his face. And I was terrified he'd reject it. It's his playing, at the end of the day.
Have you gotten any feedback from Bela Fleck or any of the other artists who appear with Rory on the album?
Yeah. Lonnie Donegan called me a week before he died. He's featured on one of the tracks. Lonnie would have been Rory's hero. He'd kind of been skeptical about using the track after all those years. I'd sort of dusted it down in the studio and mixed it a couple of times. He wasn't sure about his guitar, and he wanted to redo his guitar. I said "Look, listen to it in the context of the whole album," which he did. And he said "Wow, that's perfect. It's great." While I was dealing with Martin Carthy, he was going "Will this work – Rory doing Irish music?" It kind of gave him a strange feeling about it. I think they were all taken aback, because the way I had to do that was track by track. But when they heard it in its entirety they were all very complimentary. I was pleased with that. I was also worried that the folk purists would pan the album, or that it would be misconstrued that we were trying to cross a rock artist over into their territory. In the UK, it's been at the top of the folk charts. All of the folk people have been writing about it. Reviews by some of the eminent folk purists are very encouraging.
I understand there's a bit of a story behind the cover art. It's very eye-catching.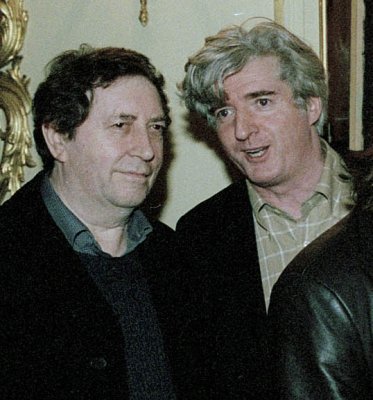 Very.
It almost appears to be a death mask of Rory. Was that the artist's intent?
It wasn't his intention at all. There's still a lot of controversy with the artwork, and the artist himself. The painting is five foot by four foot, and when you reduce it down it becomes a death mask feature. The story starts with a love of [artist, David] Oxtoby by Rory and I. He comes out of the school of Blake and Hochney, who he came up with. He's taught in America. He's a very eminent painter. I think Robert Plant has got the biggest collection of his paintings. In the 70's, I happened to pass a store one day. It was closing down, and everything in the store was a couple of dollars. I saw these two Elvis Presley lithographs – one in '56 and one in '76. I bought these two lithographs, and they were just lovely studies of Elvis. Rory and I were sharing an apartment together, so I hung them up. We both loved Elvis, and respected the music. I think Rory would have loved to play with Elvis. He even wrote tracks hoping that Elvis might cover them – "Cruise On Out" is a track in point. Before Rory died, I knew that he was looking to have a painted cover. Whether that would have been a self-portrait, because Rory was quite a good artist himself…? He was talking to a few different painters about doing a cover, and I'd seen some paintings of Rory which weren't really flattering. But I think he wanted to be brutal and honest. Anyway, when I was getting this acoustic album underway BMG dummied up a couple of covers from great shots we had of Rory – and they were beautiful shots – but it just didn't seem to have anything. So I said to the art designer "These don't work. I think Rory really wanted a painting." He said "Where will you find a painter?" I said "I'd love to get someone like David Oxtoby". He said "No, he doesn't do that. He's gone recluse, off the radar."
Then out of the blue I got this catalog sent to me by David himself. I'd met him in 1991, very briefly, and handed him my card. I told him about the connection to Rory, and he said "Oh, I love your brother's music. I actually started painting him in '69, but I never finished the painting. Now if I can find it, I'll finish it." But anyway, out of the blue came this catalog with Rory on the cover. It was from 1969, with Taste. And David said "Sorry this is too late for Rory, but I just thought I'd let you know that I'd completed it." So I thought "This is an answered prayer." I managed to contact David, went over and chatted to him about the idea of doing a cover. He said "I don't do covers. I've been asked, and I've turned people down. Sorry, I don't do it." The following morning, he called me at home and said "You're gonna find this quite freaky, but your brother came in and woke me up at 2 o'clock this morning and told me to get on with the job. I'm already stretching my canvases. And I'll need some more pictures of Rory, but it won't be like anything I've done."

I was quite shaken when I first saw it. The cover is a good representation, but it doesn't do it full justice. I thought "Wow, I don't know if people would be able to cope with this." But the one thing I knew is it would stand out anywhere! It had to be understood as a brand new album, and a departure. I felt the painting represented that.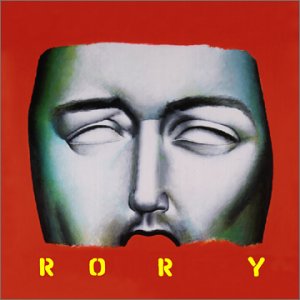 Well, I think it looks modern, it's unlike any of his other album covers and at the same time it pays tribute to him, I think it acknowledges his passing as well. All of these things are kind of wrapped up in that painting.
Yeah. I don't know if you're familiar with the biography written by Jean-Noel Coghe. He contacted me not long afterward. He was quite friendly with Rory – they loved all things Fifties. One of the things they would often chat about was James Dean. Jean-Noel was coming over from France to see me, to talk about starting this book. He said "Did Rory leave anything for me?" I said "What are you talking about?" He said "We were discussing James Dean. Maybe something James Dean." I said "Well, I'll check Rory's bedroom," which still hadn't been touched. Sure enough, I went to his bedroom and there was a poster of James Dean, but it was James Dean with all the death masks. I don't know if you're familiar with this poster. It's quite…if somebody's alive and they did a death mask, well it isn't as scary perhaps. But James Dean's poster…it was probably one of the factors that gave me the courage to go through with it, going forward with this painting. I was also in a dilemma. I had given a commitment to the artist that if he did go ahead – he was commissioned – that A) he, as the artist, would have full approval and B) that I would accept his work. I was just so happy to feel that I was fulfilling this end of it for Rory. And I thought "Well, artistically Rory would not like to be told to go back and remake an album," so I had to treat it on artistic merit.

The night before Rory's funeral, I had quite a vivid dream where I followed Rory. We were driving in this car towards this palace. He was invited to this palace, and I said "How come I didn't get one?" He said "Well, you're either invited or you're not." But I snuck in after him. I followed him down this long corridor, and this corridor had these huge paintings hanging from the heavens. Or from the ceiling, which seemed to be enormous. They were like holograms, they were so vivid. The colors, the image - very abstract. Eventually we came through the end of this long corridor, and it was like the south of France – parasols, it was happy hour and it was lovely. Rory was being greeted by these guys I knew, but I couldn't, at that time, put names to their faces. He was happy, and he was radiant. I tried to encourage him to come back. I said "Everyone's worried. Please just come back and show them how well you are and how happy you are." He wouldn't. He said "No, just go back and tell them." I'm cutting this story short, but anyway the night I put this album together, I was quite exhausted. I said to Rory "I hope you're happy now, and I hope the painting is right. I have to be brave about this one, but there you go. That's all the recordings, and that's the cover." The following morning, I got an invitation in the post to an art gallery – which was extraordinary, because I'd never been invited to an art gallery. It was a beautiful brochure of the paintings I saw in that dream the night before we buried Rory. Which was very spooky. I went to the gallery two days before it opened. I couldn't sleep. It was just the spookiest thing. The artist was there hanging the paintings. So I got talking to him. He was a seventy-year old man. I said to him "The reason I need to speak to you is I've seen your paintings before." He declared to me "That's impossible. This is my first ever exhibition, my first ever showing." He said "I'm an architect. My wife made me give up my practice ten years ago. I've been living hand to mouth ever since, trying to make my paintings work. This is the first shot I've got at it. No one's seen my paintings." I said "I have." He said "Well, if you're so smart, see if you can describe the paintings, which are abstract." It was uncanny. There are two portraits of Rory – I see Rory performing onstage; also, I see him in the heavens. It's very hard to describe anything that's abstract, anyway. He said "Do you realize what the painting's called?" I said "It's titled Rainbow Messenger." He said "If you read mythology you'd know the Rainbow Messenger was Iris, who translated the wishes of the heavens to earthlings. This character Iris could go between and interpret what the heavens wanted on earth." I do know Rory was an art fan, and was spending more time with art, and reading art books, in his last few years. I think he wanted to highlight art in some way, however small it might be. It was like Rory saying "Well, thank you for doing the one for me. Here's a reward." I've now got that Rainbow Messenger for my troubles. (laughs)

That is an amazing story! So Rory was sharing art with you, in turn.
Oh, very much. Yeah. Very much. I feel vindicated, in that respect. I knew my mother would hate the cover. She's still coming to terms with the cover that's on there. Hopefully, you'll have the opportunity to see the original one day. When you look at the original, there are some elements of the side and face where you see green tinges – it's almost like the west coast of Ireland.
When I listen to Rory's albums, I don't hear a lot of fancy production and effects. It sounds very raw, very naked. And even his acoustic work is electrifying. Who were Rory's most notable influences?
Muddy Waters. Early influences would have been Lonnie Donegan, Muddy, certainly Bob Dylan and John Lennon.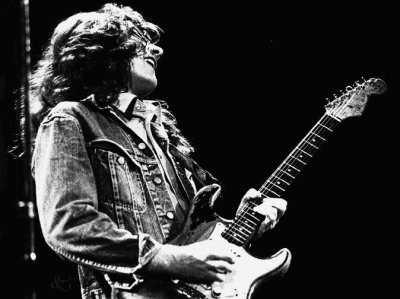 Who do you hear Rory's influence in today?
Oh, good question. Well, we've just had a big festival here and I was listening to a lot of bands. Oddly enough, Jack White of the White Stripes – we chatted with him recently, but he wasn't as aware of Rory as I'd thought. That wouldn't be a fair one to say, to be honest. But the blues elements of it seemed to me to be…in fact, the record company that signed the White Stripes over here came to me to go to the gig and see this kid "who sounds just like Rory Gallagher" – that was their view, initially. There are certainly bands in Europe I could tell you, that wouldn't necessarily mean anything in the States. Slash admits to being a Rory fan. I was listening to some Guns N Roses tracks the other day, and it was so clear where the type of playing was coming from. He's quite open about being influenced by Rory. I suppose with any of the guitar-oriented bands you would have that factor. But he never gets cited in the way as, say, Eric Clapton. Jimmy Page or Hendrix – the obvious names – do. I read an interview with Meatloaf recently, who was being asked about his first memories of London. He said "A track called 'Tattooed Lady' – oh my God, who was that guy?! I can't remember his name." Rory's the name he couldn't remember.
Oh no, and a perfect name-dropping opportunity is wasted!
Yeah, and you'd love to prompt these people. I suppose, had it been an actual hit single – going back to that conversation we had – they would have pinned on it. We've begun a documentary on Rory, which is being initially shot for Irish television for next year. That's opened up a lot of contacts, getting stories out of people in terms of Rory's influence on them. One of them, oddly enough, would be The Police. Stewart Copeland was in a band called Curved Air. After playing a gig with Rory's three-piece, he was just knocked out that three guys could go onstage with very little equipment, get there late and leave early. After seeing Rory that night, he rang his brother Miles Copeland, who ended up running IRS Records. He said "I want to get a three-piece just like Rory Gallagher." [Bob] Dylan paid Rory a great compliment. I remember he contacted the office around 1993, looking to get a copy of 'Live in Europe' because he liked the track "I Could've Had Religion" – it was for the acoustic album he was doing, 'Good As I've Been To You'. So I sent him a CD copy, and I also sent him 'Fresh Evidence' and said "That's what Rory was doing back in '73, here's what he's doing now." In 1994, Rory and Dylan were sharing a bill in the Montreux Jazz Festival. I asked Dylan why he didn't use the track. He said "The album was all traditional. When I got the CD of Rory's, I wondered where he got the other four verses - other than the one original that all the blues guys knew. I worked it out that Rory wrote them himself. It would have been very unfair of me to take that song, do it as a traditional and call it a Bob Dylan traditional. I couldn't live with that." Rory said "Well, you should have done it!" So he said "Maybe we'll record it together at some point." Sadly, a year later, Rory died.
There's a blues artist I interviewed for this site recently out of Toronto, Canada. His name's Anthony Gomes.
I've got one of his albums, actually. I picked up the album about a year ago.
Well, his second album 'Sweet Stringin Soul' sounds very much like a lot of Rory's acoustic work. It would be interesting to know how much of an effect Rory might have had on his playing.
That would be interesting, yeah.
Rory didn't seem to be one for collaboration, when it came to songwriting. Gerry McAvoy was quoted in Dan Muise's recent book 'Gallagher, Marriott, Derringer, Trower' as saying "You didn't dare bring a song to Rory because he wouldn't use it." Why was that?
I'd have to contradict him. I don't think that's correct. With due respect to Gerry, just listen to his solo albums – you'll know why. And that's not being mean. At no point, when Gerry was doing his solo album while he was still with Rory, would he come to Rory and say "Do you fancy co-writing a song with me?" That didn't happen. I've got Gerry's solo albums, but I'm lost to think of one title. I don't think Rory would have been like that. I think he would have loved having somebody to collaborate with. The studio becomes a lonely place when you're the only person in it.
What common denominator do you think unifies Rory, Steve Marriott, Rick Derringer and Robin Trower in the recent book about them?
Other than the writer's love of all of them? I think the purpose of his book is he was looking at guys who were journeymen; good players who didn't get what they deserved. Marriott, I can see more of a connection with. Trower and Derringer would be a little bit different, I think. Robin Trower has had an amazing career, from Procol Harum and "Whiter Shade of Pale" down through his own bands. Rory and Derringer were fond of each other – we did gigs together in the States.
Guitarist Frank Marino at one point defined a 'legend' as someone who exerts great influence on others rather than gaining their own full measure of success – where do you think Rory fits in that scenario?
It's well-put, I must say. It's strange with Rory, because Rory had opportunities he could have exploited. But he chose not to. He had the opportunity to join the [Rolling] Stones, and didn't take it. He could have gone the singles route, and worked very much on exploiting the singles and getting a chart situation for himself, but he chose not to. In some ways you could say that he was naïve to think that the good will shine through.
My impression of Rory is that he was a very private person.
Oh, extremely so. Yeah.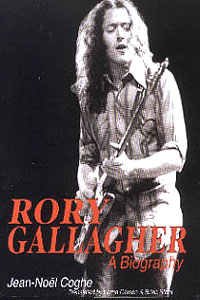 What would he think about having his life and career chronicled in books like those published by Jean-Noel Coghe and Dan Muise?
He was always quite open and candid if he gave an interview. He never sort of shied away or was a recluse type. I think he would have been more shy and embarrassed, and while the books are good factual accounts, there's still more under the surface of Rory. He didn't talk about his own emotions. But at the same time, he knew that if you read through his lyrics he's wearing his heart on his sleeve. To me, it's very obvious. Perhaps I know a bit better – I can sort of identify all the songs having huge significance, or what he's actually getting at.
Bumping up the exposure level a few notches, what would he think of being commemorated on a special series of Irish postage stamps?
Oh, he'd be chuffed to bits! I suppose like any nationality, he'd be very proud of that. Put it this way – had he not, it would have been an insulting thing not to have been. That is something I think he would be immensely proud of. I don't know which other Irish act they might have picked, but for awhile there it almost seemed like Rory was being airbrushed out of the picture altogether, for his contribution to Irish music. I think what Rory did, in a very subtle way, was help heal the situation in the north of Ireland. He's never gotten credit for that. He went into situations and brought sides together that wouldn't come together for anybody else. And he had a mixed band. It sounds bizarre to say nowadays, but in '69, to have a mixed band in the north of Ireland was quite something.
Was the Irish music scene as decisively split as the politics in the North and South of Ireland at that time?
No, the music scene was always quite united. And those who didn't want to have it mixed – there were probably elements of it you just didn't see and hear. There was probably more work in the south of Ireland, and the talented show bands tended to be from the north of Ireland. So they would come south a lot. But what you didn't get as much was bands from the south going over into the north of Ireland. I think they were more scared to. It's one of the odd things about Irish politics – the border can be more perceived from the south than from the north down.

Apparently some members of Gary Moore's band said that they were uneasy about returning to the north of Ireland to play.
When was this?
Back in 1984.
Well, '84 was a relatively safe bet, to go back then. But certainly in the early 70's, people like Gary or Van Morrison, or any of them who were from Belfast, didn't. Rory was the only one who did do that. It was more a fear of the unknown element that got people scared. But it wasn't without good cause. You did have one band completely assassinated – six of the eight musicians were shot, and two of them managed to survive – a band called the Miami Showband, who had become a rock group. They were ten miles from the border, and they were hijacked and shot. Particularly, the difficulty is when you're on the road at night. We had one or two encounters, Rory and I, because when he'd play in the north of Ireland / Belfast, he was always keen to get back down south to Cork. So he'd always ask that I drive overnight after the show so he could get back and get a full day at home. It was a five or six hour drive. You were home by six in the morning, sleep a few hours and you'd have a day off at home. We had one or two sticky moments, but we survived.
What did Rory, and what do you, think of the Irish musicians that have followed in his wake – Gary Moore, U2, Boomtown Rats, etc?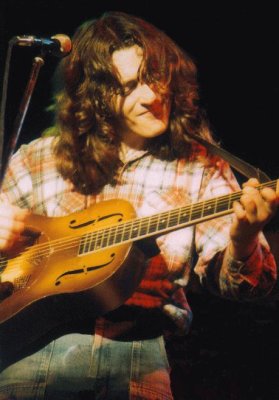 It's a phenomenon, the explosion of music that came out of Ireland. It was already bubbling up; it was just a matter of time. We got involved with setting up a music magazine called Hot Press, which certainly developed U2. But there are more bands to come out of Ireland. The Corrs – very good pop stuff. There's a new band called The Revs coming through. Ironically, the bass player is called Rory Gallagher. His parents were musicians and called him after Rory. It's great to see they're one of the bands doing Rory material, and U2 have cited them as the new band of the future. It was quite funny to chat to the kid, because he ended up getting one of Rory's checks sent to him. So he's since had to change his name to O'Gallagher, so he distinguishes himself. (laughs) The one thing that comes through with all the Irish bands is that they have individuality, be it U2 or Gary Moore. The bands that break through have something new to offer. Gary's [Moore] been around quite a long time. I remember one of his first gigs was supporting Rory and Taste. That would have been back in '67. Gary was sixteen at the time. They got on like a house on fire. They remained good friends right up to the end, in fact. Rory was living in a hotel the last few years of his life, and Gary moved into the hotel and stayed there. I don't know if it was because of Rory, but I do know that he stays over there a lot.

In an interview a few years before his death, Rory hinted at a possible album with the Chieftains – did they share a mutual admiration?
Oh yeah. They had asked him to play – they were doing an album at the Albert Hall, which came out as an album I think Sting sings a couple songs in Gaelic on. I can't remember the title. Not 'The Long Black Veil'. Rory wasn't well enough to perform on the night, so it never happened, sadly.
Where do Rory's releases stand now – will there be more archival recordings made available?
The catalog, in its entirety, is out now. There are obviously several live albums you could come up with. But to come up with unique albums similar to 'Wheels Within Wheels' – I don't want to jinx it by saying there will be a couple more – certainly one more album, I think. With the 'Wheels Within Wheels' album, material turned up that I didn't know existed. I had a meeting with Bert Jansch, because he needed assistance with his catalog. Bert said "Oh, did you know that Rory and I were going to do something together? We laid down some stuff. We never actually finished it. I'll finish it, and send it to you." That would have been something that I didn't know existed. The track with Martin Carthy on it turned up on a tape machine. We're just lucky we checked it. Odd things turn up here and there. Rory did so much touring throughout Europe, and in the States, and he'd go to radio stations in the afternoon with his acoustic guitar. We still haven't gone through the itineraries and gone back through all the radio stations and all the tapes there. The worry with this album ['Wheels Within Wheels'] was if we were putting something out that would undervalue the existing catalog he had done himself. It would have been terrible to come up with something just for the sake of "There you go, fans – there's your acoustic album."

Donal, have you considered writing your memoirs of being on the road and in the studio with your brother for some 30 years?
Yes and no. Certainly something along the lines of "The Life and Times…." I didn't feel it was for me to write Rory's biography. I shied away from that. I thought it was too close. A couple of people have asked…publishers. In 2005, Cork has the dubious distinction of being European Capital of Culture, where the EEC will do art through the city, culture…. It runs for a whole year. Publishers are obviously looking for books to tie in with that, and I've been asked to do stuff like that. There'd certainly be a few tales to tell.
If there should ever be film made about Rory's life, I think actor John Cusack bears a remarkable resemblance to your brother.
Ah, John Cusack. Yeah. You're not the first person who's said that to me. That's interesting. That's a conversation I've had recently, because this documentary I referred to earlier – I didn't want a Rory documentary just yet. I'd much sooner be doing a film on Rory. I've seen so many rockumentaries that become very boring, whether it's Deep Purple talking about Deep Purple, Fleetwood Mac talking about Fleetwood Mac…they tend to bore me. And I thought "That's no way to tell the story." So I did start to write the guts of a screenplay, if you like. It's one of those side hobbies that every now and again I go back to, you know? You know the movie 'The Commitments'?
Yeah, great film.
Roddy Doyle, who wrote that, based it on Rory. Rory was a sort of muse for that – kind of the guy who didn't want to play this show band music, and went out and sort of went for a different form of music, i.e. the blues. In the movie, it's soul music. In fact, when they were casting for the movie, [director] Alan Parker called the office. He had gone back to the writer, Roddy Doyle, and said that they couldn't find the trumpet player, Lips or whatever the guy was called. Roddy said to Alan Parker "Well, if you can't find him, truth be known, I wrote it about a guitar player – Rory Gallagher. If you could get Rory to play the part of Joey 'Lips', the trumpet player, I'll rewrite the screenplay to be a guitar player. The whole legend of 'did he play with so-and-so', that all comes from Rory – did Rory play with Muddy Waters, did he play with Jerry Lee Lewis, did he have this reputation, did he really go out there and do it?" I managed to get Rory as far as Alan Parker's office, and Rory just refused. He did a reading for him, but just said "Look, I'm not the one." At the time, I was praying that he'd take the part. I really thought it would be a life-changing experience for Rory at a crucial point in his life. I thought he'd really have to look at life differently. It wasn't to be. But in fact, in the movie, the last line is "Let's go back to Gallagher's."

What one song or album are you most fond of, and do you think is quintessential Rory Gallagher?
Very hard question, because of lineup changes. 'Defender', I suppose that album would be a favorite for me. I think there's a lot of maturity in it, and the quality of his songwriting. He'd come of age, I felt.
Are there any that you're not so fond of?
Not really. I would say that, wouldn't I? I'm trying to think, to be quite honest. There were odd tracks that I always felt "Oh, you should have reworked that, or taken more time with that." One of those tracks was one called "B Girl" ["Public Enemy – B Girl version"]. When we put out an alternative version of it, which had Lou Martin on organ, it was a different song somehow. Even though the lyrics are the same, it just had a different feel to it. Sometimes it can be the arrangement of a track, so it would be unfair to isolate one track. Rory was the person that would do that himself. He did an entire album in San Francisco in '77-78, which is where we got the "Wheels Within Wheels" track from. There's an electric version of that. He did an entire album with engineer/producer Elliot Mazor. He finished the entire album. It was even mastered. I was delivering it to Chrysalis Records the following day, to play it to forty different executives. And the night before, Rory literally said "You know what you can do with this album?" He dropped it straight into the bin. It'd be very hard to knock anything he did, because he'd be the first one to have done it himself.
As we bring this to a close, I'd like to ask you our signature question, which is usually 'What's your drink of choice' – in this case, I'd like to ask you: when you and Rory shared private time, to unwind and relax after a show or on holiday - what were yours and Rory's drinks of choice?
Oh, mine was always a pint of Guinness! (laughs) I think Rory was a Jack Daniels man.
~~~~~~~~~~~~~~~~~~~~~~~~~~~~~~~~~~~~~~~~~~~~~~~~~~~~~~~~~~~~~~~~~~~~~~~~~~~~~~~~~~~~~~~~~~~~~~~~
This excellent interview was posted to the November 2003 release of the
"Online Rock Journal: THE FUZE".
I was granted permission to make it a part of the RoryON!! article and interview collection by Todd Seely and Linda Emrich, who run THE FUZE.
Many thanks!!!

Be sure to check out their site for some excellent interviews, reviews and other rock and blues based material. click on this link to go to THE FUZE
~~~~~~~~~~~~~~~~~~~~~~~~~~~~~~~~~~~~~~~~~~~~~~~~~~~~~~~~~~~~~~~~~~~~~~~~~~~~~~~~~~~~~~~~~~~~~~~~
reformatted by roryfan
all text and photos are from THE FUZE interview

To Join

The Loop
Mailing & Discussion List
email roryfan at
roryfan@comcast.net