Rory Gallagher wants to play for the entire world
(and for all other creatures in the universe)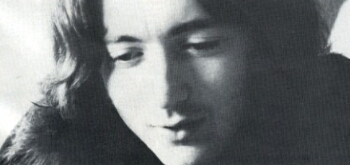 The new album of the Irish guitar hero, Rory Gallagher, will be released in April. It will most likely be a live album containing recordings of performances Gallagher did with his band (Gerry McAvoy (b), Lou Martin (p) and Rod deAth (d) during Christmas in Dublin and Belfast. During these concerts, Gallagher played songs which he has been playing for several years, but also some new ones. At the end of the summer a new studio album will be recorded.
Rory Gallagher told me this on 14th December, just before he gave a concert of more than 2 hours during at the Amsterdam Concert Gebouw which was completely packed with enthusiastic fans. For me, the concert was the most beautiful and exciting event of the Dutch rock year 1973. As we've been are used to with Rory for years, he also he gave the full 100% of himself at this concert . He showed that he only lives for his guitar, played superb blues-rock and stomped, shook and jumped until he was completely soaked with sweat. And that's the way it is supposed to be. At every Rory Gallagher concert the client comes first. That is something you don't see often in the music business these days.
As explosive as Rory is on-stage, he's quiet (almost shy) off stage. That I found out when I interviewed him before the concert at the Trianon Hotel in Amsterdam. Originally we planned the interview early in the evening, but we rescheduled it because Rory -who just came from an extensive England tour- was tired and wanted to sleep for a few hours. But we rescheduled only after Rory asked me very friendly and politely if I agreed. Later in the evening he first wanted to buy me a drink before he would accept a first question. First I thought to have an Irish whiskey for the occasion, but I stuck to my bottle of Vicoria Water. Rory had a cup of coffee.
He was so concentrated on the interview that he forgot to take off his jacket. So did I, by the way. Only after we finished the hour long interview and ordered another drink, did we both take off our jackets. And we laughed.
Rory Gallagher was born on 2nd March 1948 in Ballyshannon, in the Irish county Donegal. Only a few years old, he moved together with his parents (Editorial: only with his mother and brother) to the port town, Cork, in the south of Ireland. Despite that, London is his home town for several years now (he lives in an apartment in Philbeach Gardens in the posh district of Earlscourt). He still is 100% Irish, but he isn't often in Ireland. Besides the concerts he does, he is only there for two weeks a year. Then he retires to a cottage he bought near Cork, where almost nobody has the address. There he recovers from living in the fast lane as a rock musician. Rory Gallagher is one of the busiest guitar players in the world. He is on the road for at least 10 to 11 months a year. Although it is a tough job, he enjoys every bit of it. Rory is a very contact seeking person. He wants to play his music for as many people as possible. He would like the whole world to listen to him. And if there were other living creatures somewhere in space, he would go over there to play his music for them.
At the age of 9, Rory buys his first guitar for 4½ pounds. This replaced the plastic guitar on which he plays songs of Gene Autry and Roy Rogers. The music which hits him first is that of US rock god Bill Haley and the English Skiffle hero, Lonnie Donegal. Later he picked up the music of people like Chuck Berry, Buddy Holly and Eddy Cochran. During primary school he played in several bands, mainly playing skiffle music.
Showbands
The popular music scene in Ireland wasn't very big in those days. There were practically no pop or rock bands, but there are a lot of Showbands who covered songs from the top 20. Because Rory was crazy about music and wanted to be performing as soon as possible, he joined up with a showband, The Fontana Showband. Later named the Impact. Rory travelled a lot with the band (Ireland, England and even Spain), but in fact, didn't like it. The drummer seems to be the boss. Rory on him: "He wanted us to play these sticky Jim Reeves songs, but we wanted to play Chuck Berry". Rory stayed for 2½ years in The Impact. Then it all collapsed and Rory could dedicate his life to more thrilling music. Together with the drummer and the bass player he formed a rock trio.
In those days Hamburg had an interesting pop culture. The centre was the Star Club where the Beatles built their experience as a live band. The owner contracted English bands who played for a nickel and turned the place up side down. Strange thing was that the owner was only was interested in bands with at least 4 members. In the summer 1965, Rory's trio tried out in Hamburg. When they arrived in the port city and the Star Club owner asked where the fourth member was, Rory said "oh the piano player got sick, he couldn't come".
The trio didn't play for a long time in Hamburg. Just back in Cork the band split up. In August 1966, Rory formed a new trio together with Eric Kittingham (b) and Norman Danery (d). They had just left the most important band in Cork at that moment (The Axels). The name of the trio: Taste, home office: Belfast. This line-up existed for 2 years. The strange thing was that in all this time no records are released. Well almost no records. Just before the split, a single called "Born on the Wrong Side of Time" based on a demo tape was being released on the little label Major-Minor.
Rory: "it happened without us knowing. We were against it because it wasn't that good. The single was sold for only four weeks." And with a shy smile: "it really has become a collector's item".
The life of the Taste members was hard. The band was almost continuously on tour in Ireland, England and also played now and then in the Star Club in Hamburg (despite not being a four member band). In Hamburg, also English bands like The Vips (to become Spooky Tooth) and The Remo Four with Tony Ashton play.
Rory on those days in Hamburg: "if we where there we at least played 4 to 5 nights a week. On Saturday we played at least 7 concerts of 45 minutes with almost no breaks in between. I almost played till my fingers bled. We didn't got paid well for that."
The first line-up of Taste ended when Norman said he was tired of travelling and Eric announces that he will start his own band. The second line-up of Taste started at the end of 1968. Rory had found two other Irishmen: John Wilson (d) who played at Van Morrison's Them and Richard Mc Cracken (b). This line-up existed until October 1970. Two albums are made in that period. Taste in 1969 and On the Boards in 1970. After the split up in 1970, Polydor released a live album Live Taste. Recorded during a radio show in Montreux, this album was followed in 1972 with another live album Live at the Isle of Wight. And there is also a German bootleg called Taste Taste Taste Taste Taste Taste, released on the obscure Violet System label.
Big breakthrough
Rory's breakthrough didn't happen with the first line-up of Taste. With the second it did. He got a lot of fans. For him it means the international breakthrough. In some countries, especially Germany and England, Taste was considered to be a super group. The vital blues-rock excites most music lovers. Also in the US, Taste was doing well. The band was there on tour once in 1969 as a support group for Blind Faith. When Taste split up, Melody Maker (world's biggest Music magazine) reported it on the front page. Why did the popular group Taste split ? There are different stories. Melody Maker wrote that Rory was putting himself in the front spot too often and was making a one man show out of it. Rory says that the reason for the split is a musical one. "at the end our roads just separating. I had the idea that John Wilson wanted to play more jazz. That is something which we couldn't do. And that's why it ended"
With guitar player Jim Cregan and violist John Weider, Wilson and McCracken formed Stud in November 1970 . This band was not a big success, they existed until May 1972 and made 2 albums "Stud" and "Farewell". After the split, Cregan went to Family and stayed there until the last Family concert in Newcastle on 11th October 1973 is being given.
After the death of Taste, Rory waited for a while. There were plans to form another band, but Rory wanted to be able to rely on his band members. March 1971 this band was formed. Bass player was Gerry Mc Avoy and drummer Wilgar Campbell. Both from the Irish band Deep Joy. Campbell also played the drums for the Irish band, Andwella's Dream.
A month after the start, the first album was released "Rory Gallagher". In November 1971, the second one follows; "Deuce" is recorded in four days time. In June 1972, Campbell quit. He didn't like touring and would rather spend some time with his wife. He played drums on Live ! – in Europe which is released May 1972. Campbell was replaced by Rod de Ath who played in the Irish band Killing Floor. From that band also came piano player Lou Martin, who joined in August 1972. Both can be heard in the album, Blueprint that is released in February 1973. Of course they also played on the album Tattoo, released in late 1973.
---
That was a thorough description of Rory's career so far.
Now for the interview which I had in December with him.
---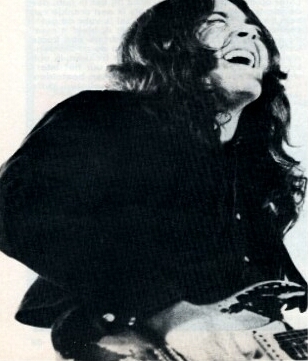 Last time you played at the Popgala, Blueprint was just released. After that Tattoo came out. What are the differences between those two albums ?
Blueprint is maybe more varied and has a very distinct sound. But I think Tattoo has more euuurr.. energy. It is one of the best albums I made after Taste.
You also said that about Blueprint the last time you were here
True….(he thinks for a while)…. maybe you are right. Maybe it is to soon for me to judge those two albums..because I'm too much eeuhh connected to them at the moment.
Again you produced Tattoo yourself. You did that with all the albums you made after Taste. For the Taste albums you had the same producer, Tony Colton. Why do you produce the records yourself these days ?
In the first place, because I like it and I find it interesting. More often musicians produce their own records these days. I don't know if I'll keep on producing the records myself. It goes very easy anyway. Although in some parts of Tattoo I've been jigsaw puzzling. That was a rather complex album for mixing. Fortunately Robin Sylvester helped me well. He also did the remixes of Deuce. He always checks to hear if what I'm doing sounds right.
With Colton I hardly have any contact. Now and then we'd bump into each other. Maybe some day I'll work with him again. But for the time being I'm doing it myself.
Notebook
You also write most of the songs. Is that easy ? where do you get you inspiration ?
Most ideas for songs I got on the road. There is no other way because I'm almost on the road all the time. Those ideas, fragments, I write down in a little notebook. I always carry that on me. It is divided in what you could call chapters. In every chapter ideas for not more than 15 songs are put down. I work on those ideas when I'm in London in my apartment, or when I have a few days off and I'm in Ireland. Sometimes it goes easy, sometimes not. I don't have favourite topics for songs. I don't have special inspiration for songs..it just happens. I do make different types of songs, with their own characteristics. In your town, Sinnerboy and Tattoo'd Lady, I'd call story-songs, actually nothing special. A Million Miles Away is a ballad and requires another approach.
Do you think you are a good singer?
(he looks to me a bit a bit surprised)….eeeuuurrr..I know my voice is not bad. I think it is okay. It fits to my songs. Yes I am satisfied with it.
You also play bottle-neck guitar. I know Ry Cooder is one of your favourites. What is so special about his playing?
There are two ways of bottle-neck playing. Ry Cooder style is very technical..but not 'together' . Someone like John Hammond has a more rough style. The base for his playing isn't technique. I try to be in the middle of those two styles.
Especially in England, you are very popular at the moment. What type of people do you attract to your concerts most?
I think mainly young people, but to tell you the truth, I don't bother much about that. I don't care how old the people are who I play for. Whether they are 10, 20, 30, 40 or 80, as long as they enjoy it, that's what is important.
What have you accomplished until now?
I think I've accomplished something, but of course I'm not satisfied yet. I would like to play for more people. A lot of people know my name, but haven't heard my music yet. The best contact a musician can have is through concerts. You have to let it be heard and let it be seen. That's the best possible relationship. You can put 100 million dollars in publicity, still you have to prove yourself to the audience. And that I like to do. I don't like sitting on my ass.
What is your biggest target?
Show my feelings to a big crowd. ..I find that hard to explain… My music means so much to me. It is my life. I'm always with my guitar. I don't think of that instrument as an ordinary tool. You have to keep on going. You can compare a musician to a painter…his work is also not finished when it is in a museum.
Exiting Stage Act
I think your stage act is very exiting. You really put all the energy in it.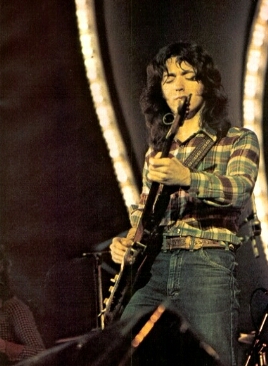 For me it is a relief when I can get on the stage. I don't always go for it completely. That is impossible. Everybody has a lesser day. My way of playing and my moves are natural, I think. I never think about my show. It wouldn't be sincere.
You have a very clear vision on showmanship. You think the music should be most important and the show must have a function.
Yes I think an artist shouldn't make a fool of himself. Some shows I think are very good. If Chuck Berry does the duck walk, in my opinion it has a function. BB King gives a good show also, although he hardly moves. [Rory mentions that he isn't very fond of theatre rock like Alice Cooper]
The line up of the band has existed for a year now, are you satisfied about the band?
Yes, there is no other way to put it.

And how do you compare this line up with the last Taste?
Taste maybe had a better live sound, but is not much better than this line-up.
Taste was extremely popular, would you like to go back to those days ?
No, I have good memories about the time with Taste. The concerts were well attended, but the concerts we are giving now are sold out almost every time. And the records we make now are selling better.
Are there plans to expand the current line-up with, for instance a horns section?
At some concerts we use some horns. But in general, I prefer a small line up.
What do you think about the current international blues scene?
In my opinion things are getting worse than a few years ago, especially in Europe. There is less blues on the radio and television. The interest of people is apparently getting less. People like Duster Bennett have less work at the moment. (Rory tells me that he is not only interested in blues, but also get his inspiration from all kind of music, from folk to jazz)
What do you think about session albums with famous black blues musicians playing with young white musicians ? Isn't that getting a kind of fashion?
Blues purists will think that. I don't think it is a problem. In the US, making such records normal business. In Europe, it isn't yet. I think it is a healthy experiment. It can create new dimensions. I played on a session record with Muddy Waters. I'm very proud of that. Muddy is one of my biggest idols.
The Irish Feel
You're not that often in Ireland. Do you still feel Irish ?
Oh yeah, very Irish. You can't hide your roots
Van Morrison, whom I spoke to this summer, told me he doesn't feel Irish any longer?
Oh I don't believe that at all. OK, he had enough of Europe for 2 or 3 years because he apparently expected more success than he got and that made him bitter. But recently he was in Ireland and he told me he was buying a farm in Ireland.
Several Irish musicians I spoke to through the years, talk about the Irish inferiority complex. And especially in relationship to England. They explained that mainly historically and political. I don't think you have that complex, do you?
Oh no. I never presented myself differently than I am. I don't believe in that inferiority complex. If it is there, there is no reason for it. Ireland has as much to offer in music as England and especially on traditional music.
What do you think of the current Irish music scene? Do you know the band Horslips?
Ireland is still not a big country in music. Understand me well: that is just an observation, it has nothing to do with an inferiority complex. But slowly things are changing. Horslips, I don't know, but I heard some good things about them. Planxty is one of my favourite bands. Those lads make very nice acoustic folk music.
by Willem Hoos

---
This article comes from a 1973 issue of the Dutch magazine,

Veronica




The photos are from the article




Thanks to Charlie Gili for sending me this article




Thanks to Mike Rasenberg for translating


reformatted by roryfan
222