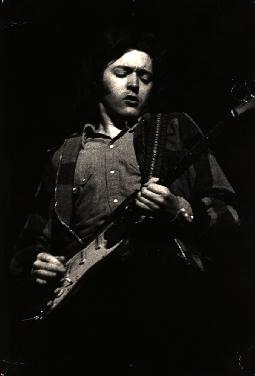 Rory:
nothin' but the blues

BERNE, SWITZERLAND
---
There's no messing in Rory Gallagher's brand of rock and boogie. No freaked out gimmicks, not a streak of paint or glitter, no egocentric patter designed to talk you into ignoring frailties in the music. Just some expert playing by one of the last of the guitar giants who hasn't gone soft or silly.
Rory Gallagher just goes on being Rory Gallagher, the guitar man from Cork, born to boogie. Rory and band appeared in Zofingen, central Switzerland somewhere around 6 on a Swiss Sunday evening, and by the time they left had worked up such a storm that local rock fans were throwing jerseys and packets onto the stage – the ultimate gesture in view of the hard Swiss winter just a comin' in.
The band did not, on the face of it, have a lot going for them when they made their appearance. In a hall fashioned for the rigors of basketball, indoor football or something (hard to tell because of the audience parking their bums on the lines), the stage carried a satirical notice about not playing football on it or in the loos. Perhaps they were expecting Rod Stewart. Given that the quality of basketball Players' voices is of no great import, the acoustics are none too hot. And every time I've been to Zofingen, they've insisted on putting on a rotten supporting act. This time it was a Swiss group called Freeway 75, playing a brand of listless, blues like a sort of gutless Mayall. Perhaps they're frustrated indoor footballers.
No matter. With a quick bound and an "Evenin', glad to be back," Rory Gallagher and the boys arrived and swung straight into "Messin' with the Kid." The old warhorse included a nice piano break from keyboard man Lou Martin – who played well through the evening, despite amplification problems – and some good guitar work, although Rory had tuning problems. After a falsetto voice/guitar duet and a brief demo of Rory's backwards Long John Silver stage hop, the band took the sound right down as a prelude to a frantic climax.
Then came a marvelous "Tattoo'd Lady," with a flashing Gallagher solo towards the end and some more good piano work. Then, following a Gallagher intro of the sort much beloved of John Peel ("Muddy Waters…slower number…anyway, hope you like it,") came "I Wonder Who (Who's gonna be your Sweet Man,") which dropped the pace and gave everyone some breathing space.
Next came a frantic "Laundromat," with some excellent slide guitar work from Rory, an interchange of downward runs with bassist Gerry McAvoy and a brief break from drummer Rod de'Ath. The number also included a passage from "Just a Little Bit," and some Townshend type twirling from master Gallagher.
Although there was a brief period early on in the evening when I found myself a little way outside the music, Rory's playing is so infectious that it's hard to stay that way for long. In the second hour, the band really picked up speed, with a magnificent version of "Who's That Comin'," including some great cymbal work from de'Ath: a stirring "I Could Have Had Religion," with more good piano work, Rory playing mock steel guitar, and a wild, jamming climax with a great McAvoy bass solo.
And Rory? Well, he played electric and acoustic, sounded at times like southern good ole boy and at others like a boogied up Dubliner (did I detect musical shades of "Whiskey In the Jar" in one number?) All the John Peel recommendations are true, folks. Rory lives! – by Rod Chapman
---
From Melody Maker – November 2, 1974
Thanks to Brenda O'Brien for sharing this piece
photo by Mark Stevens Evansville, Indiana 1974
reformatted by roryfan

223