Rory Gallagher
When the gods were making guitar heroes they didn't bother giving Rory Gallagher any greasepaint or give choreography with which to woo his fans. They knew to leave well enough alone; that being a guitarist who transcends mere technical pizzaz with a blazing, emotional style that not only brings the electric blues style into the Seventies, but leaves it reeling, would be more than enough. And there couldn't be an unlikelier axe hero than the shy Irish guitarist, who plays with a fire most musicians are able to muster only on "good nights". You get the feeling that they're all good nights for Rory, that the thrill of playing his battered Strat is renewed every time he straps it on.
There wasn't much doubt where Rory was heading from the beginning.
Born in Ballyshannon, County Donegal, he was playing his first real acoustic guitar (it replaced an earlier plastic one) by the time he was nine, regaling relatives with cowboy tunes and Irish folk songs. He remembers enjoying Elvis, Buddy Holly, and Chuck Berry, and getting into blues the traditional second-hand way; hearing a Leadbelly and Woody Guthrie through skiffle player Lonnie Donegan. Rory joined an Irish show band at the age of fifteen while attending school because it was the only way at the time to play constantly and keep himself in guitars and amps.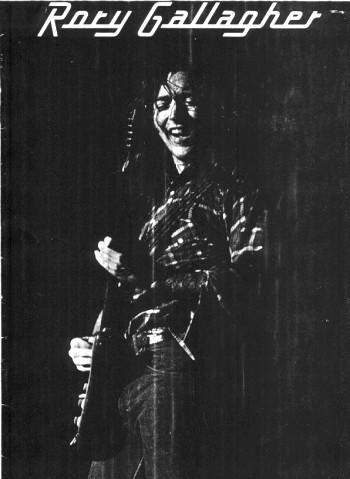 With the Fontana Show Band, Rory was able to tour England and Ireland, attune himself to life on the road ( which still doesn't faze him) and play half-hours of Chuck Berry, Eddie Cochran or whatever he pleased to. He did tire of having to play the rest of the band's non-rock n' roll repertoire, so after a short period of getting it together, he toured small clubs throughout Europe with the show band's bass player and drummer. Then in December of 1965, Rory formed the original Taste, a legendary Irish blues-based band comprised of Eric Kitteringham on bass and Norman Damery on drums. Taste played clubs in Ireland and Germany, and while supporting groups that included John Mayall, Cream, and Aynsley Dunbar in Ireland, word got to England that this power trio ( formed before Cream) was hot. The band made the big move to London in 1969, signed with Polydor and the Robert Stigwood agency, and cut two albums entitled 'Taste' and 'On The Boards'. It was their live appearances that set them apart though, the result was their live release 'Got Big Quick'.
Although they were compared with Cream, Taste's premise was more complicated; much more jazz- oriented, with Rory picking up the saxophone for a few numbers. Taste broke up in 1970, and by early 1971 Rory had formed a new band releasing the album 'Rory Gallagher', somewhat more complex and less raucous than the Taste albums, perhaps due to Rory's 1969-70 jazz oriented period. At the same time, Rory was honored by being one of the first sidemen chosen by his idol, Muddy Waters, for the 'London Sessions' album. Rory and the band toured America in 1971 , then cut two more albums; 'Deuce' in '71 and 'Live in Europe', a monster seller, in 1972. 'Blueprint, Tattoo, Irish Tour '74', (another hit, and no wonder, Rory being the consummate live musician). Soon followed, 'The Story So Far', a compilation of some of Rory's finer moments from the previous albums.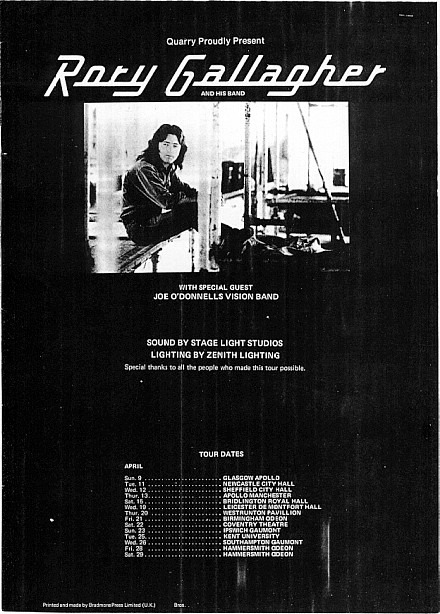 In 1975, Rory Gallagher signed with Chrysalis Records, he released 'Against The Grain' to the same critical acclaim that greeted his American Tour in the Autumn. Rory's second Chrysalis release, 'Calling Card', is further indication that although he feeds off the energy of his enthusiastic audiences, he is perfectly capable of playing masterfully hot guitar within the confines of the studio, in addition to co-producing the album with former Deep Purple bassist Roger Glover .
Rory Gallagher has never indulged in rock star posturing.
His performances in the studio and on stage speak for themselves.

---
This write-up and the pictures come from a 1978 UK Tour program.
Thanks to Charlie Gili for passing it along
reformatted by roryfan
129