Rory Gallagher
By: Greg Johnson
Article Reprint from the March 1999 Blues Notes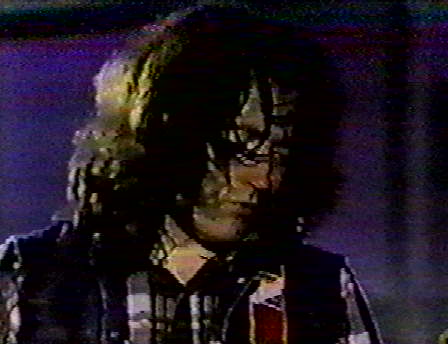 Though Rory Gallagher never attained the same worldwide renown as his contemporaries in the British Blues scene, he was true to his style and never during his career strayed away from the Blues music he loved. Armed with a sledgehammer attack on slide guitar, and an adeptness on a multitude of stringed instruments, Rory stormed the British Isles and became a man of mythic status amongst the people of his homeland.
Born March 2, 1949, in Ballyshannon, County Donegal, Ireland, Rory became fascinated by the sounds of the American Folk and Blues artists he heard over the radio. As a teenager in Cork, he performed in the Irish bands, Fontana Showcase and Impact, before moving to London at the age of 15, where he founded the band Taste. By combining the sounds of Jazz and Blues, in the same manner as Eric Clapton was accomplishing with Cream, Taste developed a loyal following in Europe. The band reached their zenith in 1970 with the release of the album "On The Boards", and Gallagher decided to seek a solo career shortly afterwards, disbanding Taste in 1971.
When it came to recording, the impact of a live Rory Gallagher show was almost impossible to attain. Throughout his tenure with Taste, and continuing as a solo artist, Gallagher's shows were often two-three hour guitar marathons. This may be the reason why his live albums, "Live In Europe " and "Irish Tour '74", rank among his most successful. The Blues were always at the heart of his music, with major influences coming from American guitar icons Elmore James and Buddy Guy. Gallagher began drawing the attention of American fans when he was invited to participate as a band member for Muddy Waters' "The London Sessions" album. Though much of the performance's on that release were drowned out when horns and backing vocals were overdubbed onto the recording, Waters was pleasantly surprised by the quality of the British musicians assembled. Later in 1979, Gallagher garnered greater acceptance from Blues fans when he accompanied Albert King for the concert recording "Albert King Live". Trading guitar riffs with King and Louisiana Red, this is thought by many to be King's premiere live album.
For a few years during the 1980s, Gallagher decided to take a sabbatical from recording and performing. He regained his interest, though, in 1987, and released the album "Defender". In 1991, he formed his own label, Capo, with the idea of offering a home for Blues-based bands to record. He issued his final release that same year, with the successful "Fresh Evidence " album.
Throughout his life, Rory Gallagher made it a point to bring the sounds of his Blues-Rock to the common man in England and his beloved Ireland. He toured the British Isles and Europe incessantly, playing sometimes over 300 shows per year, a stressful feat that cost him many a band member. He annually made his way through small farm communities in Ireland performing Christmas shows, that are now considered legendary. Gallagher's road manager, Phil McDonnel, has been quoted in a recent issue of "Mojo" magazine as saying, "There is a saying in Ireland: First there was Jesus, and then there was Rory." A truer testimony to his popularity in his homeland would be hard to find.
Gallagher's health began to decline by the mid-'90s, bringing his touring to an end. A liver transplant was performed in 1995, and complications developed that led to his premature death on June 14th of that same year. He was 46.
One thing can be said for Rory Gallagher's career: he never lost his sight of the Blues music he so dearly loved. As other British Blues musicians' sounds were too constantly change over the span of their careers, Gallagher always maintained the blistering slide guitar and shouting vocals he had been known for.
Generations of British youths sought their hands at the guitar and the Blues through influences brought about by Gallagher's string work. And, it is for this reason that he deserves to be mentioned in the same breath as Alexis Korner, Lonnie Donegan, John Mayall and the other legends of British Blues.
© 1999 Cascade Blues Association
http://cascadeblues.org/

---
from the March 1999 Blues Notes section of the Cascade Blues Association
reformated by roryfan
picture is a capture from Karrussel 1977 by donman
130