rory gallagher
1948-1995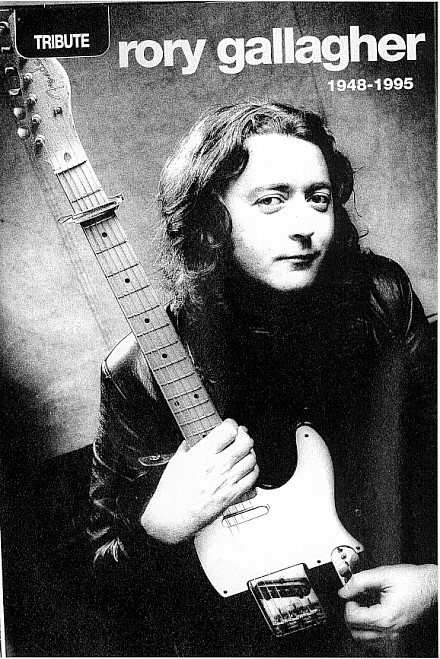 As a result of complications following a liver transplant undertaken earlier this year, Rory Gallagher died of pneumonia at London's Kings College Hospital on the evening of June 14th, at 'the tragically early age of 47. Widely regarded as one of the world's best white blues guitarists and a raw, impassioned vocalist, Gallagher had been ill for some time.
In retrospect, his career seems something of a mystery. How did he maintain continual public and critical support, not to mention 14 million album sales, while never troubling the mainstream chart compilers? Or become what U2's Bono described as 'one of the top ten guitarists of all time' and remain unrewarded with fame? His undiluted and constant passion for the blues itself, trimmed of flash and artifice, may have had something to do with it. 25 years ago, Gallagher was mentioned in the same breath as Eric Clapton and Jeff Beck — after all, the three had similarly 'inappropriate' backgrounds for careers based 'on a black American art form — but whilst the two Englishmen subsequently reaped the financial rewards of diversification, Gallagher remained true to his first love. He was certainly never going to forge new directions in jazz-rock or don Armani suits and go AOR. As a result he drew criticism from some quarters in the later stages of his career that he had become repetitious and unadventurous. For those who disagreed, his dogged refusal to commercialise his sound or deviate from the fundamental aesthetics of the medium — maximum music, minimum fuss — marked him down as a true bluesman.
Bearing in mind that in 1964 the blues was, to most Irish ears at least, akin to 'Chinese music' (as his fellow countryman Van Morrison put it) it took nerve as well as commitment for the Ballyshannon-born Gallagher to pursue the course he did in the first place. Rory picked up his first guitar at the age of nine and played in a number of local bands until he left school. His first serious foray into music came when he was only 15, as a member of The Fontana Showband, later renamed The Impact. The rigours of the road offered Gallagher invaluable experience as The Impact gigged around Ireland and England.
By 1966, he had formed the three-piece Taste with The Impact's drummer and bassist and started to feed his relentless appetite for touring. He replaced his original backers with drummer John Wilson and bassist Richard 'Charlie' McCracken and, in 1968, Taste signed to Polydor records. Although something of a record collectors' fetish today, Taste in their time were a solid recording unit and a blistering live act. Testament to the former can be found on the group's eponymous debut, and better still on the more mature On The Boards, which coupled the expected blues power with Gallagher's rapidly maturing songwriting talent; proof of the latter may be found on the band's Live At The Isle Of Wight set, released in 1972, a year after the band's acrimonious split. Typical of the stage-obsessed Gallagher, the band's other release was Live Taste.
Between '66 and '71, Gallagher refined his playing — his personality unmistakably asserting itself amidst the styles of the two Kings — Freddie and Albert — that he'd assimilated,
and, most famously, that of Elmore James, whose style of bottleneck wizardry Gallagher would take to new levels of speed and aggression. This happy hybrid style would remain one of the three foundation stones on which his subsequent solo career was built. Another was his predilection for relentless touring, which maintained his profile without recourse to the schmoozing self-promotion and concern for chart placings that he had so little time for. Going out of his way to make B.B. King look like The Stone Roses in terms of onstage duespaying did have its downside, though — the members of his backing bands had a tendency to drop like files under the workload and he got through tons of them. The results proved worth the heartache — his live Irish Tour '74 album (also in 90 minute documentary video form) is a fine example of Rory and his then band at the peak of their powers. Not exactly your Scott Walker sort of figure when it came to his recorded output, in the the '70s he managed to release roughly one album every year.
Perhaps that's partly why his recorded legacy is, admittedly, patchy. His early solo albums — Rory Gallagher ('71), Deuce ('71) and Live In Europe ('72) did well for him commercially and best documented his incendiary guitar playing. The live album recorded in his homeland remains legendary, but the LPs that followed — Against The Grain, Calling Card, Photo-Finish, Top Priority, Stage Struck (another live collection) — were less comprehensively successful, though all contain at least something to recommend them.
On Gallagher's death, Melody Maker journalist Roy Hollingworth remembered how Rory was 'one of the hardest-working musicians around. The biggest shame was that he never really made it in the United States; yet he was one the best of the blues guitar players. He had true grit.. that Irish soul to his playing that the British blues guitarists never had.'
Fittingly, Gallagher was a hero to his people. In the wake of Thin Lizzy, the Boomtown Rats, U2, Sinead O'Connor, The Cranberries and Therapy, rock and pop musicians from Ireland are no longer considered a novelty, but Gallagher, along with his close friend and fan Van Morrison, did much to convince the rest of the world that the Emerald Isle could offer a great deal more than reels at folk nights.
Indeed, if great commercial success eluded him the respect which Gallagher earned from fellow musicians speaks highly of his importance. John Lennon was and Slash is a Rory-phile, Gallagher toured alongside Bob Dylan, another admirer, and he was invited to play on Chess records' London Sessions during the '70s alongside two of his heroes, Jerry Lee Lewis and Muddy Waters. However, such was Rory's devotion to his art — or perhaps he was as stubborn as others' complained — he even passed up a chance to replace Mick Taylor in The Rolling Stones, preferring instead to slam away with his own band.
Ultimately, Gallagher was most at home on stage with his third mainstay, the famous beat-up '61 Fender Stratocaster — somehow never quite superseded in his affections by the '57 Strat or the old Tele that he also used. If ever a musician was synonymous with his instrument, it was Rory Gallagher. The guitar survived four re-frets, three pickup refits, almost total obliteration of the finish, theft and 31 years of constant use. Rory found it in Cork in 1963, as he told TGM in 1991.
'I just thought, 'That's the one I want", he recalled. 'I paid £100 for it, which in '63 was a huge amount of money, but I wanted it because I'd seen Buddy Holly and Buddy Guy use one I don't mean to get sentimental about these things but when you spend 30 years of your life with the same instrument it's like a walking memory bank of your life there in your arms.
Even though Gallagher was still filling 8,000 seaters in Europe less than a year ago, the first intimation that perhaps all was not well with Rory came at a London show a little over two years ago, in support of his successful Edged In Blue album. A dreadfully erratic performance was met with derision by his normally devotional audience. It later emerged that the irrepressible guitarist had defied medical advice and taken the stage under heavy medication.
It wasn't until late last year that he fell seriously ill, almost inevitably while touring. His illness scuppered his plans to record a new album, tour Britain in late '95 and, ultimately, of course, it has now taken his life.
Rory was a diffident and likeable man, with none of the ego regularly associated with rock musicians. He wasn't averse to a spot of casual mysticism either, as the description he gave TGM of his beloved Strat revealed. It may serve just as well to describe the man himself now he's gone: 'It certainly has a karma of its own and it feels like nothing else.' He and it will both be missed.

---
This article by Glenn Rice comes from the August 1995 issue of The Guitar Magazine
Thanks to John Spreckley for passing it along
reformatted by roryfan
127