Guitar star
THE RORY GALLAGHER STORY
BORN in Ballyshannon, raised in Cork, Eire, Rory Gallagher is always rated among Britain's top guitarists. He started off in school bands and then joined the Fontana Showband, who later became Impact.
When they eventually broke up, in about 1965, Rory did a stint in Hamburg with a bassist and drummer. This led to the formation of Taste, who finally came to London in 1968. Taste -Rory, Richard McCracken and John Wilson achieved considerable success playing the clubs until they split in 1970.
Some months later, the first Rory Gallagher Band was formed with Wilgar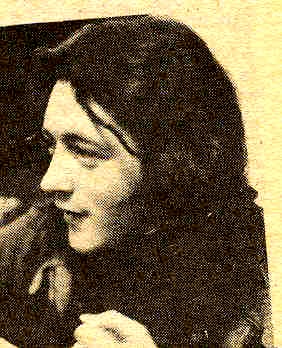 Campbell on drums and Gerry McAvoy on bass. They recorded three albums, Rory Gallagher, Deuce, and the excellent Live in Europe before Campbell was replaced by Rod de Ath. In summer 1972, Lou Martin was brought in on keyboards to add extra strength to an already formidable trio. Last year a film was made of Rory's Irish tour, and the musical soundtrack released as a double­ album set.
I caught up with Rory on one of his rare days off. He'd just flown in from Ireland, had spent the afternoon doing interviews, and was due to fly out to Barcelona the next morning, but was still ready and willing to talk about music - over a few jars of Guinness naturally.
There's nothing flash about Mr. Gallagher. Unlike many other bands who take a convoy of heavy trucks and travel in limousines everywhere, on the first American tour he and the rest of the group traveled in a station wagon driven by his brother along with all the equipment! He's even using the same guitar he bought when he was 15.
"Yeah, the Strat's the same one, although I've had to change two of the pickups and the top nut's liable to sink very quickly, so I've replaced it a few times. I've stuck with a Strat because I like the treble and clarity of it. I also use a Rangemaster treble booster to give it an extra lift. It doesn't have the natural sustain of a Gibson's, but then a Gibson hasn't got the clarity of a Strat. I use a Telecaster for slide, usually tuned to an open E or A chord. It's not necessarily the best guitar in the world for slide, but it really suits me. In the acoustic numbers, I use a Martin D35, and sometimes a National. I've got loads of favourites - I used to like Lonnie Donegan in the skiffle days and then people like Buddy Guy and Muddy Waters. I really liked the early Big Three. The original concept of Taste was to be an updated version of the Big Three!"
Rory makes no bones about his love for the Blues, and although his recorded work covers quite a range, he's never stepped too far away from his roots.
---
From the April 26, 1975 issue of
Record Mirror

reformatted by roryfan
293
added 5/1/05