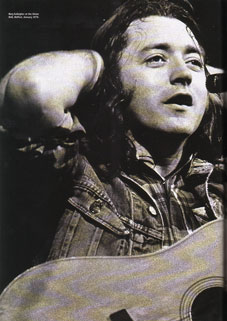 A soulful, passionate musician, Rory Gallagher was up there with the best white bluesmen. He was also, as his brother Donal and others confirm to Classic Rock, one of life's rare genuine nice guys.

Feeling blue: Dave Ling

SOUL
MAN
"
Well , he's drinking down the bourbon like it was soda pop,
Trying to quell a feeling he knows ain't gonna stop,
He's mortgaged out his blood for one more chance to breathe.
He had the DT's for breakfast, the shakes till noon,
He picked up his bag and left the motel room,
His head is held high, but his heart is on its knees."
(from 'Bourbon' on Rory Gallagher's 1982 album Jinx')
MANY OF US WILL FOREVER ASSOCIATE THE SENTIMENT OF the above words with Rory Gallagher, the gifted Irish blues troubadour whose hard drinking eventually contributed greatly to his tragic early death in 1995. While Rory the man may have seemed easy to read, he was a highly complex person even to those who knew him best. Humble and shy, he had no trouble abstaining from the bottle for months and sometimes years on end.
He loathed the self-aggrandisement of the music business, and his perfectionism could be an irritant to those around him, but when it came to plugging in the battered and sweat 1961 Stratocaster guitar that was his constant companion since the age of 15, all of his minor character flaws quickly became irrelevant.
Born at the Rock Hospital in Ballyshannon, County Donegal, on March 2, 1948, Rory and his family moved to Cork when he was eight years old. MUSIC was already in his blood, his father Daniel having been a musician, inspired by skiffle stars like Lonnie Donegan and then the rock'n'roll of Elvis, Eddie Cochran and Buddy Holly, Rory quickly mastered his first instrument and began playing small gigs in schools, churches and even local nursing homes.


An attempt to form a skiffle duo with his brother Donal resulted in a heated argument on stage, though the pair were the best of friends again when, on a fateful 1963 day, they paid a visit to the music shop owned by Michael Crowley. Rory had been eyeing up a certain sunburst Stratocaster in the shop and believed he'd found a part-exchange solution to its prohibitive 100£ price tag.

"Buddy Holly had played one, so that guitar was like a spaceship landing in Cork" Donal recollects now. It was a very serious thing for Rory so he decided we could skip school. He gave them his old guitar as a down payment and had all the maths done on the hire-purchase agreement. We had to keep it under the bed because we didn't want our parents to know about it.

"Everything about that guitar was exciting, right from the tweed of the case," Donal adds, with a mischievous smile. "But I admit it. I got off more on sniffing the little pot of polish that came with it."

The Stratocaster helped determined schoolboy Rory to join his first group, the Fontana Showband, a six-piece completed by older, professional musicians, the Fontanas (who eventually became the Impact Showband) nevertheless quickly realised that young Rory had a stubborn streak when he refused to wear their uniform of suits and ties. Other restrictions of the showband circuit also soon began to dull Rory's enthusiasm, and in 1966, with his reputation beginning to spread, he had no trouble persuading bassist Eric Kittringham and drummer Norman Damery to join him in his own band. He named them Taste.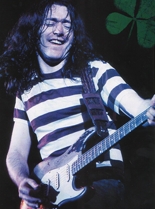 Given Rory's aversion to gimmickry (which would stay with him all his life), Taste favoured denims and long hair and even scruffier blues-rock. The trio were enthused when record producer Mervyn Solomon offered the trio the opportunity to make their first demos. But with no prior consultation, several of the tracks they recorded were actually released by Major Minor Records, which triggered another of Rory's aversions- record labels. The full sessions eventually surfaced as "Taste: In The Beginning".

Further evidence of Rory's blossoming fame arrived when his beloved Stratocaster was stolen from a van following one of Taste's early shows in Dublin. He was inconsolable at the robbery. But news of the theft made it onto local TV show Garda Patrol, thus drastically reducing the instrument's sell-on potential.

It became a big media thing." relates Donal. 'The TV show was quite cynical, saying that whoever had stolen the guitar had probably done the neighbours a big favour, but it made the thing more of a hot property, and it was found abandoned a couple of days later.

The thief ended up ditching the guitar behind a wall, and the instrument was eventually returned to its rightful owner.

Taste began playing shows in London, appearing regularly with Fleetwood Mac and Cream. However, a difficult decision was around the corner. After being spotted at the Marquee by a Polydor Records talent scout, Rory as band leader was offered an ultimatum: if he wanted Polydor to sign Taste, Kittringham and Damery would have to be replaced by bass player Richard McCracken and drummer John Wilson.

Gallagher thought the label's demand was both unfair and unnecessary, but Polydor wouldn't budge. The guitarist had everything to gain, and very little to lose except the friendship of Norman and Eric; Wilson had played with Van Morrison in Them, and McCracken with Spencer Davis, and of course Rory had his own personal ambitions. However, given his reputation as one of rock music's nice guys, the decision of the then 20-year old to submit to Polydor's demands was more than a little uncharacteristic.

Could Rory be ruthless if necessary?" his brother Donal muses. "Well, that's not the word I'd use. It was probably the toughest decision he ever had to make, and I think there was a lot of coercion from his management of the time because they also managed Richard and John. It was certainly something he agonised over at the time, but in the end he had no choice."

Many years later, Rory remarked: "I was made out to be the villain, but it's simply not true. I got very badly burned. I've been through the Taste story so many times and I'm sick of it."

Despite the relative youth of the new line-up, their two studio albums, 'Taste' (1969) and 'On The Boards, both still stand up well, especially the latter. "Status Quo" and so many other bands have fed off the guitar riffs of 'On The Boards'. It's a classic album," Donal says. "I've heard them lifted on things like Alice Cooper albums, and Rory would've been more than happy about that, but he never really got the credit for subtly bringing in the jazz element and helping to push rock music that little bit further."

On August 28, 1970, Taste played a triumphant spot at the Isle of Wight festival – along with The Who and Hendrix, among others – before an estimated 300,000 crowd, winning seven encores. It was a bitter-sweet experience, as just a month and a handful more shows later Taste would call it a day.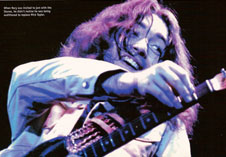 "With hindsight, it's easy to be critical of the way Taste were being managed," Donal comments, who at the time was his brother's road manager, and would soon end up representing him. "They'd come back from the States with Blind Faith, who were enormous, but the two bands had albums that entered the Billboard chart within two places of each other. And Taste were still starving away in bedsits. So there was a lot of frustration."

Rory decided to go solo, with a rhythm section of bassist Gerry McAvoy and drummer Wilgar Campbell. Both had supported Taste with their band Deep Joy. "I first met Rory in a music shop in Belfast, and both our bands split up around the same time," McAvoy explains of what would become a 20-year friendship. Rory and Donal had been turning up at our shows and in February 1971, I was happy to receive a phone call asking me to join."

THE 'RORY GALLAGHER' AND 'DEUCE' ALBUMS WERE BOTH released in 1971. 'Deuce' was marginally the better, capturing the excitement of Rory's concert performances - songs like 'Should've Learned My Lesson' and 'In Your Town' were recorded shortly before or after a gig. But it was the following year's 'Live In Europe' that gave the guitarist his first Top 10 success. Summing up the diversity of Rory's career to that point it united acoustic tracks such as 'Going To My Home Town' with a blistering version of Muddy Waters' 'Bullfrog Blues' and the simmering 'What In The World'.

In 1972, Muddy Waters asked Rory to play on an album called 'The London Sessions' with Steve Winwood, ex-Hendrix drummer Mitch Mitchell and ex-Blind Faith bassist Ric Grech. Five years later Rory guested on Albert King's 'Live', and he was also thrilled to participate in an all-star recording for Howlin' Wolf that featured Eric Clapton, Charlie Watts, Bill Wyman, 'sixth Stone' Ian Stewart and Winwood. Melody Maker readers also voted the world's most normal-looking superstar as the best musician of 1972 -and by way of celebration Rory may even have bought himself another of those flannel workshirts he loved to wear.

The 'Tattoo' and 'Blueprint' albums were released in quick succession, with new drummer Rod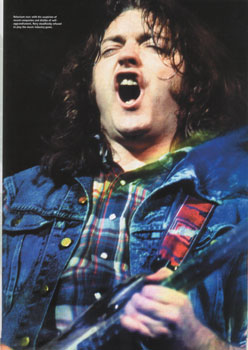 De'Ath and keyboard player Lou Martin enlisting. As another highly popular concert recording called 'Irish Tour '74' confirmed, it didn't take long for the band to re-establish their impressive brand of mental telepathy. McAvoy, himself a former guitar player, swears that their unspoken communication came naturally.

During the early 70s, the group spent much of their time in America. Away from the stage, Rory was a mess of contradictions. The antithesis of his live-wire public persona, he was quietly spoken and modest to the point of timidity. And although he increasingly suffered from anxiety before playing, be would often relax after a concert hall performance by jamming and drinking at a smoky club. There was often much boozing, though Rory was never alone in his drinking. Drugs, however, were completely off the menu.

"Rory was the politest most mannerly man I ever met," McAvoy affirms. "The only time ever heard him swear was when he called the record company a bunch of shits, and even then he apologised. We used to go to church together wherever we were. But as much as he was introverted, he used to go wild onstage. He was incredibly focused on his music, nothing else could enter his life."

Because of this, Rory remained a bachelor all his life, though as McAvoy attests, "he had many, many chances" to have married. During one US tour with Deep Purple, it became a source of irritation for the headliners that Rory — a handsome man in his prime — was the centre of so much female attention. But his professionalism and attention to detail were such that a soundcheck would often last as long as the gig itself, sometimes longer.

Ironically, it was in California during the same Purple tour that Rory dished out some friendly advice to McAvoy.

'I'd been getting sip at 11 am and having a whiskey and although he wasn't drinking much at that stage he noticed that I was getting more and more into it," McAvoy recalls. "One afternoon I was at the bar, and he suggested we take a walk and catch a movie. On our way down Sunset Boulevard to see Dirty Harry he began telling me how I should perhaps have a bit of breakfast first, look after myself more. And he was completely right, so I stopped. But when the same thing eventually happened to Rory, he just couldn't be talked to."

Donal is quick to acknowledge his brother's complex personality. "He was an enigma. He used his guitar like a battleaxe but he was always so gentlemanly. Growing up alongside him was strange. While the other kids were playing ball, he was inside practising. To me that was like homework. But he was so driven. Throughout his teenage years he was so busy he never had girlfriends. I suspect he felt he couldn't do a marriage justice. In later years he became so lonely because he never really learned the art of having a relationship,"

The Rolling Stones, Deep Purple, Cream, Canned Heat and Cactus were among the numerous major bands linked to Rory's name at one time or another. In early 1976, with his next album 'Against The Grain' in the racks, Donal received a late-night call from Stones keyboard player Ian Stewart asking whether his brother might want to visit Rotterdam where the band were recording their 'Black And Blue' album. So legend has it, Rory accepted the offer, played with the Stones for two days and nights, then flew off to Japan to play a tour of his own, without the subject of replacing guitarist Mick Taylor being broached.

"All he thought they wanted was a jam session," a still-astonished Donal relates. "I had to say: 'Rory don't be so naive — they're looking for a guitar player.' They'd asked Rory to start off one of the jams, and what came out was the song 'Miss You', but because he was such a huge fan he was more interested in asking them questions about Brian Jones [than trying to join the band]. I believe that on the last night, Jagger told Rory to go to Keith's room, but he was comatose on the bed so they never had the discussion. Rory stayed up all night in the hope that Keith would wake up, but ended up flying to Tokyo. Maybe the Stones thought he should've cancelled his tour, but they knew where to reach him.

Although he has no knowledge of anything being formally discussed, Donal admits that "it would have been logical for Purple to have approached Rory to replace Ritchie Blackmore. That notion was confirmed by bassist Roger Glover agreeing to produce Rory's next album, 1976's "Calling Card."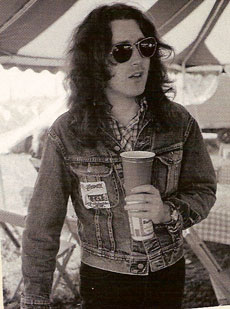 Donal agrees that Rory may have regarded record companies as a necessary evil, although he was at first satisfied with the switch from Polydor Records to Chrysalis (in 1978 he told a US interviewer: "We were doing too many albums, at least two a year, plus gigs"). However, his continued admiration of the image-free success of old-stagers like Bob Seger and Bruce Springsteen flew in the face of the UK's latest trend, punk rock.

"They didn't just make it with some wimpy tune that just came out of nowhere," Rory enthused. "That's heartening, and it can be done. What image does Bob have, with his long hair and beard? We know he has a great voice and band, [but] he doesn't put on a movie-star act and be ten different people."

'Calling Card' and 1978's 'Photo Finish' (the latter recorded with new drummer Ted McKenna) were both among Rory Gallagher's finest albums, adding standards like 'Country Mile',
'Moonchild', 'Shin Kicker', 'Brute Force And Ignorance' and 'Shadow Play' to his already strong repertoire. But prior to 'Photo Finish' Rory had chosen to scrap an entire album of material, and relations with Chrysalis were beginning to sour, causing him to sarcastically dub his next album 'Top Priority'. Despite being a strong, powerful rock record, a third live album, 'Stage Struck' pigeonholed his act at completely the wrong moment.

Indeed, the 1980s weren't an especially happy period for Rory, who summed up his mind-set at that time by giving his final Chrysalis album the title 'Jinx'. He had developed a fear of air travel following a particularly nerve-racking flight. And when he and his band did make it to the States, they found themselves paired with stadium rock bands like Blue Oyster Cult and Rush, an experience Gallagher later described as "soul destroying". But despite the ever-mounting problems, it was always a case of doing things Rory's way or not at all. When it came to releasing singles, he once declared: "I would never squander my whole credibility just for one silly song."

Rory ended hi semi-retirement by resurfacing on the independent Demon Records label in 1987, though he had binned another recording, called 'Torch', along the way. A new name featured on the 'Defender' album was that of Mark Feltham. Over the next 11 years, a shared love of country music would help the former Nine Below Zero harmonica player get to know Rory better than most.

"Rory was a beautiful man," Feltham says fondly. 'I've never met anyone who's spoken badly about him. You couldn't have done so, because he was an angel. But as friendly as we became, I never felt that I knew him personally. And for all his talent he was terribly, terribly insecure. The strangest thing about Rory was that although he hated stardom, he would've been lost without the adulation."

By this point, Rory's drinking was worsening noticeably. When asked whether Rory's alcohol consumption ever affected the show, Feltham admits reluctantly: "It did during the last five years."

With a sorrowful shake of the head, McAvoy recalls the occasion that he witnessed Gallagher dissolving into tears when he found himself struggling to master a passage of music that he could once play with ease.

"Trying to solve Rory's problems took Donal to the verge of a nervous breakdown," the bassist says. "The stress was bringing him out in lumps, and towards the end of my time there were a lot of arguments."

"We grew up in a drinking tradition in Cork City. There were two great breweries, and the culture of drink was never far away," Donal theorises. 'I was always the one who boasted about how many pints I could consume, Rory was more into spirits and could drink a lot of them. His problems really began when he was prescribed medication for his fear of flying. In a way it numbed his senses.

"It didn't help that the people that Rory looked up to — blues musicians and the writers of the crime novels that he loved — were all fond of alcohol," Donal adds ruefully. "He liked the idea of going away somewhere, locking yourself into a room for four days and getting well-oiled. As his medication became stronger, it all became very wearing. His body swelled up and he began to look fat, but he wasn't really eating anything. When he looked in the mirror he just ended up drinking more. It became a vicious circle. It led to a lot of conflict between us, because the elder brother didn't like the younger one telling him what to do."

THE LAST ALBUM RORY RECORDED, 'FRESH EVIDENCE', WAS released in 1990. Although it included future live favourite 'The Loop', the record lacked the overall consistency of his earlier work. McAvoy and drummer Brendan O'Neill both quit in the summer of 1991 to concentrate on the re-formed Nine Below Zero, though Feltham would continue to play with Rory till the end. In interviews of the day, Rory described the parting as "very amicable", though significantly he added: "It is going to be quite difficult."

"Our meeting with Rory in a pub in Chelsea was the most horrendous afternoon of my life," McAvoy says of his departure. "Afterwards, he walked out and you could almost feel the release of tension, but then he came back in again and said: 'Is there anything else you want to add?' There wasn't, so he left again. What that meant is something I'll never know."

The departing musicians fulfilled their touring obligations through the UK, the Far East and Australia, and with Gallagher remaining sober for the sold-out tour McAvoy even wondered whether his decision to leave was the right one. At the final gig in New York, the fire brigade were summoned when the venue became over-crowded.

"The fire chief came into the dressing room in his helmet to stop us playing, and Rory told him we had one more song," the bassist grins Gerry at the memory "The fire chiefs reply was: Is it 'Bullfrog Blues? It was, so he let us. He was a fan."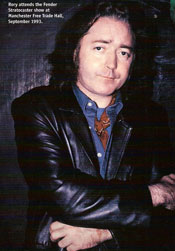 Gallagher went on to recruit new bassist Jimmy Leverton and drummer Richard Newman and put on a good public face ("I'll go till I'm 6O. That would be a good age to retire"). But an argument with a Dutch promoter had badly undermined his confidence. Rory was plagued by insomnia, and once confided to close friend Gary Moore that he hadn't left his house for three months. "I think he thought nobody cared about him any more," said the former Thin Lizzy guitarist and fellow blues lover. "He sounded so beaten down. What tells you more than anything about Rory is that he didn't say anything about his problems, he was more interested in mine. He was such a selfless person."

RORY STAYED ON THE ROAD FOR AS LONG AS POSSIBLE, DESPITE his seriously declining health. He was drinking brandy as a stimulant; then taking pills to combat the comedown. Donal, who wanted to put his brother on a program to wean him off the anti-depressants, would confiscate any pills that he found, and became involved in stand-up rows with two separate doctors, even threatening legal action before learning from his lawyer that the suit wouldn't stick. Finally, Rory slipped into a coma and was given a liver transplant;

At first, the operation was deemed successful, but later an infection set in. Rory died on June 14, 1995. Feltham was among those with Rory at the time of his passing, and also played 'Amazing Grace' at an emotional funeral attended by Gary Moore, The Edge and Adam Clayton from U2 and Ronnie Drew of The Dubliners, among others. Incredibly, around ten thousand people turned out to line the streets to Cork's St. Oliver's Church.

"I was allowed into the hospital after the transplant," Feltham says. "Donal had asked me to go along and play some blues for Rory trying to bring him out of his coma. We knew it was possible. I spent many nights next to his bed. It was incredibly sad."

Rory's battered old Stratocaster still lies in a bank strong room, and most likely will never be played again. In 2000, Fender issued a run of limited-edition replicas.

Of course the Gallagher legacy lives on. Rory's brother Donal still runs the Strange Music office in London, assisted by Tom O'Driscoll, the friend and roadie who joined Rory back in 1971. The Rory Gallagher back catalogue was revised in 1999, with the addition of bonus tracks and sleeve notes, and in the same year the double set 'The BBC Sessions' was made available. In 2001 came the four-CD live collection 'Let's Go To Work'. Now comes 'Rory: Wheels Within Wheels', (reviewed this issue) an acoustic project that Rory had been talking about enthusiastically for years before his death. "Rory is sorely missed, and he'd be very happy that his music is still popular," McAvoy says of the posthumous releases. "The only thing that concerns me about the reissues was the extra tracks. I was on them all, and there was a reason why they weren't on those albums in the first place."

"Gerry's never said anything like that to me before, and I find it pretty amusing," Donal responded, with surprise. "There were different time constraints with vinyl, and the albums are now available in complete form because the listener now owns the entire session. No, I don't know where Gerry's coming from on that."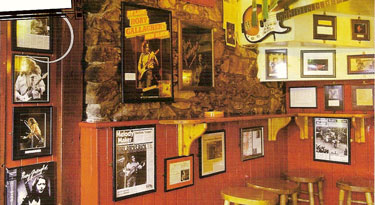 According to Donal, so much unreleased material still exists that "an album a week could be made available" if he so wished, although he's fully aware of the need for quality control. Even so, he says that he would "like to think there are a few more to be made."

In fact, Rory's 47 years are still celebrated in many ways, besides the release of CDs. A former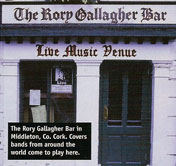 school in his birthplace of Ballyshannon has recently been converted into an arts centre in his name, and each year there are various tribute shows around the world. There are also numerous fan-run Rory websites, one of the best being www.roryon.com.

It is now almost eight years since Rory's death, though Donal still feels as though he's in contact with his brother and friend.


"Oh yes," he says enthusiastically. "It happens especially in dream form. That was very useful when it came to putting together this acoustic album. We never had a formal meeting about it, and there were numerous problems regarding the musical colouring of certain tracks, but I needed to know that things were being done the way Rory would have wanted."

The name Rory Gallagher is still revered among guitar players, though despite the sale of 30 million albums it still tends to be overshadowed by Page, Clapton and Beck. But somehow Donal doesn't think Rory would have minded: "He was a huge fan of those artists and he wouldn't have wanted to be in competition with them," he concludes. 'Rory might not have a string of quadruple-platinum albums, but he now has streets named after him and was even important enough to people's lives to appear on a stamp. That kind of recognition in his homeland is what would've given our mother the most comfort."

---
These quotes were scattered throughout the article.
I combined them in this section.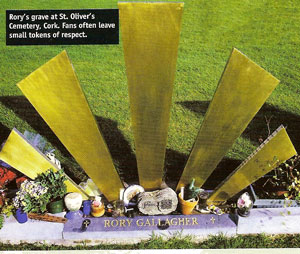 In Loving Memory
"I was with Free when I first saw Rory

and I
remember thinking: "God, what I wouldn't do to
have that guy in this band."


Paul Rodgers, Bad Company



"A beautiful man and an
amazing player.
We

will miss him very much"




U2's The Edge



"Rory was a really big influence. One of the all-time great
guitar players. Playing with him in LA was one of
my biggest thrills ever."


Slash




"One of the top ten guitar players of all time, but more importantly one of the top ten good guys."




U2's Bono




"Rory was such as purist. He wouldn't sell out. He wouldn't do singles, he didn't want to do videos. How many people in the music

business today would have that kind of stand.
It's so dangerous"


Gary Moore



"Rory's death really upset me.
He was such a nice guy and
a great player."
Jimmy Page

This article comes from the March 2003 issue of
Classic Rock
written by Dave Ling
Photography by Fin Costello

Thanks to Doug Pugh for typing/scanning/editing the text on this one.
Thanks to Barry Barnes for sending me a copy of the magazine when it came out
Article reformatted by roryfan
345
added 12/17/06