Gallagher tribute passes blues to next generation
Kate O'Reilly meets the young pretender who
is helping to keep a legend alive
---
A YOUNG Fermoy guitarist, like many Irish boys, has dreams of a career in music, but he has already experienced the buzz of going on stage, having played during an international tribute concert to his idol Rory Gallagher.
Sean Murphy, aged 12, will also play during a gig at The Meeting Place, Midleton, tomorrow night to mark the fifth anniversary of Rory's death.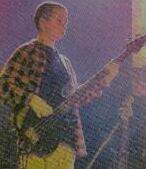 Fans from around Ireland, the UK, Europe, Canada and the USA are traveling to Midleton where The Rory Gallagher Bar, dedicated to the pioneering blues and rock guitarist, opened in 1997.
Described as "a man who managed to combine the gift of being an authentic, creative genius with the even rarer gift of being a genuinely decent, honourable human being," Rory toured extensively during his 30-year career, sold 30 million records, and had a worldwide following of loyal fans. If anything, the fan base of the shy and modest man, who and was acknowledged as one of the finest blues musicians treading the boards, has grown since his death.
"I love the energy and the genuine fans that Rory has and the gigs have just mushroomed," says Tony Moore, owner of The Meeting Place. "One of my aims is to encourage younger age groups to enjoy Rory's music and it's fantastic to see someone like Sean playing it. He's very promising."
Sean has been playing guitar for two years now and says he practices for around three hours every day, on electric, acoustic and bass.
While his older brother, Tommy likes heavy metal, his Dad, Sean is a big Gallagher fan. He introduced his talented son to the blues, as well as the music of Neil Young, Hendrix and Thin Lizzy.
"First I wanted to play the drums, but then I decided to play the guitar instead. I had never heard of Rory Gallagher, but then my dad played a CD of his for me and I thought he was just a brilliant guitarist, " Sean says. "He could do slow stuff: or heavy stuff; blues or rock."
Now Sean has almost all of Rory's albums and, along with his dad and mum, Assumpta, is often to be found among the crowd at the tribute gigs. These are organised by Tony Moore, playing around Ireland from April to October. Sean met tribute bands Brute Force & Ignorance, from Germany, and Jed Thomas, from England, last summer and has been keeping in touch by e-mail with the groups since then. Both bands were taking part in a Rory Gallagher Tribute Weekend in Leeuwarden, North Holland at the end of February. Sean, his dad, and a group of friends decided to go along.
And he got his first taste of the international spotlight when Brute Force & Ignorance, asked him if he would like to play bass on stage for a song.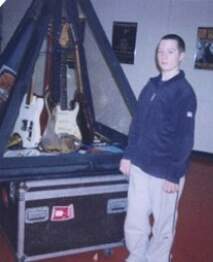 "I was talking to Donal Gallagher, while Sean was playing, and he couldn't get over the fact that a young fella of just 12 was playing Rory's music. He was really delighted to see that somebody of that age was keeping something of his brother alive," says proud dad, Sean. "It's great to see that Sean is dedicated and sticking with the guitar -although of course, he's also into other things like PlayStation. But the most important thing really is that he gets such enjoyment from it."
Brute Force & Ignorance are the main act in Midleton tomorrow night, with support from Paul Sward for the 8.30pm free Gallagher tribute gig. You can also catch them tonight in De Barras, Clonakilty; Friday, Cruiscin Lan, Douglas Street, Cork; Saturday, The Marine Hotel, Youghal and Sunday back in The Meeting Place. Irish tribute group, The Dave McHugh Band, will be in The Meeting Place on Monday, June 19, and they will also play an anniversary gig in The Old Oak, Cork, tomorrow night. For further details contact Tony Moore on (021) 631928.

---

This article was taken from the June 13, 2000 issue of the Irish Examiner.
reformatted by roryfan
the photo at the top is from the article ( the newspaper photo didn't scan well)
the second photo is from the Cork Arts Festival
the background is a photo from the article mutated by roryfan


110