RORY GALLAGHER
RORY GALLAGHER is the man who, without question, has spearheaded and influenced the entire Irish rock movement. Rory's music is his religion; his conviction and sincerity in the way he projects it have assured him a place in rock history, and also earned him critical acclaim as one of the greatest contemporary artists playing rock and blues.
His rock 'n' roll odyssey began at an early age when he saw Elvis Presley on TV and asked for his first guitar. Rory would listen and learn from the likes of Lonnie Donegan, Woody Guthrie, Leadbelly, Chuck Berry , Muddy Waters and Jerry Lee Lewis, many with whom he has since recorded.
While still at school during his early teens, Rory began playing with professional showbands throughout his native Ireland, playing all the popular hits of the day. Not musically satisfied with this, Rory converted his latter band, The Impact into a six-piece R&B outfit and headed for Hamburg in the mid-Sixties. Upon arrival, the line-up was trimmed down to a trio. In 1967, Rory formed Taste and headed for London. The band was widely acclaimed and became an immediate success at London's famed Marquee Club, even counting John Lennon among their many fans.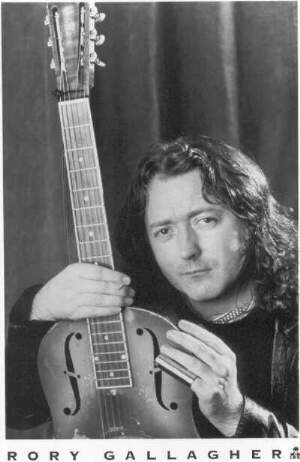 When Taste disbanded at the end of 1970, Gallagher began his very successful solo career. He has sold several million records worldwide, and has toured the globe regularly (25 U.S. tours alone).
Highlights along the way have included special guesting on Muddy Waters' LONDON SESSIONS album (Chess), session work with Jerry Lee Lewis, a live Montreux appearance with Albert King (check out King's LIVE IN MONTREUX), and an invitation to record with the Rolling Stones in Holland, in 1974. Rory has also been voted Melody Maker's Top Musician of The Year (toppling Clapton's stranglehold on the position), and achieved worldwide Top 10 chart success with albums like LIVE IN EUROPE. There is also a seminal documentary of his legendary '73 tour of Ireland, captured by director Tony Palmer .
In addition, Rory has been invited to play England's prestigious Reading Festival more than any other artist, and was also the first artist ever to appear on Rockpalast, a TV special transmitted through Eurovision to 15 countries and a viewing audience of 50,000,000.
Rory's work continues to be excellent, as FRESH EVIDENCE bears out, and it is evident that this journeyman's journey is far from over. And as always, Rory will soon be gracing U.S. stages -look for a tour come March, 1991.
FRESH EVIDENCE
FEBRUARY, 1991
X2/4-13010

---
This write-up and the photo come from the 1991 IRS press kit at the release of Fresh Evidence
reformatted by roryfan
109