LOST & FOUND
WHERE HAVE ALL THE GUITARISTS GONE? by Jeff Gilbert
Band: solo artist
Prime Cuts: Blueprint, Live In Montreux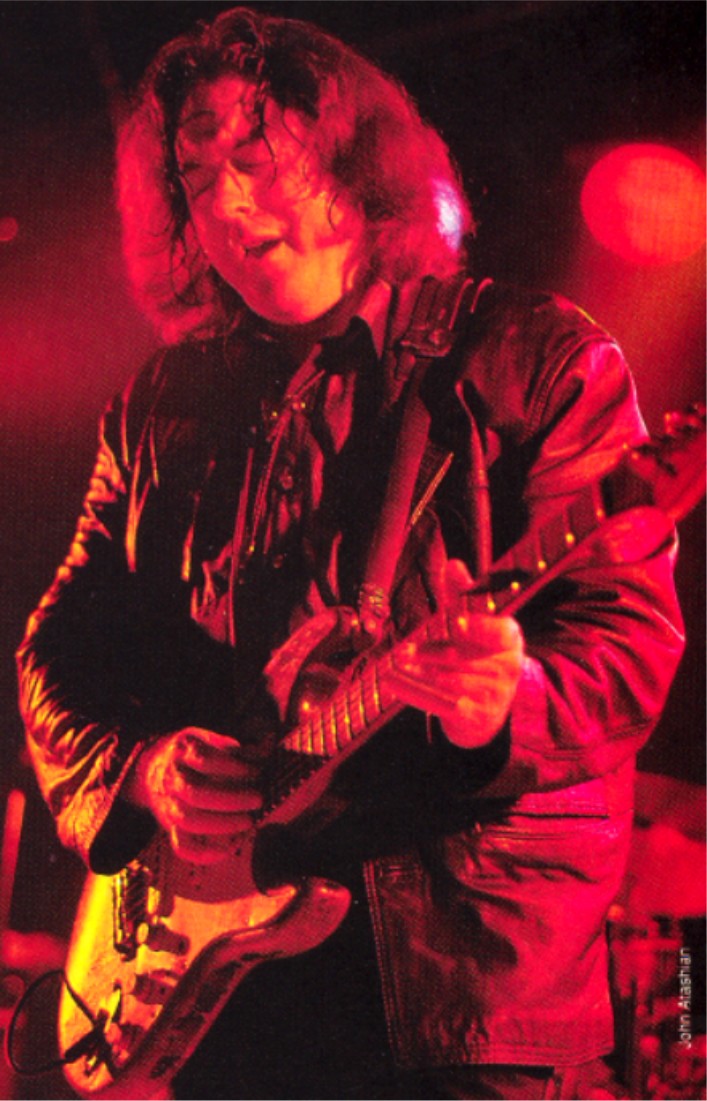 RORY GALLAGHER, the dauntless Irish guitarist credited with spearheading the entire Irish rock movement, began playing the six string when he was nine years old. As a teen, his love for electric and Delta blues, tempered with a keen rock edge, developed steadily while playing in various rock, blues and show bands. In the late' 60s, Gallagher formed Taste, a popular three piece r&b group that later became a cult sensation on the London blues scene. By 1971, Taste folded, and Gallagher, now a solo act, went on to sell several million albums, all on the strength of his gritty fret work and purist blues roots. Gallagher has toured incessantly (25 jaunts through the U.S. alone), played sessions for Jerry Lee Lewis, Muddy Waters, the Rolling Stones and Box of Frogs (with Jimmy Page and Jeff Beck) and recorded the legendary Live In Montreux album with bluesman Albert King.
He also bounced around the Top Ten with several of his own blues-based recordings that included the raucous Live In Europe. He was the first artist to appear on Rockpalast, a Eurovision TV special viewed by an audience of more than 50,000,000 people in 15 different countries.
"We haven't played America in six a years," says the polite guitarist, with the Lucky Charms accent, contemplating his 26th visit to the U.S. "This tour will be interesting because we're playing different venues and not opening for some mega rock band. It'll be nice to get back."
Fans who can't wait to hear Gallagher's raw Strat blazing with all the fury of an angry bagpipe player wearing a beer-soaked kilt a should check out Fresh Evidence, his latest lick-fest, released last year on I.R.S.

"We actually worked in an old studio where 90 percent of the equipment was outdated," says Gallagher of Evidence. "But we like that kind of sound. We brought in some outboard gear to make it sound sharp and digital. I don't like records that sound over-produced. I like them a bit rough around the edges. If you clean it up too much, it loses the intention."
---
This article comes from the March 1992 issue of Guitar School magazine
reformatted by roryfan
photo from the article by John Artashian