Caught in the Act
Rory's rocking rave-up
by Brian Harrigan
RORY GALLAGHER: lashed out at mike stand – and then the show really took off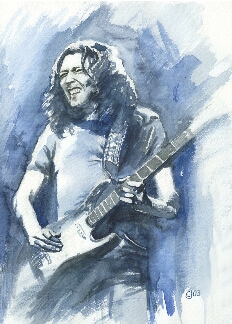 COUNTLESS concerts have been ruined by poor P.A. systems. But ironically, it was bad sound at the beginning of his show that made Rory Gallagher turn in a unique performance at London's Hammersmith Odeon last Tuesday.
It could only happen to an Irishman. With Gallagher, you always expect a workmanlike concert, filled with his own personal anthems and marked by a high standard of musicianship. But for me, there's always seemed to be something lacking: a combination of aggression and showbiz flash.
Gallagher added those missing ingredients on Tuesday. He had struggled manfully with a very bad sound for the first few minutes, and then suddenly, during the second number, "Do You Read Me," he erupted. He lashed out at the mike stand and sent it crashing to the ground. The audience roared in approval – and that set the pace for the rest of the night.
From then on, Gallagher was like a new man, stamping and careening around the stage, urging keyboard player, Lou Martin, to greater speed, leaping on Rod De'Ath's drum rostrum, and even doing a guitar duet with bass player Gerry McAvoy.
Unsurprisingly, then, it was the up-tempo numbers that worked the best. "Souped up Ford" and " I Take What I Want" were steamers. Gallagher displayed his speed and skill by throwing in sparkling embellishments around the normal guitar lines and scat singing over the top. "Bullfrog Blues" the closing number, showed Gallagher in his best hollering form.
The now traditional solos on bass and drums were played with crispness and panache. Gallagher took over the stage midway through the set and played his customary acoustic selection, which was really very well done. "Pistol Slapper Blues" "Alcohol" and then the classic participation number, "Going to My Home Town," were done in the very best style – clean, precise and spare. No wonder the audience went berserk.
Incidentally, "Out On The Western Plain" even had the jobsworths standing and staring, which in itself is no mean achievement. The standout number of the night was, of course, "Tattoo'd Lady," which still ranks as one of the best songs Gallagher has written. He sang superbly and played guitar like a dream.
Of course, it wasn't a perfect concert, and the rhythm section, while they had their moments, tended to be a little wooden. But with Gallagher on his best form this didn't really detract.
The whole concert was taped on the Jethro Tull Maison Rouge mobile by the way, and from where I was standing that concert on record would surpass the classic "Live in Europe" album.
And that's saying a lot.
---
Thanks to Brenda O'Brien for sharing this article from Melody Maker – January 29, 1977
Thanks to Eva Ivan for the great painting!!
reformatted by roryfan

218