Rockupation '77
A country with Forests and lakes; Switzerland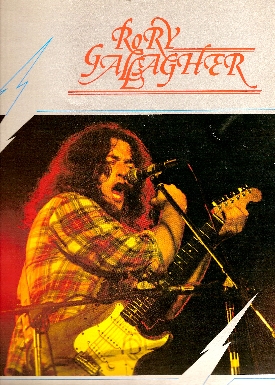 On the shore of Lake Geneva, with the view of Alps in front, the town of Montreux annually hosts the biggest event in Europe, the Montreux International Festival. This year from July 1st to 24th, for 15 days, it produced a soul-stirring drama with glorious fame involving three hundreed musicians and audience of fifty thousand people in this town with spectacular view.
In its eleventh year, The Montreux International Festival gathered young people from all over the world (rather unusual), and there was a torrent heat for this event.
The concert auditorium is located inside a casino with a capacity of about five thousand. A wide screen was set up on both sides of the stage livening up the atmosphere. Every night from 8 pm to 2 to 3 in the morning, there have been heated performances of Jazz, Crossover, Rock, etc. Although most of the Pop Rock musicians participated in this year's festival are not very well known back home in Japan, they have done their share as big concert participants at this historical event. Though not flamboyant, they presented their own peculiar, wonderful performances with super technique. (FM Tokyo has broadcasted a part of this event).
One of the big events of this year (on July 22nd) drew the largest audience since the festival opened its curtain 10 years ago. The musician who headed the bill on this night was, of course, the one you are going to listen to now, Rory Gallagher.
July 22nd was a fine, gorgeous day as only Swiss climate can bring in it's clarity. By 8 o'clock in the morning people started to gather around to see Rory and spent time in a lake nearby or pool to kill time.
Bathed with red light, Rory got on stage jumping over an amplifier as a wrestler does so over a ring rope. From this moment on, Rory got everyone crazy. His gig opened after midnight.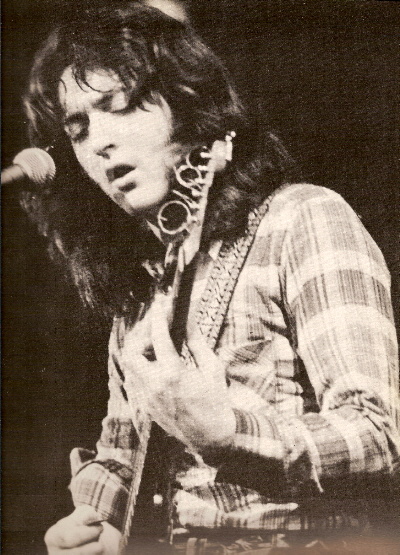 The auditorium was filled with fans shoulder to shoulder as well as an outside crowd the same size of crowd inside. It proved his popular status in Europe. As soon as he got on the stage, Rory said, "It seems that there are many people outside who would like to listen to my music. So we have set up speakers outside as well. Needless to say, stereo." The audience roared with joy before Rory finished his announcement and the atmosphere seemed to reach its peak even before the show.
Rory, who moved around the stage which seemed too small for him, came casually dressed with jeans, a printed shirt and a pair of sneakers. It was like we had one of ourselves, a buddy on the stage. When an excited fan got on the stage and started to play harmonica, Rory welcomed this uninvited guest and played along. We can't imagine this sort of happening in Japan. Rory handled this surprise very well, even though the whole stage act must have been prepared with much calculation beforehand.
The show started with "Moonchild" and lasted for 2 and half frantic hours. Rory made sure that we would hear his original wandering guitar play.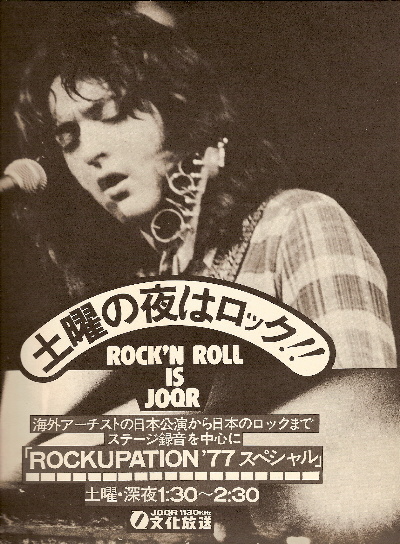 For your information, here is the song list on this night.

Moonchild, I Take What I Want, Calling Card, Tattoo'd Lady, Secret Agent, Garbage Man, Bought & Sold, A Million Miles Away, Do You Read Me, Western Plain, Barley & Grape, Too Much Alcohol, Goin' To My Home Town, Souped Up Ford, Bullfrog Blues and Messin' With The Kid.
Teizo Aoyama (FM Tokyo)
---
Energetic and earnest Rory Gallagher


A long time has passed since I got to know Rory Gallagher. It was when "Taste" made its debut, meaning that about 10 years have passed since. But I am not aware of this passage of time between Rory and me. Simply put, Rory has not changed a bit.
Of course I don't mean that he hasn't improved. His stage performances and albums released truly show that he has improved over the years as a guitarist and a musician. What I'm trying to say is that his charm as a human being and the impression he gives to people hasn't changed.
I don't know a nicer guy than Rory. He is energetic, worry-free, bracing and warm whenever he shows up in front of me. A big-hearted, pleasant nice guy. The first impression of him has remained same. I have been attracted more by his character than by his wonderful guitar playing.
Let me introduce you this bosom friend of mine.


Rory was born on March 2nd, 1948 in Ballyshannon, Ireland. The family moved to Cork later on and he grew up there. The first instrument this ordinary boy, who wanted to be a football player, got was a small Elvis Presley style ukulele. At age 9, he obtained a guitar and mastered it on his own with a help of guitar manual. When he was thirteen, he bought an electric guitar and resolutely started to make his way to be a guitarist.
At age fifteen, he took the first step forward to be a professional musician. He joined a dance band called Fontana Show Band, which played only songs on the hit chart, and spent two and half years playing along. By then he had keen interest in Blues and American Folk songs, and with an electric guitar in his hand his desire to play music in his own style rather than to accompany hit songs on guitar had been growing day by day. When Fontana broke up, he formed his own band. Thus, in 1966, so called the original Taste, Mark 1, was born.
After a change of members, in 1969, Taste made a record debut on Polydor. Along with Rory, there were Richard McCrackin (drums) and John Wilson (bass). They had won popularity and regarded as a new Cream. Three albums had been released before the band split up suddenly at the end of the 1970 and disappointed their fans. After a year break, Rory got a move on again to make his new ideas come true, along with Gerry McAvoy (bass) and Wilgar Campbell (drums). The band toured US very successfully at the end of 1971 for the first time.
The first two albums, after his solo debut, did not create a sensation due to its sober style compared to the ones of "Taste" era. The third album "Live in Europe" showed him at his best...live and he regained his popularity completely. In June 1972, Wilgar Campbell left the group, and Rod De'Ath (drums) and Lou Martin (electric piano), both former "Killing Floor" members, joined Rory and his career got in going full scale all the more.
Around this time, Rory started to show some change in his recordings and to produce more energetic albums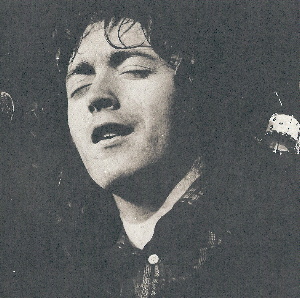 in the studio, like the live shows. In the meanwhile, Rory has had two Tours of Japan, in January in '74 and '75, and he deployed energetic, earnest and refreshing concerts in front of Japanese fans.

In October '75, he left his old label, Polydor, and got a contract with Chrysalis. Since then he has been showing his willingness to explore wider range of music by approaching a more pop and refined sound. This coming tour will be his third in Japan, but will be the first since his challenge started. So I assume there must be some new interest and I'm looking forward to it. Really, Rory is a nice guy!
Kensho Ohnuki
---
From Tour Program from Rory's 1977 tour of Japan
Many thanks to Reiko Schnetzer for translating this writeup from Japanese
reformatted by roryfan
310
added 11/13/05