READING ROCK '80
20th Anniversary of the National Jazz Blues and Rock Festival
RORY GALLAGHER
Rory Gallagher is the man who spearheaded the Irish rock movement and, as always, his direction and musical plans will attract great interest and speculation, especially in the light of the current surge of the new Irish talent.
In 1978, Gallagher disbanded his then current four piece band and pared his sound back to a threepiece to record the hard driving 'Photo Finish' album with long time bassist Gerry McAvoy and former Sensational Alex Harvey drummer, Ted McKenna in support.
In addition to recording with a new lineup, Rory was also producing with fellow Irishman and engineer, Alan O'Duffy (whose previous collaborations have included engineering with Wings and the Rolling Stones) and in a studio new to both, Dieter Dierks' in Cologne, Germany.
The result showed him moving away from the jazzier inflections he had explored on 'Calling Card' towards a more elemental hard rock sound, and constituted an achievement of remarkable poise and power, especially considering fresh McKenna was to the band.
'Top Priority,' his fourth album from Chrysalis, shows Gallagher and band one year on, welded together by this stage, into a fierce and powerful a three piece as has been our pleasure to hear! It also finds him completely at home in Dierks' studio, with Alan O'Duffy at the controls.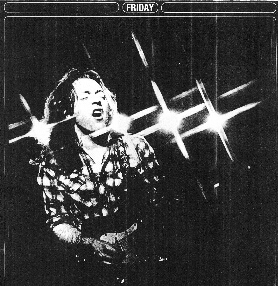 With the combined skills of Rory and O'Duffy coalescing even more surely on production, never before has the guitarist found such a sympathetic setting for his musical genius. The directions suggested by 'Photo Finish' and particularly by tracks like "Shadow Play', is taken to its logical peak here with a whole new collection of Gallagher classics. In addition to being surefire live killers, songs like 'Follow Me' and 'Philby' are also perfectly suited to radio play, and are so littered with hooks and immediately identifiable choruses that they're potentially major hits in their own right.
All his musical passions, from blues and R 'n' B to rock and roll and country music are fused in the playing on 'Top Priority' - not to mention more esoteric flourishes such as the Gaelic tinged electric sitar on 'Philby'. In addition, his lyrics and vocals bear the stamp of authority, making this his most substantial album ever, as well as his most exciting. With music like this, we'll be coming back for more, every time.

---
This piece comes from the program for the 1980 Reading Festival
Thanks to Charlie Gili for passing it along
reformatted by roryfan

241