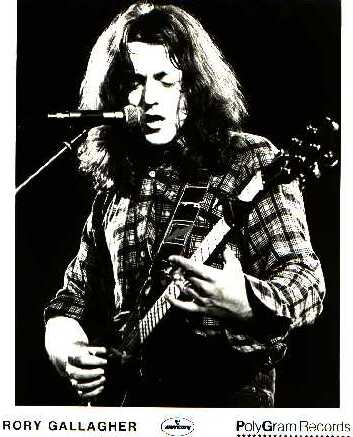 biography
RORY GALLAGHER
"You have to stick with what's in your heart," says Irish guitar virtuoso Rory Gallagher. "I see music as a lifetime affair. I'm not in it for the big kill and then I'll get out. I hope I can end up playing as long as my heroes. "
In a career that has found him hailed as one of the greatest contemporary artists playing rock and blues, Rory Gallaghers admiration of greats like Jerry Lee Lewis, Muddy Waters, Albert King and British skiffle pioneer Lonnie Donegan has had some amazing results. For instance, he has been asked to play with each of the aforementioned influences, as well as earning the admiration of such stars as John Lennon and Bob Dylan. His albums automatically sell a million copies worldwide on release, and he has earned gold and silver records throughout Europe. His concerts throughout the world sell out, and last year in Greece, Gallagher drew 40,000 people to a 15,000 capacity soccer stadium, making headlines and selling 100,000 albums in Greece alone.
Embarking on his 20th American tour, Gallagher has forged his success by eschewing the trappings of stardom, maintaining a direct relationship with his audience and music, and being among the first stars to realize the enduring value of solid musical roots. Nowhere is that more evident than on his new album, Jinx.
"Definitely one of the best blues rock albums of the year," says Melody Maker of Jinx. "(It proves) the dinosaur theory was made to be broken... (S)ongs like the raw, raucous and sexually aggressive 'Signals," the ridiculously fast punch and slurp of 'Bourbon,' the uncompromisingly urgent 'Big Guns,' and the hard-fought and battling 'Loose Talk' immediately announce that Gallagher's back on form. They spit white hot venom designed to split your speaker cones and start a war with the neighbors.'' Praising the album's ''rippling harmonics, "fruity runs of rich, passionate guitar," "sharp, observant pieces of playing" and "Gallagher's careening solos and strong chord work," Melody Maker can only describe the album in total---which was recorded at Dierks Studio in Germany with Gallagher's band Brendan O'Neill (drums) and Gerry McAvoy (bass), as well as guest Bob Andrews (ex-Rumour) on keyboards --- with a single word of well-deserved praise: "Magnificent!"
Rory Gallagher's rock'n'roll odyssey began at age six, when he saw Elvis Presley on TV. Inspired by other greats like Woody Guthrie, Lonnie Donegan and Leadbelly, Gallagher first picked up ukulele, then guitar, and by his teens was playing throughout Ireland in a number of the showbands that were popular at the time.
Out of one of those groups came the first line-up of Taste, a three-piece blues-rock band who were pioneers of the '60's rock trio sound along with Cream and the Jimi Hendrix Experience. They were hailed in New Musical Express by John Lennon, who found Taste an especially bright spot in what he thought was a dismal musical year, and was impressed by Gallagher's playing and singing talents. Taste were also among the star attractions at Britain's Woodstock - The Isle of Wight Festival- where they shared the stage with Hendrix and the Doors.
Leaving Taste to go solo in 1971, Gallagher has built a solo career of impressive proportions through the power of his music, preferring simple jeans and flannel shirts to onstage costumes and staging, and being among the first acts to return to playing small clubs for the sheer musical enjoyment. A longtime concert headliner, Gallagher has given such top acts as Kiss, Rush and Free their first opening act slots, and among his other openers are King Crimson, Roxy Music and Rod Stewart and the Faces. He is also the subject of a 90 minute documentary by noted filmmaker Tony Palmer (whose done features on everyone from Cream to Hugh Hefner) titled "Rory Gallagher - Irish Tour '74."
Gallagher explains his longtime stay at the top of the rock'n'roll heap in simple terms. "Too many bands depend on the confetti attitude instead of getting into music. I treat every show like a club gig - playing your best and relating directly to the audience are the most important things."
With a time-proven, stripped-down and red-hot sound that perfectly fits the musical spirit of these times, Rory Gallagher has one main ambition, one that he'll no doubt achieve. "I just want to still be playing in 20 years time."
PolyGram Records
*******************

---
This biography and picture comes from a 1982 Mercury / PolyGram Records Press Kit.
reformatted by roryfan
65