interviewextra
rory gallagher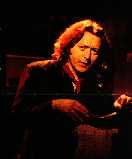 GHOST BLUES IS A PERFECT EXAMPLE OF RORY'S ability to fuse the traditional with the contemporary. " I always find the first song you write after new year is an important one and Ghost Blues was no exception. It's a lonely time of year in many ways and if I'd been in Ireland with all the family, I'm sure it'd never have been written. The melancholy you feel that time of year brings on good songs though, which was one consolation.
I was listening to a lot of Reverend Robert Wilkins and Robert 'Pete' Williams at the time, that sort of redemption song cum Gospel feel. I wanted Ghost Blues to sound like church on a Sunday morning or Maxwell Street on a Saturday afternoon; salvation, inspiration and just a hint of sadness. That was how I felt at the time and good Blues always comes from situations of strong emotion. You can't sing the Blues without a little pain to spur you on.
'I used a line from a Blind Willie Johnson track, ' I Tear That Building Down', in Ghost Blues albeit unknowingly, but to me that's all part of the Blues culture, the handing down of lyrics and tradition through the Blues. It's good to know that the same sentiments are still universal.
'The track really happened on the night. There was no point in doing too much to it because it was a really primitive feel and that was exactly what I wanted. When we did it we were all in the same room and when I stood back from the mike you'd get bleed from the drums. It gave it this old time feel like on Bob Dylan's Highway 61 Revisited. Bob moves and you get the rest of the band all coming through. I kinda like that, don't you?
"I sang it in one take, but then with emotional songs it's always easier if you're in the right mood. The feel on that track is specific to that day I recorded it. I recall I had a serious bout of the flu when we came to cut it in the studio and I was feeling very weak. That tends to polarise you and make you more open to string emotion. It all seemed to combine into this huge haze but I had to do the track, get it out. Almost like some sort of purification. As against that it does have a strong rhythm akin to a Big Joe Williams track, that sorta chugs it along like a train.
'We did four or five takes, but we'd get exhausted by the riff, it was so powerful. In the end, we used the second take just because it seemed to capture the band while they were still fresh.
"One of the things we tried to do to help capture a different atmosphere, that eerie quality, was to use a few minutes at the start of multitracked dulcimer, synths, bass and harmonica. It gave the track an overture."
"I played the dulcimer myself and although I'm not very good, I think it comes across very effective. I learned that particular trick from Canned Heat on the track, On the Road Again. They built up all these layers so it sounded like a sitar, but a very strange one!"
'We were trying to do as much as possible live, so we used brushes while I played six string and the bass went down. I doubled up the six string, which actually had very heavy strings on to get that deep sound, with a Sigma and then a 12-string Danelectro and the trusty old Strat. The Danelectro has this Brian Jones feel about it and it sits so well with the feel I wanted to get. He was undoubtedly a master of moods. It's often forgotten how much he influenced the Stones."
"Ultimately, Ghost Blues sounds a real conglomeration and I suppose it was, but everything had its place on the night. The bassist had this old Silvertone bass, the ones with the lipstick pickups, really old and strange. They only have one sound those guitars, but they're so unique you've got to use it, so very Gospel sounding."

---

This article comes from the April 1992 issue of Guitar Magazine.
Thanks to Barry McCabe for sharing it. The BMC Band (click)
reformatted by roryfan.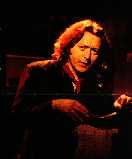 64