Rory Gallagher
The Olympia Theatre, Dublin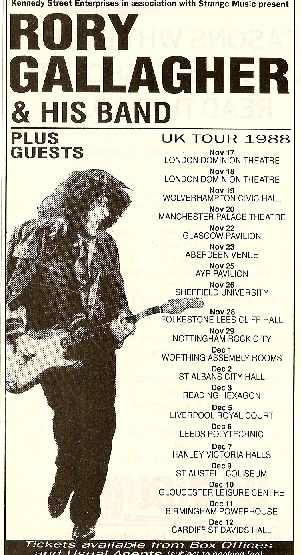 It's been a long time since Gallagher wore his famous lumberjack shirt and set the Reading Festival alight. But there is no question that on the evidence of the last of four soldout nights at this venue, he is not only technically a better guitar player but he is unleashing more heavy riffs on his battered Stratocaster than ever!
Blitzing through such classic rock tunes as 'Messin' With The Kid', 'Shadowplay', 'Bullfrog Blues' and 'Follow Me', Gallagher revealed a deeper feel for the blues than he has up to now, He switched easily from one style to the next, and from electric to acoustic with exemplary ease.
It was the new songs from his current 'Defender' album that were most rapturously received, and 'Continental Op' and 'Kickback City' proved to be even more powerful live,
He and his superb band teased and sizzled, rattled and rolled every ounce of adrenalin out of themselves in a three-hour set that never lacked excitement.
Instead, it left the huge crowd in no doubt as to Gallagher's prowess on the fretboard and with the memory of having seen one of the best live shows you'll find anywhere.
When he arrives in the UK soon, don't expect glitter and lights- just riffs, sweat, and intense rock n'roll played by a man who has already made his mark on Axe history and is showing the new boys how it's sone.Superb!
Paul O'Mahony

---
From clues in the article, I placed the review from Rory's 4 night appearance from February 17-20, 1988
The photo of the schedule come from another unidientifies source

roryfan
---
Need help on the source of this article. I got it in a packet of articles I bought, but it has no information.

Hot Press?
reformatted by roryfan

383
added 6/9/08