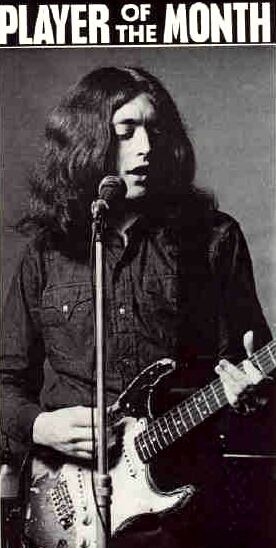 Rory Gallagher, 20, lead guitarist with Taste. Comes from Ballyshannon, Donegal; no musical training at school other than what he picked up for himself. Now front man of one of the most touted blues trios in the business. An eloquent Irishman - eloquent via his tongue and via is Fender Stratocaster guitar.
He says: "My interest started when the big thing happened back in '55 and '56- Haley, Presley, Donegan. I specially liked Lonnie Donegan. My parents liked opera and Irish accordion music; both sang and played.
"My first guitar? Well, I tried to make one out of cardboard and things, then I got an acoustic model- don't remember there being a name on it. I must have had some sort of inborn idea on how to play. I got the tutors and books, sang skiffle and rock songs. Then, after trying unsuccessfully to form my own group through a shortage of the right kind of musicians, I joined a show band. "
From there, Rory took the drummer and bass player - it was August 1966. So came the first Taste. Norman Damery on drums and Eric Kitteringham on bass. They picked up experience in Hamburg.
The group fizzled out, then re-formed with John Wilson and Richard McCracken. Up came a recording contract with Polydor and agency control from Robert Stigwood. Plus radio and television and trips abroad.
Said Rory: "I'm simply not narrow-minded about music. I know what we want to play, but I listen to anything. There's no one influence like, say, BB King has on the blues bands generally. I'm not so much influenced by, but draw energy from such as Ornette Coleman, Howlin' Wolf, Dylan.
"And my character is such that I can't really think of the setbacks and disappointments.
"I'd advise any newcomer to simply get on and form his own group. Work at it. Over a matter of years, you search for the kind of music that comes over best. People will always put tags on you, but it is important to find what you really can play. Find, like me, musicians of the right temperament and ambition.
"I think records are rather like landmarks. In four years time, we won't remember what we were playing like today - but records will remind us. In the studio, I try to use it for itself, not for the techniques you can get out of it. But I CAN see the point of groups using added backings.
"Being just a trio is no problem. Our music is fickle and unpredictable - I might change tempo mid-way through a chorus. There's a tint of loneliness about being in a trio and I like that."
Soon Taste go to America. Says Rory: "It's exciting. But we're not thinking of a million-dollar type tour. We just have a musical goal. To reach it, we need varied experience. But we have to maintain a balance. " P.G.

---
This article comes from the August 3, 1969 issue of Beat Instrumental
reformatted by roryfan

263

~~~~~~~~~~~~~~~~~~~~~~~~~~~~~~~~~~~~~~~~~~~~~~~~~~
P.G.