100 Greatest Guitarists Of All Time .......
and the greatest music they made
Compiled and edited by Paul Trynka and Jim Irvin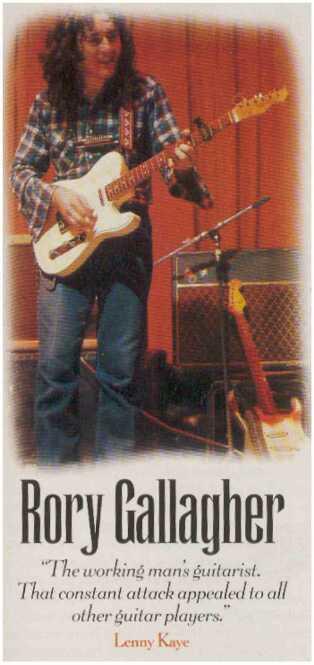 RORY GALLAGHER NEVER ACHIEVED the same success as most of the other great British blues guitarists. He has other things on his agenda, like his annual Christmas tour of rural Ireland, three hours a night, year after year. "There's a saying in Ireland: ' first there was Jesus, and then there was Rory,' 'said Phil Mac Donald, his longtime road manager. " He's a national hero because he's out there playing for the farmers who never hear live rock music. " Rory learned his trade as a child in a show band, and rose to prominence as the teen leader of Taste, a band that never quite lived up to its hype. After disbanding, Rory stayed with his bassist Gerry McAvoy, and set out on a mission to take the blues to every backwater. He never strayed from the form, but could find the blues in Jerry Lee Lewis, Lonnie Donegan, Johnny Paycheck, The Ventures, and Elvis Costello. He basically played the same battered '61 guitar from 1963 on, and, except for a 'very light' flanger and occasional overdrive unit for 'the nastier solos', never used effects, yet his guitar could sound like a siren, a sitar, you name it. " Many lead guitarists just get off on playing a lot of notes over the other players, " he once said. "I love to play them as well, but the solo should primarily bleed out of the rhythm parts. " Vivian Campbell, now with Def Leppard, calls Rory his all-time fave; Slash joined Rory on stage for his final LA show at the Roxy four years ago; Rory didn't look well, but still wiped the floor with the kid.
Guitar: Fender Stratocaster
Highlight: Shadow Play 3:38
from the live album Stage Struck, Chrysalis, 1980
-------------------------------------------------------------------------------------------------------------------------------------------
Rory's ranking on this list? #87, for what THAT is worth!!
The article didn't list the criteria they used.
The list of their Top 100 is at the bottom of this page for your amusement.
roryfan
-------------------------------------------------------------------------------------------------------------------------------------------
This article comes from the June 1996 issue of MOJO magazine
reformatted by roryfan
The photo comes from the magazine
The MOJO 100 Greatest Guitarists of All Time
100 Ritchie Blackmore
99 Marv Tarplin
98 John Fahey
97 John Squire
96 Jonny Greenwood
95 Mick Green
94 John Cipollina
93 Phil Manzanera
92 Bonnie Raitt
91 Marc Ribot
90 Tony Iommi
89 John McGeogh
88 Ernie Isley
87 RORY GALLAGHER
86 James Williamson
85 Carl Perkins
84 John McLaughlin
83 Charley Patton
82 Bernard Butler
81 Mark Knopfler
80 Angus Young
79 Zoot Horn Rollo
78 Mike Bloomfield
77 Joni Mitchell
76 Peter Tosh
75 Billy Gibbons
74 Wes Montgomery
73 Merle Travis
72 Carlos Santana
71 Albert King
70 Eddie Hazel
69 Leo Kottke
68 King Sunny Aide
67 Lou Reed
66 Cliff Gallup
65 Dick Dale
64 Ike Turner
63 Eddie Taylor
62 Les Paul
61 Wayne Kramer
60 Kurt Cobain
59 Steve Jones
58 Clarence White
57 Nile Rodgers
56 Leo Nocentelli
55 Bob Mould
54 Syd Barrett
53 Mick Ronson
52 David Gilmour
51 Robert Fripp
50 Ron Asheton
49 Lowell George
48 Bo Diddley
47 Eldon Shamblin
46 Scotty Moore
45 Robert Lockwood
44 Hank Marvin
43 Chet Atkins
42 Bert Jansch
41 Robbie Robertson
40 Link Wray
39 Duane Allman
38 Roger Mc Guinn
37 Eddie Cochran
36 Sisiter Rosetta Tharpe
35 Jerry Garcia
34 Tom Verlaine
33 Prince
32 The Edge
31 Freddie King
30 Buddy Guy
29 J Mascis
28 Frank Zappa
27 Elmore James
26 James Burton
25 Curtis Mayfield
24 Hubert Sumlin
23 Johnny Marr
22 Ry Cooder
21 Eddie Van Halen
20 Johnny Ramone
19 Guitar Slim
18 Charlie Christian
17 Robert Johnson
16 George Harrison
15 Pete Townshend
14 Stevie Ray Vaughn
13 Jeff Beck
12 Jimmy Nolen
11 BB King
10 Richard Thompson
9 Neil Young
8 T-Bone Walker
7 Jimmy Page
6 Eric Clapton
5 Chuck Berry
4 Keith Richards
3 Peter Green
2 Steve Cropper
1 Jimi Hendrix
(Article 103)