June 18,1995
Rory Gallagher, blues guitarist, 1949-1995
...............................................................................................................................................................................
Bad day for the Blues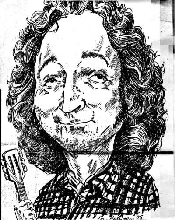 Rock stars are now general all over Ireland, but Rory Gallagher was the first, a rockin' comet in a land of showband glow-worms. Declan Lynch pays tribute to the blues guitarist who died last week.
..........................................................................................................................................
THERE is a tribe of us out there who woke up on Thursday morning with a bad "case of the blues. Rory had passed on the previous night, and his records were all over the radio. We mourned a lost leader.
For this tribe of thirty-somethings, the Gallagher gigs at the National Stadium were easily the most important cultural, and indeed religious experiences of our teenage years. On Thursday morning, I doubt if there was a single member of the tribe who was not transported back to those nights of magic, remembering the good of it all.
At a time when the musical life of the nation was dominated by grisly showbands and grotty light entertainers, the Horslips kept us going during the year, and then the Messiah himself would duck-walk among us at Christmas.
Rory. Rory. Rory. He was christened Liam, in Ballyshannon; but he preferred Rory, because as far as he knew, there was no" " Saint Rory. Not yet, anyway.
Busloads of pilgrims in their lumberjack shirts would arrive from all over the country to worship the great man. One of our own, too. One of our own.
For me, and many others, Rory at the Stadium was a rite of passage. You would never feel quite the same about anything again. You had seen the promised land, and you liked it.
For some reason, in my flashback on Thursday morning, I particularly remembered his demon bass-player, Gerry McAvoy, who spent most of the night rooted to the one spot, legs spread wide apart. The joke went that Gerry was a card-board cut-out who was wheeled into the same position every night by the crew. But that rumbling in the foundations of the Stadium was real enough. Gerry was one cool operator, all right, but we loved Rory like a brother. Up North, they were crazy about him, because in the darkest dog days of the Troubles, when every other entertainer would sooner play Russian Roulette than play Belfast, Rory never missed a gig.
Mind you, at that time, very few international superstars, or international anythings played Dublin either. It is impossible to overstate the importance of Rory Gallagher, or the scale of his achievements.
There was many a showband musician who tinkered away with a blast of Hendrix in the back of the wagon, but who put away such childish things to don the showband fatigues, and churn out the old reliables for the unfortunate punters.
Rory, and only Rory, exploded out of that melancholy world to form Taste; and through a combination of incredible talent, uncompromising integrity, and rootsy charisma, became a bloody star all over Europe. He was a comet in a land of glow-worms.
Rock stars are now general all over Ireland, but Rory was the first. There was nothing remotely like him. He was not so much the Columbus of Irish rock as its Brendan The Navigator.
The tribe mourns him, and their own lost innocence at those National Stadium exorcisms, but for Rory, the road went on for ever. "I've toured more than any other artist in Europe," he told Liam Fay in Hot Press. "I've toured too much for my own good. It hasn't left time for very much else, unfortunately. You don't develop any family life or anything like that, and it makes all your relationships very difficult. There's always a certain percentage missing from your life. As a human being, you only have so much to give."
He would say that "the Blues are bad for your health. It's as simple as that Jimmy Reid was epileptic. Howlin' Wolf ended up on a kidney machine. Most or the other big names were alcoholics. Muddy Waters was one of the few guys who got it under control."
Muddy Waters was probably his supreme hero, 'and until his severe liver problems took hold, damage which doctors attributed to "accidental overdoses of medication," Rory fancied that he would emulate Muddy, still on top of the case in his 60s, getting stronger as he went along. The Blues remain the Blues for all time. Rory checked out at 47.
My brief encounters with the man revealed a very shy person, and a transparently decent human being. He was sentimental about, and voraciously interested in Ireland, and whether in London, Paris, or Munich, he would try to pick up RTE radio most nights. He recalled getting a buzz out or picking up an Election Night broadcast in Paris, listening to John Bowman counting them in and counting them out. The Irish Sunday papers were a must, and he had a consuming interest in musical developments back home. "I'm constantly thinking about Ireland," he said. "I'd really like to go back there, eventually..'
Rory almost joined the Rolling Stones, once, but was spared that pantomime by the skin of his teeth.
The story goes that after an incendiary performance at the Shrine Auditorium in LA, he instructed his brother and manager, Donal, to bar access to the dressing-room while he recovered. Donal turned away a chap with straggly hair and a scarf, but managed to retrieve him later on. It was Bob Dylan, coming to pay his respects to one of the greats.

---
This article comes from The Sunday Tribune, June 18,1995
Thanks to Declan Doyle for passing it along.
reformatted by roryfan
the sketch above comes from the article
104