Caught in the Act
Rory – no messin'
On a clear and frosty night in Manchester when the moon shone full Rory Gallagher shot the town an armful of R and B.
He doesn't need to dress it up fancy and thank god, he didn't try. To whistles and fluttering from the audience that sounded like 1,000 starlings coming to roost, Rory stepped on the stage of the Free Trade Hall on Friday.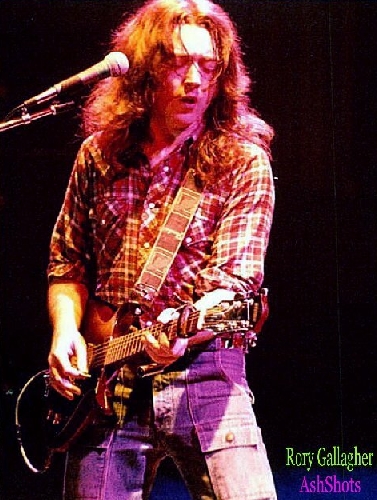 He started straight in the "Messin' With The Kid," and with a voice that sounded like he'd been gargling with six-inch nails, he went headlong into "Hands Off." This from his new LP "Blueprint" and one of the best of the night was studded with sparkling drops of electric piano by Lou Martin.
As he introduced each piece Rory said nervously, "I hope you like it." Of course he'd no need to worry.
He's got a band that could follow him into infinity, which with his amazing chords wouldn't be easy. The piano was especially successful, boogieing for the sheer hell of it, but of course it's Rory's solid gold guitar work that rules.
Madly clutching and fretting imaginary guitars, would-be Rory's in the audience tried to emulate the master and sprang from their seats like they'd been electrified after each song.
With dem Irish blues, Rory rocked through "Laundromat," "I'm Back In Your Town," "Hoodoo Man," and "Bullfrog Blues," Big Bill Broonzy's "Banker's Blues," provided the necessary relief and a break for the hardworking drummer Rod de'Ath and the bassman Gerry McAvoy.
In Greenslade it looks like Dave Greenslade has found himself a funky niche to shelter after the crumbling of Coliseum. The line-up is interestingly made up by a sole bass guitar with drums, and a proliferation of keyboards.
They did numbers from their new LP, which sounded inventive and subtle. "Sundance" was the cleverest, giving out overtones of summer, which can't be bad in snow-drifted February.

PENNY BOSWORTH
---
From Melody Maker – Feb 24, 1973

Thanks to Brenda O'Brien for passing this article along

Thanks to Scott Pickard for sharing the photo
285
added 3/6/05