Eight years on and the wrinkles still don't show. But Rory Gallagher's got lots more than just plain old stamina as JANICE MOIR discovered

A Lust for Life

---
"All I want to do is get up on that stage and play it dirty."

---
It all began when my passport went missing. It had been in the desk drawer for

weeks

. Two hours before the plane took off I went to fish it out and ... nothing. Bare space staring me in
the face.

Half an hour and one whirlwind search later, still no sign of the blue backed little devil. Add to that a lightning trip across town to rummage through every, desk, file and wastepaper bin at SUPERPOP HQ plus an empty-handed taxi dash back home and you've got one very frantic lady on your hands.

Then the publicist arrived. The lamb to the slaughter.

He gallantly attempted to smile; a stale crease of the lips running in a parallel line to the worried furrows on his brow.

When we got to the airport and discovered I'd also left all my loot behind, his amiable tolerance momentarily crumbled.

"I wish," he mumbled, peeling more notes out of his wallet, "I wish my alarm clock hadn't gone off this morning:"

Just don't ask how we reached Frankfurt in the end. All you need to know is that we got there.

---
'The annoying thing is that what I do is regarded by the elite Rock press boring.
Our fans are the people who're fed up with the Pop Factories."

---
The bell boys in the West German hotel were band box smart and ever so slightly shell shocked.

The tranquility of their existence in this peaceful old hostelry had been severely nutted on the bone when Rory Gallagher and Frankie Miller, plus their respective rowdy entourages, checked in.

Heads down, scurrying through the foyer, they're well drilled enough to only cast wary glances under their eyelashes at the long haired gent standing in the corner.

Rory Gallagher is the complete antithesis of any awe inspiring, fervour inciting Rock star you ever dreamed about.

Dumpier than you'd imagine, thick hair tucked behind his ears, the boy from Ballyshannon has come a long way since the days he regaled relatives with Irish folk tunes played on a plastic toy guitar.

Twenty-two years on, the guitar may be different ,but his passionate love of the music, gleaned from being weaned on a diet of Muddy Waters, Leadbelly and their ilk, has remained intact.

Maybe these I names don't mean a lot to you. Maybe you equate Rory Gallagher with that dreadful legion of over the hill longhairs; aging musicians who spend 90% of their time rusting in some Rock and Roll scrap heap and only shuffle forth once a year to make token appearances to keep the fans happy'. Listen, you couldn't be further from the truth.

Gallagher works so hard because he loves it. Maybe he ain't no chicken, but the swelling following the thirty-one-year-old axe man garners gets younger all the time.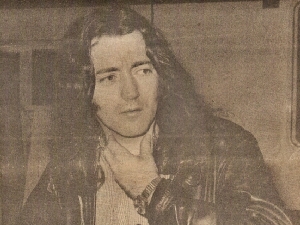 "It's not like a marathon walk," he explained 'I'm not trying to prove that I can work harder than anyone else. It's a narcotic, I love it. All want to do is get up on that stage and play it dirty."

In Germany primarily to record a new album, Rory and his band have left the Cologne studios to take up a special invitation issued by the Internationale Mai Festipiele.

Usually a straight laced cultural affair, featuring one week of ballet and one of choral singing etc., the crafty Krauts have extended the programme to feature, for the very first time, one Rock show.

Rory, who is a very Big Deal in the land of grosse tiers, was chosen to play, with fellow Chrysalis stablemate Frankie Miller as support.

As we drove to the gig through the streets of Wiesbaden, a pretty city, Rory talked of the differences he's seen during his long trek on the road.

"I've been touring for eight years, but time has flown so fast," ventured the soft-spoken Irishman.

"Obviously there. have been lots of changes, but it's nothing evident.

"There is a tendency for my fans to be a lot younger; 13 and 14 year olds who have no recollection of Taste or Rory Gallagher Mk 1.

"But no one is immune to the prevailing winds."

Since 1971 those winds over the music industry have been stormy.

The advent of the New Wave, it's urban guerrilla guitarists and short, sharp songs could have left someone like Rory Gallagher redundant and feeling slightly alienated.

"Alienated? Sometimes I did," he admitted thoughtfully. "But I have a clear cut vision of my
music and what I want to do with it.

"The annoying thing is a that what I do is regarded by the elite Rock press as boring.

"Our fans are the people who're fed up with the Pop factories.

Personally, I dislike the Disco beat, it's Soul music without the Soul, churned out for businessmen and their secretaries. It's not a new creative force, it's a computerised drone.

"My audience are into brass knuckles Rock and Roll. They're the silent majority who just react to the beat."

Downstairs at the Rockpalast the fans are giving Frankie Miller a hard time. When Frankie's on top form there can't be many singers to touch him.

Tonight he's great. The hoary voiced Scot gradually quells the "Rory, Ror-y" chants and slowly brings the audience around to his way of thinking.

Set over and the camera men start jockeying for positions again.

The show is being televised for screening throughout Europe and an estimated audience of seven million will see the results.



And the show itself. It was, as they say, a great night for Rock and Roll.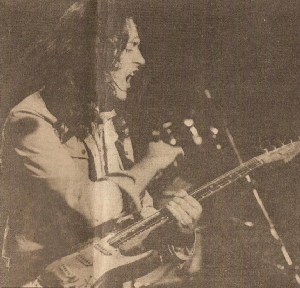 "My audience are the silent majority who react to the beat."
Rory's present band, drummer Ted McKenna, formerly with the Sensational Alex Harvey Band, and bassist Gerry McAvoy who's been at Rory's side since the split with Taste, played almost three hours of earthy, sweaty, honest to goodness Rock and Roll. You get the feeling that every time Rory straps on his battered old guitar, it's as much a thrill for him as the ecstatic audience.
With only a short break, acoustic, break, featuring 'Going To My Hometown' and 'Out on the Western Plain', they trailblazed their way through the most exciting hunk of Rock I've seen in ages. Honest. And that's not talking as some old Gallagher stalwart with racks of his albums and a neat line in giving you a breakdown on every finger fret movement.
Like everyone else there, I just
felt
the music, got high on the excitement.
Watching Rory closely from side stage, the complete transformation from soft spoken Irishman, into the red hot demon is mind boggling.
The clothes are still the same, cotton shirt stuffed into baggy denims, but the disarming shyness is replaced by a volatile energy and a lust for playing live.
The set had a soaring culmination with Frankie Miller joining in the fun for a raucous rendition of old standards like "Roll over Beethoven' and 'Sea Cruise'. The audience I'm sure weren't the only ones who wished the night didn't have to end.
---
Back at the hotel after the reception, after the drink up, after the party, it's knocking on 4 am and no one wants to go to bed.
It becomes all too apparent why the hotel staff regard this bunch with such native wariness and an eye for survival.
Both camps take over a reception room down­stairs, Frankie Miller, still almost vertical, starts singing and someone hands Rory a guitar.
He doesn't stop playing till bewildered cleaning ladies nervously push the doors open at 8 am. They clutch onto their Hoovers like battle shields, rabbit eyes blinking at the swaying, singing crazies.
It's only when the hotel manager arrives to plead with everyone to move ("You vill have breakfast?
Please
?") that the en­tourage corporately staggers into the restau­rant. The staff there are dosed up on the jitters, too and Rory's manager does nothing to allay their fears. "A table for 75, please," he boomed, marching past at the head of the rabble.
After that, they ran. Brekkies became a self service affair.
Rory's been on the road for eight years now. That night he must have sung for an equal number of hours.
"I never wanted to be the Max Bygraves of the guitar or the Matt Monro of the concert halls," he told me. "All want to do is play."
Rory doesn't just love his music. He lives it.
---
This article comes from the May 1979 issue of
Superpop

Reformatted by roryfan
385
added 7/6/08