BRITISH BLUES CONNECTION
THE TASTE STORY
by Trevor Hodgett
The unexpected and tragic death of RORY GALLAGHER has stunned his fans throughout the European blues scene. But Rory's death has had particular resonance in the Republic of Ireland, where he was born, and in Northern Ireland, where he was based before his international breakthrough, and where in the early '70s, in the darkest days of the Troubles, when almost all major performers refused to play in the province, Gallagher's annual visits became the stuff of legend, events to be eagerly anticipated for months beforehand and savoured for months afterwards. The love for Gallagher in Northern Ireland is so great that all TV and radio news bulletins carried lengthy items on his death, every newspaper ran major features on him and a major television documentary was hastily compiled and screened. For Blueprint, drummer John Wilson recalled how, in 1968, with bassist Charlie McCracken, he joined forces with Rory in Taste, the band with whom Gallagher hit the big time.
"Rory was playing with Norman Damery and Eric Kitteringham in the original Taste at that time and, as you do if you dig somebody, you always say "There's my number. If you ever need anybody, give us a ring."
"The story goes that they were set to sign with Polydor who said Rory'd need to get a different drummer and bass player if Taste were going to go on and do things.
"I've a sneaking suspicion that there were other reasons involved, but anyway, Charlie and myself were asked to join.
"It was on a Tuesday and Taste were playing Romano's Ballroom in Belfast on the Wednesday, so we went down to the gig. Rory and Eric and Norman played and then said their farewells, and then Rory and Charlie and I went off to Scotland on the Thursday and did the first gig, and there we were, on the road with Rory.
"The music would have been blues based, but anything went, with lots of improvising, and the more inventive you could be the better.
"Rory's inventiveness at that time was endless and he was always open to rhythmic interpretations. I might play something, or Charlie, and Rory would be on to it. Or he might play something and we'd be off like a rat up a spout after it."
"Taste could easily have played one tune for a whole show, if we'd have wanted to."
"Most musicians would strive for a situation whereby when you play you actually leave the planet. Time stands still and nothing matters, just the playing. It's hard to get to that point, but playing with Rory and Charlie you got to that point every night. Every night!"
"I can remember many occasions when we came off stage in the early days, that we'd have spent a lot of time just staring at each other or hugging, simply because we were just gone."
Taste rapidly became one of the most popular club and festival acts on the circuit, in the late '60s. "It was exciting in as much as you were reaching a bigger audience, but we never felt anything from a financial point of view. We didn't have Rolls Royces or anything like that and we were still living in stinking bedsits."
"Obviously, somebody was doing all right out of it all, but we certainly weren't. But we were young and naive and all we were interested in was the music."
The band recorded three albums on Polydor: "Taste," "On The Boards" and "Live." "I was never satisfied with any Taste recordings. There was no thought put into them. It was straight in and straight out. No overdubbing, no mixing or nothing. Just go in and throw a few tunes together. I certainly have no great fondness for any Taste recordings."
Few remember now that in Taste's early days Rory doubled on sax. "Rory had a vast record collection of all sorts of music and we both had a love for the sax, especially alto, and one of the many things that Rory would have done for me at the time musically was to turn me on to Ornette Coleman.
"So, yeah, Rory played a bit of sax, and we did gigs where he produced it, much to the amazement of the masses!"
"I'm sure he could have been good, but he didn't pursue it."
Taste memorably toured America, with the Eric Clapton, Ginger Baker, Stevie Winwood, Rick Grech super group Blind Faith and Delaney and Bonnie. "Blind Faith were supposed to travel on their own and stay in a big hotel, Delaney and Bonnie were supposed to travel on their own and stay in a medium hotel and we were supposed to travel on our own and stay in a small hotel. But it ended up everybody just traveled on the same bus and stayed together 'cause it was good fun."
"It was awe inspiring to play in baseball stadiums and ice rinks, but daunting as much as we were always following in the footsteps of other famous trios, particularly Cream. We worked from the same office, Stigwood's office, as Cream, and we were always referred to as the new Cream, although we were nothing like them.
"One of the things that was difficult for us was that we didn't go in for loads of gear. We just went onstage with a tiny little jazz drum kit, one AC30 amp, and a tiny bass amp, and that was it, whereas other bands had Marshall stacks and everything."
"In those days the opening band on a tour were used to test out the PA rig and the punters were still trying to get their seats, but we didn't mind. Our attitude was, it doesn't matter whether it's Comber Orange Hall or Shea Stadium, a gig's a gig. You always do your bit, whether it's a small place or a big place.
"We socialized with everybody on the tour and I remember once we all crammed into some club in Chicago to see Muddy Waters: Eric Clapton's there, Rory, Stevie Winwood, everybody. It makes for an exciting evening! "
"Clapton and Winwood and all would have jammed with Muddy, but, unfortunately, Rory, for whatever reasons, basically kept himself to himself on a musical level, at that time."
Disastrously, relationships in the band began to fracture. "It was a case of gross mismanagement to let it all go the way it did. The manager's dead now and it's all past history, but it wasn't pleasant for everyone concerned."
"A lot of things were said at the time which I regretted in hindsight when I found out things and apologies were later made."
At the time it was claimed that Rory wanted to take over the band and put his colleagues on a wage. "It would appear Rory had been led to believe that that's the way the deal had been done all along, whereas Charlie and myself were led to believe all along that it was not like that, so it was a typical case of management divide and conquer."
"It showed a lack of foresight 'cause if the people concerned had really realized the potential, they'd have sorted things out and made it work.
"At that time Charlie and I couldn't believe that our manager, who we'd known from Belfast, could do that sort of thing, but Rory realized all was not well and something did not smell right and he felt that the rest of us were all in the same bed together.
"There was a lot of non-communication which was unfortunate and Rory took it all very bitter."
The tensions in the band near the end became apparent on stage. Once, legend has it, an irate John Wilson lashed out with a drumstick and broke Gallagher's guitar strings. "Well, no, I wouldn't have broken any strings, but the guitar may have gone out of tune, which meant that me and Charlie would have had to play on our own!
"Guys in bands can be juvenile at times and near the end we were like that, but bearing in mind we were being fed misinformation by people, which led us to think certain things, it's understandable."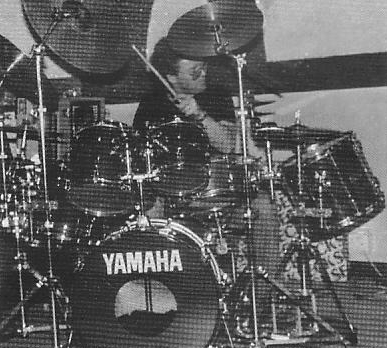 Another time, in Glasgow, Wilson refused to go back on stage for an encore. "Rory just went out and did it on his own. I made a complete asshole of myself. It was a dumb thing to do. And the point it highlighted was that, although I was the drummer in the band, the main musical movement in the band was Rory!"
As the band neared collapse they played a highly rated gig at the 1970 Isle Of Wight Festival. "Unfortunately, the band was going through a really bad spell. It was near the end and there wasn't a lot of communication between us.
"A couple of days prior to that we'd had all our equipment stolen, when we were playing the Lyceum in the Strand, so we went to the Isle Of Wight with borrowed gear.
"I'd somebody's bass drum and somebody's tom tom and it was awful, so although it was a monstrous event, it was overshadowed by the vibe we were having with each other, which was unfortunate. So I don't have fond memories of the Isle Of Wight."
Taste, surely on the brink of superstardom, spectacularly self destructed, with Gallagher estranged from his colleagues and with all three musicians penniless. "I never got a penny from any Taste recordings in any way, shape or form, not even now when they've been reissued on CD," asserts Wilson. "In Taste we were on a weekly retainer of £30 or something. It paid your rent and bought you food. That's about it. Supposedly money was being invested, but I never got a penny. Nothing."
Gallagher, of course, rebuilt his career with his own band, working successfully through the '70s and '80s until ill health undermined him in the 90s.
Wilson and McCracken stayed together and catastrophically stayed with the same manager in Stud, along with future Rod Stewart guitarist/ producer Jim Cregan and ex Animal John Weider, and recorded three highly acclaimed albums.
McCracken later played with the Spencer Davis Group, Kevin Ayers, Fastway and others, and now is manager of the company that markets Wembley Stadium.
Wilson returned to Northern Ireland and has worked as a professional musician ever since. "I got involved with Ulster Television and BBC shows and I branched out into theatre work and shows like 'Jesus Christ Superstar' and 'West Side Story.' I was a house player at Hyde Park and Outlet Studios, playing on loads of recordings, and I've worked with everybody from Roger Whittaker to Dr John to Jive Bunny to Andy Stewart, and with Northern Irish bands like the Jim Armstrong Band, Sk'boo, the Belfast Blues Band, the John Anderson Big Band and the Apex Jazz Band."
Ultimately, though, the tale of Taste is a tragic one in many ways. Three young talented musicians set out to conquer the world and damn near make their dreams come true, but instead of savouring their success and reaping their just rewards, they find themselves ripped off, exploited and feuding, their band kaput, their friendship shattered.
Now, 25 years later, one of them is dead at 46, one of them is out of music and one of them plays in a musical backwater.
But let Wilson have the last word. "It was the most creative time of my life musically and nothing can take away from the beauty of what we created. The fact that we created great music together transcends everything."
Trevor Hodgett
---
From

Blueprint Magazine

- August 1995
Thanks to Brenda O'Brien for sharing & preparing the article
reformatted by roryfan
334
added 8/6/06