Rory Gallagher is Happy with what He Has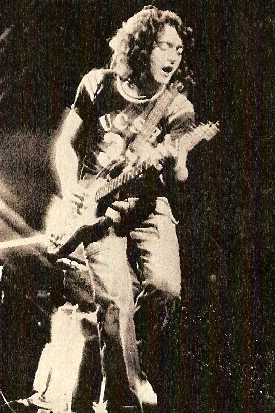 Rory Gallagher was sixteen when he formed his first trio in Ireland, with which he went to Hamburg. It developed into Taste, and at the age of twenty he already was a much respected leading guitarist. Now, eight years later on, he still is, but despite a fairly large and loyal following Rory has not yet been willing or able to take the step towards superstardom. Instead of the enormous American stadiums, Rory often still plays at medium-sized venues. With a bit of luck you can see him in action at a party or a small club, where he does not shrink from showing a mere handful of spectators his fabulous guitar skills. Especially in Belgium, that is, where the unpretentious Irishman seems to have found a sort of home away from home. During his recent small Belgian tour we had a talk with him. Rory had a bad cold, but he still was kindness personified.
NEVER FED UP WITH PLAYING
"You still do not seem fed up with skipping around everywhere, playing at venues most of the other guitar gods of your generation would snub?"


"Why would I be fed up with that? Nothing beats playing for an audience with which you are in such close contact. I would play anywhere, and when I am not touring with the band, I actually play alone from time to time, in small clubs. In Belgium, this is because of my friend Roland, who has been my supporting act many times on European tours. Roland is an excellent musician, who could have been much more successful, but so far he has not been very lucky with his records. He is working on a new album at the moment, and I will be playing on it. Because of Roland, I am in Belgium quite often. Journalists have already written I am supposed to come and live here, but that is totally unfounded. Ireland remains the place where I live.
When I come to see Roland, I sometimes go jamming with him during one of his concerts. He first needs to insist rather a lot, though, because I am actually much too shy to step on stage unannounced. The mini tour in Belgium, four gigs in total, we are doing at the moment, initially was meant as the first leg of a trip that was supposed to take us to France and Spain as well. Owing to organizational problems, however, that has been cancelled. So those concerts are now, in fact, a preparation for our next tour in Japan. After that we will hit the studio to work on a new album.
SUCCESS IN THE STATES IS A NICE BONUS, BUT NOT A REQUIREMENT
"You produced your last record together with former Deep Purple bass player Roger Glover. Will you be doing that again
That now, and where are you going to record the new album?"
"No, I am not working with Roger again. Maybe that will happen again later, but now I am trying something different. I have a great admiration for Roger, for the way he was trying to find his way after he left Deep Purple. He really has become a good producer. Where we are going to record the album has not been decided upon yet. That is one of my weak spots; I always put off everything until it is almost too late. This week, however, I will cut the Gordian knot. There is a reasonable chance that we will have a shot at it in the US. That might bring about that slight sound change we are lacking to have a real hit record in the States. It is not that the records are not selling well, but it is going slowly. They do not reach the charts, but albums from a few years ago are still selling. We cannot complain about live performances either. Our blues-rock is getting across well with the Americans, but if we can do the recording over there that might mean the definite breakthrough. I am not going to lose any sleep over it, though.

The way things are now, I am always busy, and as long as I can play I am happy. I take my guitar to bed, as it were.
I would like to work with Al Kooper as a producer, but I don't know if he can make time for us. We might also stay in Europe, though, and then it will be Brussels. I simply feel at home in Belgium.
FOR THE IRISH IT IS NOT EASY
"The way you are talking now, you don't come across as the arrogant ego tripper you were passed for during the Taste split. What is the root of that fuss eight years ago?"


"It has nothing to do with ego tripping. When it came to the music, I wanted to go down a different road than the other two Taste guys. We never had an argument, though. Everything went amicably, but I did want to get rid of my manager, a real bastard. That is when he passed on all those stories, to defame me. I am still caught up in legal proceedings with him. That guy keeps on releasing old material in order to make some money through my name. It is a nasty case. Now, my brother, Don, is managing my affairs, and things are going great. At least he is not merely interested in grubbing money."


"You are one of the few Irishmen securing a position in the world of rock. Is it that hard for an Irishman to gain a firm foothold in England?"


"Well, the situation in Ireland is unusual. There is a flourishing folk scene, and also show orchestra musicians earn a decent living. I started out that way too, aged fifteen, in the Fontana Show Band, where I was given my own little rock and roll show. Chuck Berry, Eddie Cochran and that sort of thing. After a while, however, I got so tired of the rest of the repertoire that I, the bass player, and the drummer formed our own group. If you want to move on it means you have to leave the country. First we went to Europe, and then to London. Van Morrison had to do the same in those days, with Them. Thin Lizzy had also been touring for years before they were acknowledged. Ireland is an isolated country; you have to break free from it, as it were, hoping you can make it in London. I know a lot of artists who came home again disillusioned that way. An Irishman has to stay the course if he wants to make it.
LOYAL TO THE BLUES
"How did you, in that isolated country, get into contact with the blues, which actually forms the base of your repertoire?"


"Like most of the guys of my generation: in a roundabout way, through Lonnie Donegan's skiffle music. That way I got to know the songs by the great American folk and blues artists. Initially this implied acoustical blues, but then the electrical music from Chicago emerged, to which many English groups owe almost everything. The same goes for me, though I can safely say that I am one of the few still feeling closely connected to the blues. Too many musicians abandoned their beliefs from the past for the ostentatious fuss attendant on success in the pop scene. One of the best experiences of my life was being asked by old blues giant Muddy Waters to play on his London session album. That was the greatest recognition I could get, like realizing a childhood dream. When I saw Muddy in action I felt what music means to a man like him, and I want to stay that way, too. I could not care less about all those showy super star airs. Blast, how can you sing or play passionately when your mind is on the private jet taking you to some party in Los Angeles? No fellow, if I become more successful, fine with me, but that has to be the result of my music, and not at the expense of it.
Then Rory excuses himself. He still has to drive 125 miles to the next venue, and the sound has to be perfect, so he has to be there early. We say goodbye to one of the kindest and most honest people around in that otherwise so peculiar rock scene.

---
From the 10/30/77 issue of OOR (not positive)
Thanks to Iris Rasenberg for translating this article
reformatted by roryfan

390
added 9/06/08