Rory Gallagher: Against The Grain
DO YOU realize that

Against The Grain

is Rory Gallagher's seventh album since he split Taste?
That's seven albums in four years. The little Irishman certainly works hard, and for that alone he deserves some of his quite massive reputation.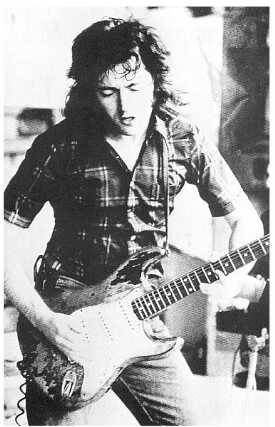 Of course, there's never been that much doubt about the guy's guitar playing. Listen to those blistering breaks on the opener. 'Let Me In' and the real zip gun slide work that takes us out of 'Souped Up Ford', an overhead cam and twin carbs job if ever I heard one.
Rory Gallagher knows his way around that battered old Stratocaster, but he isn't only a heavy merchant either. His version of Leadbelly's amusing 'Out On The Western Plain' features some very skillful finger-picking, and the tone on the man's acoustic is far from beat-up.
He can rock hard and he can also play them soft and mellow, but if

Against The Grain

is anything to go by, Mr. Gallagher doesn't know how to pitch them so they land right in the middle. Anything that isn't more or less a 12-bar thrash and the guy gets terribly lost.
'Cross Me Off Your List' is a jazzy flavored number that tries to fool you that it isn't in 4/4 time, even when it is. And it fails.
For starters the band isn't up to it. Gerry McAvoy and Rod De'Ath's rhythm section is right there with all the beats, but they simply aren't subtle or light enough. Gallagher's own production, which insists upon keeping the sound as much in the garage as possible, isn't the greatest assistance to them. The dry, sackcloth sound suits the out and out rockers, but the lack of studio sophistication takes the edge off the ensemble playing.
It doesn't do some of Rory's vocal lines any good, either. It shows 'em up as self-consciously technical, if not pretentious.
But he's still a good boogie player. On stage he and the rest of the band are reputed to be red hot and rocking. Unfortunately, in common with just about every British rock outfit, they don't swing...at all.
'Souped Up Ford', as it stands, is a great song, and it could get recognized as a classic in the 'Six Days On The Road' vein. But rather than force you to get up and shake a hip, Gallagher's arrangement and McAvoy's bass pounding away on every single solitary beat, it makes you want to get down and beat your head upon the floor. Apparently that's what many of Gallagher's fans get into, but I find the idea a little painful.
Nevertheless, there are few who can beat Rory Gallagher at his own game, and

Against The Grain

should sell in large numbers. Catch some of that natural rhythm, Rory, and you might find yourself in the Rock'n'Roll Peerage.
© Chas de Whalley, 1975

---
This article comes from the 11/22/75 issue of

New Musical Express


Thanks to Brenda O'Brien for sharing & typing this article
the photo comes from the album inner cover
reformatted by roryfan

410
added 12/6/09