Interview with Gerry McAvoy
by Shiv Cariappa
January 8, 1997
INTRODUCTION:
In the late 1960's, two music groups, Taste and Cream, blazed trails as definitive examples of rock's power-trios. Cream featured Eric Clapton on guitar, Jack Bruce on bass and Ginger Baker behind the drums. Taste was fronted by Irish guitar-virtuoso Rory Gallagher. When Taste formally disbanded after their appearance at the legendary Isle of Wight Festival in 1970,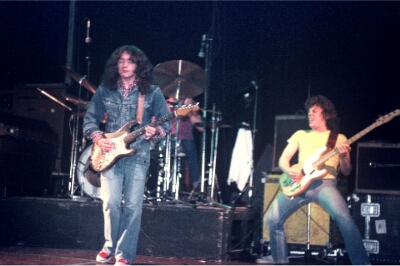 Rory Gallagher embarked on a solo quest and soon began earning a reputation as a pioneering blues-rocker. For the next 25 years, the Rory Gallagher Band would go through several incarnations of personnel that would end with the untimely passing of its guitar whiz in 1995. For most of Mr. Gallagher's career, however, one man would remain a constant fixture by his side -- Gerry McAvoy.
To most fans of Rory Gallagher, Gerry McAvoy perhaps is best remembered as that man who -- with unbridled fervour -- faithfully fretted the bass for the late guitarist. He accompanied Rory for more than two decades incessantly touring with him and providing solid support on a wide repertoire of music -- consisting of more than a dozen albums -- beginning with the first self-titled disc Rory Gallagher in 1971 to Fresh Evidence in 1990. Mr. McAvoy's presence on stage with Rory also lent credence to the belief that the late guitarist was perhaps one of rock and roll's finest live performers.
Now the bassist, alongside another alumnus of the Rory Gallagher band, drummer Brendan O'Neil, form an incendiary rhythm tandem for the band Nine Below Zero. The band, founded in South London in 1977, features singer-guitarist Dennis Greaves. Nine Below Zero has released several albums, and notably the last three -- On the Road Again, Hot Music for a Cold Night, and Ice Station Zebro -- with Mr. McAvoy and Mr. O'Neil. Both contribute to the band's songwriting and provide vocal backup in an eclectic mix of vintage r&b, rock and blues-influenced ballads. The duo was introduced to Nine Below Zero by harmonica player Mark Feltham, a one-time member of that band. (Mr. Feltham, many of Rory's fans will recall, provided an outstanding foil to the guitarist's solos and accompanied Rory on his last American and Australian tours in 1991. Mr. Feltham's harmonica also spices several tracks on Fresh Evidence.)
A native of Belfast, Ireland, Mr. McAvoy spoke by phone from London where he is now based. Nine Below Zero is currently putting together a limited-edition album of blues covers.
Thanks to Sally Stokes for arranging the interview with Mr. Gerry McAvoy.
Shiv Cariappa, Natick, Massachusetts E-mail ShivC@aol.com
---
January 8, 1997
INTERVIEW:
Shiv Cariappa: When was the first time you and Rory crossed paths?
Gerry McAvoy: The first time we crossed paths was probably about '68 or '69 in Belfast. I actually met him when he was with Taste.
SC: You used to be with a group, Deep Joy was that it?
GM: Yes, that's right, Deep Joy was the name.
SC: What kind of music did the group play?
GM: It was everything, it was a mixture of everything. In those days in the 60's it didn't seem to matter. You did everything, there were no set rules. In fact, we actually did quite a few gigs in Ireland with Taste.
SC: You were playing on the same bill with Taste?
GM: On the same bill, yes, and also when Deep Joy went to England -- when we crossed over to England, we did quite a few shows with Taste. That's how the connection came about really, you know.
SC: He (Rory) recruited you out of Deep Joy, then?
GM: That's right. Both bands split up the same time, weeks apart. He called me up a couple of months later.
SC: When did you first pick up the bass guitar?
GM: Actually I was a guitar player to start with, and it was the old story: the bass player left and there was nobody else around, so I started playing bass. It was a dual guitar thing in the band so we had another guitar player.
SC: Did you grow up in a musical family?
GM: More or less, yeah, my father played harmonica. My mother sang. My grandfather was on the road in the 30's. He was a mandolin player, and he played around with a pickup band and would go around Ireland playing different circus halls.
SC: What kind of music were you listening to growing up?
GM: I grew up in the 60's and was so influenced with everything happening in the 60's. I liked the Beatles, I listened to Jimi Hendrix, American music, west-coast music -- Jefferson Airplane. I eventually got into the blues, you know, via John Mayall, really -- John Mayall's Blues Breakers. Then I traced that back and got heavily into Muddy Waters. That was a big influence on me -- Muddy Waters.
SC: You know the Rory Gallagher band went through several changes of personnel, but you were one who really stuck it out for twenty years. How did you manage that?
GM: I think it was just a bond between Rory and me, you know. It was a musical bond and also a friendship.
SC: What was it like recording with Rory, was it very intense? What I gather from even his own interviews is that he was a bit of a perfectionist.
GM: He was very much of a perfectionist. Intense? Yeah, at times, even a sound-check with Rory could be intense or a rehearsal could be intense. We would rehearse through two hours you know, maybe three hours. Those three hours were like a full day -- rehearsing with Rory, because they were very intense.
SC: If you had to look back on all those albums you did with Rory, maybe about 15 of them you did, what would you say were your favourite albums and songs?
GM: Oh, that's difficult. Many people ask me that question and it's very difficult to answer. I like the early stuff. Live in EuropeTop Priority, and Fresh Evidence, in a lot of ways. There's some outstanding stuff on Fresh Evidence, and (the track) Heaven's Gate, I mean Rory's guitar solo on that is quite frightening. is one of my favourites. That album really captured the whole live thing in the 70's. I do like the first album -- the first Rory Gallagher album -- the one with the black cover. The later stuff, I liked
SC: You know on some of the long solos you performed with Rory, was it -- not something scripted in rehearsal?
GM: Oh no, no. That just happened when it happened.
SC: You seemed to have quite a bond. I mean you knew exactly where you were going with all your solos.
GM: Yeah, yeah. I mean between Rory and me, there was something that just sort of came naturally.
SC: A chemistry you would say?
GM: A chemistry, yeah absolutely, plus the fact the early Rory Gallagher Band from 1971 -- I mean the amount of gigs we were doing. We were doing over 200 gigs a year. A lot of work in the States as well. A lot of work through '72, '73, '74. I mean when you do that, you learn a lot about each other musically -- especially when you are playing like two to three-hour sets as well. It actually becomes easy, you know. Sometimes I knew what Rory was going to play before he played it and vice versa.
SC: After Calling Card, Rory decided to go three-piece. You dropped the keyboard player, we are talking about Lou Martin. Was that a big transition?
GM: Lou Martin and Rod De'Ath, actually the drummer went as well.
SC: Did that change the dynamics of the band much?
GM: In some ways it did, the original band as you know was a three-piece. Taste was a three-piece and Rory liked playing in a three-piece idiom. I mean, that band was together for seven years with Rod De'Ath and Lou Martin, and we actually made an album after that.
SC: Was that album supposed to be called Torch?
GM: It was meant to be called Torch. It was recorded in San Francisco. It actually became Photofinish. Some of the same songs were re-recorded.
SC: The album (Photofinish) is yet to come out on CD.
GM: Yeah, that's correct. I think you'll find this year it will come out on CD.
SC: Did you have to go back to the studio and work on it again?
GM: No, no. It will be just remastered you know -- digitally done.
SC: Between Jinx and Defender there really was a long gap. What were you doing during that time?
GM: There was yeah. We were actually doing a lot of work in strange places. Rory wanted to play behind the Iron Curtain, this is just before the Berlin Wall came down. We were in Hungary and Yugoslavia, and did a lot of work in the Far East. Jinx came out around 1981, and we actually did a couple of tours of America. In fact, we did one tour with Rush.
SC: Yeah, how did that go? I mean that was something of a different combination wasn't it?
GM: It didn't really work as far as I could see.
SC: They are really a big arena-rock band.
GM: They are, plus the fact in the first tour, they actually supported Rory -- in the 70's. I mean they are great guys -- a lovely bunch of guys, there are no two ways about it. They were respectful in the situation. Being a support act is not easy, when you plan those arena gigs. I think Rory would have had more fun playing in clubs on a particular tour. Plus it was a long tour -- it was three-and-a-half to four months long.
SC: Was the last American tour in 1991 the last time you played with Rory?
GM: That was the last time, in fact the one in New York was the last gig.
SC: Was it really a difficult decision to leave the band?
GM: Yeah, it was actually a decision I made a couple of years previous. I think I had done about everything I could within the limitations of the band. I would have loved to have kept on playing with Rory. You know it was just a different direction for me because I had always written music.
SC: You write with your new band?
GM: Yes I do, with Nine Below Zero.
SC: You surprised me on that show on video at Cork (Rory Gallagher Live in Cork), you did some back up vocals on Follow Me, perhaps in jest?
GM: That was really a bit of fun. But the thing about playing with Rory, he was Rory Gallagher and you had to accept that, you know, which I did accept. He was the main man, and there were no two-ways about it, and there was no other way it would work. So I knew I had to move along and do my own thing. It wasn't easy. It was a situation where I didn't want to leave Rory, but I knew I had to do it, you know.
SC: Was it a difficult way of making of living playing with Rory? I mean especially in the 80's it wasn't really a climate for blues music.
GM: Not really, because Rory, he was still strong in Europe. I mean Rory could still go out and play to 4,000 or 5,000 people a night in Germany or France.
SC: Unfortunately, you didn't make too many tours of the US in the 80's. The last one in 1991 was really a short tour.
GM: It was a short tour, yeah. It was a very good tour, and I thought he would have gone back in '92 and '93 with a new band and capitalized on it, you know, but he didn't.
SC: You do more songwriting and vocals now.
GM: Yeah, with Nine Below . . .
SC: How's that coming along?
GM: It's going great, we are actually working on our fourth album now. What we are doing, at the moment, is a special-edition CD. Just a straight blues CD with covers. There should be 11 or 12 songs, and the next one should be out about September -- that will be the fourth album.
SC: I did pick up Ice Station Zebro. There is quite a variety of musical styles on that album. I mean if someone listened to that album for the first time, it would be really difficult to pin down the band's signature as such.
GM: Yeah, it was our last album and that was one of the criticisms of Ice Station Zebro. The first album we made, called On the Road Again, was a blues album, the second album Off the Hook was also fairly blues-based, but we started to move away, and the last album, yes, it was very diverse. That was one of the major criticisms, plus there were too many people involved. Miles Copeland was involved in it and he wanted hit material, which most record company bosses do want, you know. So we tried our best. We wrote what we thought were a couple of good, possibly radio-friendly songs. Like Down by the River, and a couple of other songs.
SC: What are your plans for the year then, after recording the (limited edition) album, are you going back on the road?
GM: Yeah, the main album we won't record until the summer. We are doing this blues CD in the meantime. We start at the end of this month spending a week recording our favourite blues songs. We start work in the beginning of February starting in Europe, and then we get back and do an English tour in March and then back to Europe in April.
SC: Can we expect you in the States?
GM: Fingers crossed, hopefully. We just did a track on an album. It should come out very soon in the States. It is a tribute album to Cyril Davis. I am not too sure what the album is called, but it is on Viceroy Records. We actually did (the song) Nine Below Zero. I think Jimmy Page is on that album with a couple of other people. Jack Bruce is on it. We did tour the States with Alvin Lee a couple of years ago.
SC: How successful was the tour, and how did the album do in general, Ice Station Zebro?
GM: That (tour) went very well. The band was very well accepted, very well received. Ice Station Zebro has been put on the shelf, because we ended up with an argument with the record company (I.R.S.). We'll have a new label the next time around.
SC: Isn't there a tribute album coming out for Rory, and will Nine Below Zero be on it?
GM: There is (tribute album), yeah, but not with Nine Below Zero on it. Apparently the rhythm section will be me and Brendan (O'Neil), I don't quite know yet. It is something Donal (Gallagher) is putting in the pipeline, you know. I haven't really had a chance to speak to him since before Christmas, so I will probably get a chance now that I have some time.
SC: Do you enjoy touring as much as you did, say 25 years ago?
GM: I don't know whether I enjoy touring. It is difficult. I mean the travel is difficult, but that is one of the sacrifices you make, but on the other side of it you do meet different people and do see different places. You see people in odd situations and then you go, "Well, maybe I am lucky," you know. But then you get the chance to do what you do best, you get on stage and play your gig at night, and that is fun. The thing about Nine Below Zero, it is not far removed from what Rory was doing. It is all r&b based. It is a blues band.
Copyright 1997. Shiv Cariappa
reformatted by roryfan
photo by Jos Remans
19