Shiv Cariappa interviews Brendan O'Neil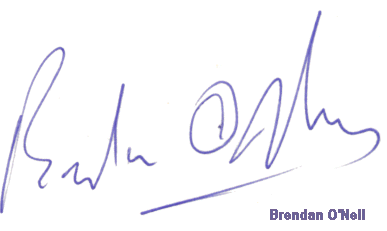 Shiv Cariappa: When did you first pick up the drums?
Brendan O'Neill: I first picked up the drums when I was about eleven or twelve years old. I used to watch marching bands ...Scottish bagpipe bands, and I found the drums exciting in that situation, and it really drew me to them.
SC: Did you take drum lessons or are you mostly self-taught?
Brendan:I am mostly self-taught, but I did take lessons from a couple of reputable drummers. I took lessons with one of them in Belfast, and lessons in London with a guy from Miami.
SC: Who were your influences growing up?
Brendan: I liked the Kinks, the Beatles, a lot of blues, and R&B type music. Then I got into a lot of jazz. I loved Miles Davis and Tony Williams in particular. I also loved Elvin Jones, who was with John Coltrane, and his approach to drumming. Then I started listening to people like Mitch Mitchell, who was with the Jimi Hendrix Experience. You could tell that he was obviously very influenced by Tony Williams, Elvin Jones, and all those jazz drummers of that time, you know. I think a lot of that jazz music spilled over to rock music then. With strict blues music, well, I listened back to all those 50s sessions that Howlin' Wolf did, and also much of Muddy Waters' early stuff. There was a lot of jazz influence with what those drummers did. I think a thread runs through all of that music.
SC: Did you play in a band from a young age?
Brendan: Gerry McAvoy and I actually formed our first band together when we were about late 14 early 15-years-old.
SC: I didn't know that the two of you went back that long ago. How did you come about playing with Rory?
Brendan: Yeah, we were separated for a long time. I think Gerry and I had split for about 12 years. I went off and played a lot more R&B and jazz-type music. Through the 1970s I was living in London and was playing with a fusion band. We did quite well while we were in London, and in the clubs around England. We were sponsored here by the Greater London Arts Association for a number of years, and we were just slowly forging ahead and forging ahead a little. We were doing a number of R&B and blues gigs as well, and unfortunately things began taking a bit of a turn for the worse. When a job with Rory came up, I auditioned. I had known Rory through Gerry over the years, and fortunately got the job, you know.
SC: When you came into the band that was in the early 80s -- I guess that was right after Ted McKenna left.
Brendan: Yes, that was 1981 when Ted McKenna left, and Jinx was the first record I did.
SC: Did you immediately start recording or did you go on the road?
Brendan: We immediately began recording. I recorded with Rory even before we did any gigs.
SC: You were on the last three albums, but you obviously played from Rory's entire catalogue.
Brendan: Oh yes, on stage, yes.
SC: Perhaps this is a bit of a tough question, but what were some of your favourite songs of Rory's, considering there were about 14 or 15 albums?
Brendan: Yeah (laughs), there's a lot of music in there.
SC: I mean, were there any songs that really stood out for you, or those that you never grew tired of playing live?
Brendan: I really liked a lot of the slow blues he did, something like "Off the Handle". On certain nights that song was magic. On most nights that song was great, but when it really took off, it was somewhere else. I loved songs like "Philby".
SC: That song is one of my favourites. Did you play "Philby" live regularly?
Brendan: Oh yes. When I first joined the band we were doing that quite a lot. I mean when Rory did songs in a live situation, he brought so much more to his songs. I am sure you have seen Rory.
SC: Oh yes, I have.
Brendan: All his songs took on a very different atmosphere and meaning live than what they did in a studio recording. So the live set was very exciting. I also loved the "Continental Op", that was a great song. "I Ain't no Saint," that was another one. From Rory's catalogue, as much I liked the rockers, some of the ballads he wrote were great. In particular on Jinx, he wrote that lovely ballad "Easy Come, Easy Go", you know. That was a gorgeous song. Lots of songs like that we rarely did live or never did live, but were wonderful songs, I thought.
SC: You decided to leave the band around the same time as Gerry, right?
Brendan:Yes, it was a very difficult decision. I had played with Rory for 10 years, and Gerry had been there for 20 years. We just wanted to do something slightly different from what we were playing with Rory. We wanted to be more involved with writing and production. That last time [1991] we all played together was a great tour, with some great nights on that tour.
SC: You know during your recordings, what you did in the studio, especially on drums, was it live, or did you ever use drum machines, sequencers, and those kinds of things?
Brendan: Never, never. With Rory it was all live. We never even used the click-track. He didn't believe in all those sorts of stuff. It had to be all off the floor and live. Rory was also very analog-oriented.
SC: When you started recording together, like Jinx for instance, did Rory come with new songs to the studio with a tape, or were they basically created in the studio itself?
Brendan: No, Rory actually did a quite a bit of pre-production on those songs. We would then go into rehearsals with those songs. We would do quite a bit of rehearsal. He would tape the rehearsals and then take it home to analyze, and the next time he would adjust it and rectify things he thought needed to be done.
SC: On Fresh Evidence didn't you record more tracks than what wound up on the album?
Brendan: Yes there were quite a few good tracks that were left off. I've even got some rehearsal tapes of songs that never saw the light of day. Those were songs he probably would have used at another time. I'm not really sure how advanced they got in recording -- I really don't know.
SC: Right now in your career is there a big difference with what you do now with Nine Below Zero than with Rory?
Brendan:Not really, no. The first couple of records, albums with Nine Below, were done in the exact same fashion as Rory's approach. Everything was live. It was only until the record we released in America, Hot Music for a Cold Night, we played everything through live. On that album, instead of directly putting the tracks down on tape, we recorded through the computer. We used triggers to make the album I suppose more contemporary. Oddly enough we have now come full circle. On Covers, the last album we did, seven of the tracks were done in the last session, and were all recorded in three days. It was mostly first takes. We wanted to get back to more of a blues feel and theme.
SC: Now with Nine Below, do all three of you share equally in the songwriting? I mean the four of you -- you also have a harmonica player [Billy Boy Miskimmen].
Brendan: Each of us comes along with ideas for songs to the studio. In a pre-production situation we would work on the ideas that may sometimes be just a riff or a lyric. The songs are developed that way. I mean we have a few situations where the songs have actually happened in the studio, particularly on Covers there is a track that we had an idea, but we had never rehearsed it. It worked very well in studio and it was allowed to grow in the studio. It is more of a mood track that just came together live. It is a song called"The Love you Bring".
SC: Is the new album only available through the fan club?
Brendan: Yes it is only available through the information service -- Supporters Club. We are putting this one out on our own label. At the moment we are at negotiations with people to distribute it in Europe.
SC: Are you planning to record yet another album this summer?
Brendan: We have actually started on the next album already. We have been doing pre-production. We have some songs ready to record. We hopefully should start on that at the end of April.
SC: You are in the midst of a tour right now, aren't you, how are you doing?
Brendan: Yes indeed we are. It is really going very, very well. We are having lots of sold-out gigs.
SC: Now that you have been with Nine Below since the early 1990s, do you feel that the band has been progressing and developing, and that you are playing to larger audiences?
Brendan: We joined the band directly after we left Rory in 1991. I think the band is playing better than it ever has. This young harmonica player we have at the moment -- he has a lot of fire, a lot of passion playing. It actually helps stimulate the whole thing a bit, you know. It's not like the band was not stimulated before, but sometimes when you bring in a new component to the situation, it just brings a different perspective to it all. Things are going very well as far as audiences go, especially in Europe at the moment, particularly in Italy, Germany, and Switzerland. Right after this current British leg of the tour we should be going to Scandinavia and then again through Europe. We should be doing quite a few festivals in the summer. Towards the end of the year, we will be in Ireland, then back to Britain, and onto Europe again. That should conclude the year.
SC: On the road, especially with Rory, were there any sites or audiences that you particularly enjoyed playing to?
BO'N: I particularly liked touring the US and Germany with Rory, especially with the way the audiences reacted right from the first few chords to a song. I really enjoyed touring Ireland with Rory, because it was always very, very special.
SC: Did you find the American audiences different compared to crowds in Europe or elsewhere, and are the crowds who come to your shows now different from the ones when you toured with Rory?
Brendan:Yes, when I first went to America I found it a bit different getting used to. With American audiences particularly, when they pay their $15 or $20 at a club, they expect value for their money. They want to have a good time right from the very first chord. They are very keen in participating and getting into the show in a big way. Oddly enough, the audiences were very similar and common. There's a oneness. Maybe Rory's audiences were a little more flamboyant. The difference for Nine Below Zero now is that when the band first came together it brought their brand of R&B to the clubs around London. The big music of that time was punk. The original band had a real punk edge to it. The blues, and rhythm and blues, were played like something through a punk eyeglass. Nine Below Zero made a big impression at that time. With Rory the music was much more blues-rock, whereas Nine Below had a more R&B, blues, and punk approach. Our audiences right now are very varied. There's a lot of young people coming to our shows. We also have the older fans of the original band joining in.
SC: Your previous album Ice Station Zebra, it seems so varied. I mean you hit a variety of music styles on it. There's some Motown sounds in there too.
Brendan: Yeah, that's true, yeah (laughs). Actually a lot of those songs came to life with what we had done on pre-production. Your musical influences start coming out sometimes, and you really can't stop it. Sometimes there is a really good song, and you think that's what we really are and how we have been affected by what we have been listening to over the years. The unfortunate thing about that record, it was affected by the record company and by people who thought Nine Below Zero was something different or who had a much different perception of the band. There were a few problems in the making of that record.
SC: Well, I'm very glad that I got to see both you and Gerry play in Boston before you left Rory in 1991. I remember you had come in quite late from some place in New Jersey, and immediately after the show you were leaving for New York.
Brendan:Yes, New York was our final gig, but oh yes, I remember that show [Paradise Club near Boston], it was a nightmare, that one. We had a lot of problems on stage. Maybe...hopefully it wasn't too obvious.
SC: Well, I thought the band was in excellent form -- in top form. There was nothing wrong with the sound. Once in a while there was little bit of feedback. It was an excellent show.
Brendan: I remember particularly what happened was that the rostrum was too small for the drum kit. There was a lot of cymbal movement, and things fell off.
SC: I remember a guy coming on and putting the cymbals back on a couple of times, but it didn't really distract from the show. After your last show together in New York, did you ever get to see Rory's new lineup play?
Brendan: We (Nine Below Zero) played a festival with Rory, I think it was in early 1994 in Germany, I can't remember the date. I met the drummer (Richard Newman) on occasions. He used to play with Steve Marriott.
SC: You are talking about [the late] Steve Marriott of Small Faces fame?
Brendan: Yes, and Humble Pie fame, yeah. I knew Steve very very well, and I used to go to London for some of his gigs, and Richard was playing drums with him then. To be honest, the last time I heard Rory with anybody else was with Ted McKenna and Rod De'Ath, both of whom I respected immensely. We played this festival with Rory, and he was headlining the show, and we (Nine Below Zero) were third on the bill. We only heard a part with his new band. We didn't really get to see the whole show, but we saw snippets of it.
SC: This is perhaps an unfair question, but how did you think the new lineup did?
Brendan: It was fine, it was fine. Rory wasn't that well at that time, but he was playing all the old songs, he was playing all the old favourites. He was doing his thing.
~~~~~~~~~~~~~~~~~~~~~~~~~~~~~~~~~~~~~~~~~~~~~~~~~~~~~~~~~~~~
Copyright 1997. Shiv Cariappa
Shiv Cariappa interviewed guitarist Rory Gallagher for the Christian Science Monitor in 1992. His article and conversation with Rory, and an interview with bassist Gerry McAvoy and another with Mark Feltham appear elsewhere on RoryON!!
E-mail ShivC@aol.com

18