The man with
the golden fingers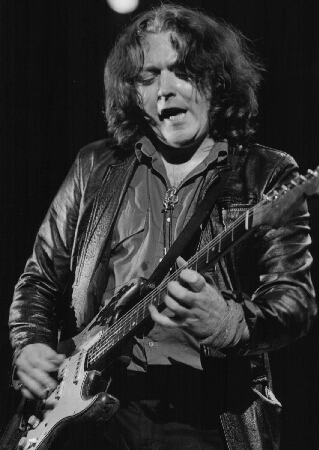 photo by Bob Hewitt
_________________________________________________________________________
Philip Nolan meets Rory Gallagher as his tour starts
___________________________________________________________________________________________________________________________
It seems like old times. It's the week after Christmas, and guess what?!.... Rory Gallagher is on tour in Ireland. There was a time when this was a seasonal thing, as much a part of the end-of-year festivities as turkey and ham, plum pudding, paper garlands and Christmas tree lights and as relevant to your average Irish rock fans as the Queen's speech is to a Coronation Street watcher in Neasden.
But it's been four years now since Ireland's' first ever international rock star toured here. His appearances in the meantime have been limited to the summer festivals, the most recent being Lisdoonvarna '83, when, as co-headline act with his friend, Van Morrison, he played a ten thru midnight set which was the musical highlight of a weekend unfortunately remembered for non-musical events.
Constantly touring, in Europe especially, but also in the States, Australia, Japan and elsewhere, he is a difficult man to pin down, but we managed last week in London. Rory, is for convenience sake, based there now, and is also putting the finishing touches to a new album which he recorded at The Point Studios in Victoria and West Three Studios at Acton (situated in London W3, hence the name).
So busy is he, in fact, that when his brother, Donal, who is also his manager, suggested that we go to a restaurant near the office of his Strange Music outfit, Rory joined us there at 2:30, having just left his bed. "We're mixing the tracks at the moment and we worked well into the morning," he laughed.
In these surroundings, he looked pretty incongruous. The Red Pepper, a discreet upmarket Chinese restaurant - Peking as against Cantonese, cuisine to you, mate -- just off the Fulham Road in fashionable Chelsea, was playing host to expense account businessmen and snooty South Kensington families; no one recognised Rory as he strolled in the door wearing the ubiquitous jeans with flannel shirt, with the hair, long but not AS long, now greying at the temple, and the total lack of pretension which has made him a true working class hero of our times.
As someone who heard I was going to meet Gallagher said to me last week: "He probably doesn't even realise that he's an anti-star." It's true - the man is a musician. "Of course, it's more than a job," he says. "I am what I am because I enjoy it."
The conversation over dinner is wide-ranging and general - the Harrods bombing, the British press ("always look at the right-wing ones to anticipate what's coming next") Tidey, McGlinchey, Frank Cluskey and Dublin Gas, Cork and the Jazz Festival, the State of the Nation, George Orwell and 1984, movies, books and television. Rory may live in London, but he keeps in touch. " I usually have a fair idea of what's going on," he says.
Dinner arrives, and we launch into spring rolls, prawns, duck, chicken in tangerine sauce. I'm fascinated by his command of chopsticks until it suddenly dawns on me- those fingers, the self same ones that have given the world a million of the best guitar solos it's ever been treated to, the nimblest, meanest, most exciting, electric fingers Ireland has ever produced.
Betty Grable had the legs, Jimmy Durante had the nose, but no one ever had Rory Gallagher's fingers.
So what have the fingers been doing since we last saw them? "Well, I've been in studio on and off since October," Rory explains, "and at the moment I'm trying to cram in rehearsals too. I like working under pressure, but I like it to be average pressure and it's getting a bit out of hand at the moment. You go into studio to mix at seven, and suddenly it's a dozen coffees later and five or six in the morning and it's silly really."
Silly or not, no Gallagher fan will complain. It's a couple of years now since Jinx, and a new album is always treated with the same sort of reverence and anticipation which most people reserve for things like, well, births and world cruises and weddings and the night before the morning after. With the same line up in the band - Brendan O'Neil on drums and Gerry McAvoy, his bassist of twelve years standing, as it were - isn't there a danger of deja vu, the prospect that the material will come across as stale?
"No, I don't think so," Rory says. "I'm always trying to be innovative, and this album is innovative. I don't mean that in the sense that I'm suddenly going to start adding drum machine tracks and synthesizers. Neil Young tried that on Trans and it was chronic - but I'm always improving rhythms and melodies and choruses and on that level I think this album breaks new ground.
"I could start doing all those other things if I wanted to, but I don't. The record company never hassles me over my choice of material, and if I were to go into synths, I'd probably sound. . ..." - he gives a fey wave of his wrist that any self-respecting New Romantic would be proud of-"........oh so modern, but it wouldn't be me.,"
Just where Gallagher IS now could be anyone's guess. Publicity material informs us that he first became interested in music at age six when he saw Elvis (Presley, not Costello) on the television; since then his influences have taken in straight rhythm and blues, country and western, rock and even jazz. The list of people he admires is endless - there's Fats Domino, The Stones, the Beatles, Lonnie Donegan, The Band, Gene Vincent, Chuck Berry, Leadbelly, George Thorogood and Van Morrison, to name but a few.
JERRY LEE
He also cites people like John Coltrane, Bert Jansch, Eddie Cochran, Little Richard, Jerry Lee Lewis, Woody Guthrie and others.
Indeed, for someone with such a long list of heroes whom he willingly claims to have been influenced by, it's to his credit that be has used those influences in such a positive way when so many others have become merely derivative. There are a lot of garage bands around the world now who, in ten years time will be saying "0h, yes, and Rory Gallagher was a big influence on us....."
Of the newer bands, he can take or leave them. While admitting to liking Kraftwerk, Brian Eno and Tangerine Dream ("I thought their score for the remake of "Wages of Fear' was very underrated") he concedes that he would "swop them all for a Fats Domino record".
In Ireland, he sees great potential. "I really liked Paul Brady's Hard Station album", he says. "He's' a very good live performer too. We saw him the other night at the Half Moon in Putney and he was really good. I think U2 are a very good band as well, and they're doing very well for themselves now."
U2's success is, of course, just a contemporary manifestation of Gallagher's early fame. After time spent with a showband on the road in Ireland, Rory formed a band called the Excells, with Eric Kitteringham on bass and Norman Damery on drums. The Excells later changed their name to Taste and the seeds of a popular music legend were sown.
In this line-up, Taste played around Belfast, most notably at the Maritime Club, wherein Van Morrision and Them had also come to prominence. A record executive spotted them there and was quite simply electrified. "On stage, " he noted later, "three young boys played the most exciting blues I had ever heard in Ireland."
It was only later though, when Kitteringham and Damery left to be replaced by drummer John Wilson and bassist Richard McCracken, that Taste became one of the pioneering rock trios, and the first Irish act whom a generation of kids force-fed on Brendan Shine and Count John McCormack could confidently claim that they ranked with the best in the world.
In an interview in the New Musical Express in the late sixties - and a very different NME it was too - John Lennon called Taste an especially bright spot in a "dismal" music year. The fame of the "bright spots" spread: Taste turned up on the bill at the Isle of Wight festival with Jimi Hendrix and The Doors.
NEW ALBUM
Seldom can there have been such a contrast - Jim Morrison, the Rock Star on the way down and the way out, Gallagher, the musician on the way up. In light of all that has happened since, the theory of the survival of the fittest must have some substance: it hardly needs me to point out for you which of them is finishing his thirteenth album and which is six feet under at Pere Lachaise.
In 1971, Taste split up. Their status had reached cult proportions, particularly at the Star Club in Hamburg, and the time was right for them to go their separate ways. In retrospect they are always spoken of in terms of Cream and the Jimi Hendrix Experience, and Rory thinks this is something of an unfair grouping. "We were a trio alright," he laughs, "but I think we were bigger and more influential than we were given credit for."
Many reasons have been put forward as to why Taste ever split, but the emergence of Gallagher as a front man must have made the others scared of becoming a backing band. Whatever, when Rory did go solo, it was a logical, successful and lucrative move.
His career since has been a succession of superlatives. From the self-titled debut album through the " Live In Europe '72" , recorded during a mammoth tour, and onwards, individual incidents appear as peaks in a career already on a higher plateau than most could aspire to. There was the Irish Tour '74 album and film (edited, incidentally, by Stephen Waldorf, latterly famous for being shot at indiscriminately by the London Metropolitan Police Force), the headlining of the German Rockpalast television show, a four and a half hour marathon seen by millions all over Europe, and latterly, the Photofinish and Jinx albums, adequate proof, if such were needed, that Rory Gallagher is still as creative as ever.
His ambition is to go on playing as long as his heroes. "If I can do it as long as Muddy or Chuck, I'll be okay, "he laughs.
The new album is due out in the Spring. It is as yet untitled, but it will probably be either "Failsafe Days" or "Early Warning".
The early warning of what we can expect will come over the next two weeks. Starting tonight and tomorrow night at Dublin's SFX Centre, the tour continues on Friday at the Gleneagle in Killarney, and Galway on New Year's Eve. After that it's off to Sligo, Enniskillen, Belfast, Cork and Kilkenny. Cork is Gallagher's home town and it's a gig he's looking forward to.
As you'd expect, in much the same was as Gay Byrne claims that if everyone who says he was at Synge Street the same year as Gay, the class would've been 625-strong, a ridiculous teacher/pupil ratio when with Gemma Hussey at the helm of the education system, Rory says that everyone in Cork "knows me."
"I was walking down McCurtain Street one day looking at a record store window, when the owner beckoned me to come in," he says. "Howiya, boy" the owner started "do you remember your first guitar lesson with me?"
Another time, Rory says, a German TV crew was making a documentary about him at the Mountain Dew Festival at Macroom. "They stopped some kids on the street who said they were cousins of mine," he laughs. "The German... took it really seriously and thought they had a great scoop and started asking what I was really like, and things."
Of course, if they'd really wanted to know what Gallagher was like, they'd have asked him. Never a one to cover a fault or deficiency with cant or hypocrisy, he is always forthright and honest. Indeed, he's so bloody honest, you wonder how he's survived in a cut-throat business like the music industry. "I'm not a great organiser," he says simply, "so I leave that to Donal."
Donal seems to perform pretty well; at the office. his assistant Diana Worthy (for the millionth time, I'm sure, I had to ask, if she was) told me that scarcely a day goes by without some European promoter wanting to know when Rory will be back on the gig scene.
TWO MINDS
For his own part, Rory is in two minds about the one thing most people throw critically at him... the lack of a commercial single. "Am I concerned?" he asks, "Well, yes and no. Yes, because you don't get on commercial radio without a single, just FM, and no, because I might have to compromise on my material to do a single. The thing cuts both ways."
As we spoke .....we've moved from the Red Pepper to a creperie across the road now and are lashing into oranges in Grand Marnier and swilling cappuccino - Culture Club came on the radio. As good a starting point as any to challenge Rory on his rather eccentric sartorial taste, the jeans and the lumberjack shirt, then if only he was fatter he could do a Marlboro ad routine.
"Well, I think Boy George has a good voice, but I don't see why he has to have this image," he says, genuinely uncomprehendingly, "You become a media pet for a while, but then next year, it's some other fad, and you can't be Boy George and Segovia, you know."
Off the subject of music, Rory's interests are varied. He likes spy and mystery genres in novels - John le Carre and James Bond novels he likes, as well as professing a great partiality to the work of thriller-writer Patricia Highsmith, who, as you'll probably know, exposes Agatha Christie for the unimaginative, prejudiced hack, she was.
Film wise, his favourite is Wim Wenders' The American Friend. .. I particularly liked Dennis Hopper in it,' he says, "probably because he's a bit of a maverick too. He does a classy film like the American Friend, then he'll do a bike film or something to make a few grand."
He's an Orwell fan too. Donal had told us there was talk of issuing ID cards to the Irish after the Harrods: Rory replied that it really is 1984. Indeed.
On the subject of Ireland, he finds talk of the Amendment' "tricky" and "irrelevant" now anyway, but concedes diplomatically that from following the events which led up to it, it was silly.
On the country, in general, he remains "optimistic". "I think Ireland has got very grim and serious lately," he says. "Everyone seems to be trying to be be very European..... I hope the spontaneity comes back. Maybe it's just the recession." He looks vacant and adds, "Or maybe it's because it's in the hands of bad owners."
LIVE MUSIC
The, same "bad owners" are those who have almost taxed the live music business out of the reach of the fans, whose indomitability in the face of such adversity is renowned.
For his own part, Rory is "nervous" about the tour. "I always am, " he says. "It helps to get the adrenaline flowing, but I'm looking forward to it."
He's surely not the only one. All over Dublin tonight and during the week, there are people going to that part of the wardrobe marked "1979:' Rathmines/bedsit" and out of storage are coming the check shirts and the faded denims. And even if Peter Marks have had their way with the flowing locks in the meantime, we'll pass up on that particular detail, wrap the scarves around our wrists, get the bus to the SFX or Leisureland or Connolly Hall or wherever.
And when the guitar solo is over there won't be a single one in the hall who won't know what to do next. It's an age old call, as worthwhile today as ever.
So c'mon, clear your throat, sway and shout it out.
"RO-RY" "RO-RY" "RO-RY!"
~~~~~~~~~~~~~~~~~~~~~~~~~~~~~~~~~~~~~~~~~~~~~~~~~~~~~~~~~~~~~~~~~~~~
(My original posting of this article said: (I believe this comes from a New Musical Express in late 1986. Any help would be appreciated)
3/20/06 Many thanks to Philip Nolan for contacting me with the information that the article was from Evening Herald in Dublin on December 30 1983
Thanks to John Wainwright for sharing it and to Bob Hewitt for the great photo
reformatted by roryfan
193