AN EVENING POST SPECIAL PUBLICATION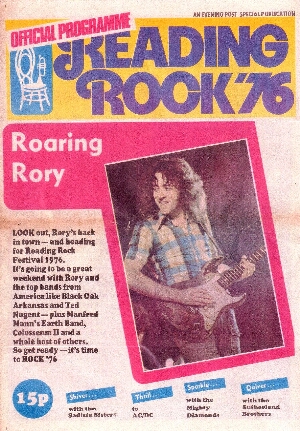 OFFICIAL PROGRAMME
READING ROCK '76
Roaring Rory
LOOK out, Rory's back in town – and heading for Reading Rock Festival 1976.
It's going to be a great weekend with Rory and the top bands from America like Black Oak Arkansas and Ted Nugent – plus Manfred Mann's Earth Band, Colosseum II and a whole host of others. So get ready – it's time to ROCK '76.
See Rory and Live
COME Saturday night he'll probably be wearing his faithful jeans and a lumberjack shirt.
He's had his hair cut once or twice, but Rory Gallagher still retains the rough and ready stomping approach of '69. The baby‑faced Irishman is a Jekyll and Hyde, off‑stage mild‑mannered and quiet ‑ on‑stage a demon, second only to Page for creating excitement.
This will be Rory's second Reading Festival appearance. In 1973 the crowd virtually dragged him back for more.
"When I listen to something, I like to be taken out of my seat and thrown across the room," he says. "I like guts, a good drive, which can include gentle stuff too. If it sounds good and feels good that's it."

Rory's talents first emerged when he was a child in Ireland giving renditions of songs by Gene Autry and Roy Rogers to the strains of a plastic guitar. He lashed out £4.50 on his first real guitar and started playing in school groups. Turning professional meant that he had to join a showband, so he served his apprenticeship with the Fontana Showband.
He developed a liking for Lonnie Donnegan, Eddie Cochran and Buddy Holly and he later went across to Ham­burg leaving the showband for the delights of hard rock. He formed a band called Taste who recorded two albums for Polydor before splitting up. After that Rory recorded an album simply titled Rory Gal­lagher and the stage was set for a promising solo career.
With Wilgar Campbell on drums and Gerry McAvoy on bass, Rory went on to record Deuce and Live in Europe.
The band visited America for the first time in 1971 and although way down the bill made a suitably large impression. Wilgar Campbell was later replaced by Rod de'Ath and since then the band line‑up has remained stable.
The Blueprint, Tattoo and Irish Tour '74 albums have followed in quick succession. The latter was the sound track to a film which is still doing the rounds.
His latest album is Against the Grain and while all his LPs have sold in good quantities not one has captured the full excitement of Rory on stage. He's essentially a live performer and has to be seen to be believed.

---
From the Official Programme of the 1976 Reading Festival
Thanks to Brenda O'Brien for sharing this article
reformatted by roryfan


271