RORY GALLAGHER
Maybe now, then ….
Things are quiet around Rory Gallagher, not that this, according to many, outstanding solo-guitar player is in the media/spotlights that much.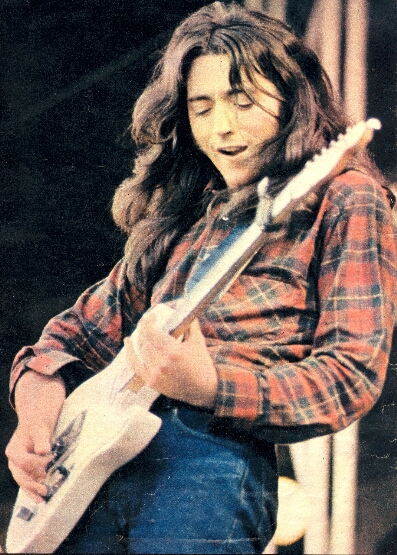 After the Taste fell on the field of lost ideals, Gallagher left for his hometown in Ireland. During some months he just did his solos in his living room and didn't come out to perform. His love for the stage finally won over grief for Taste. He decided to form a new band and carefully chose two proper musicians.
After dozens of auditions finally Gerry McAvoy (bass) and Wilgar Campbell (drums) were his preference. He chose these two because they already played some years
together
in the same formation. This way he would be the only one who had to get used playing with others. After several weeks of intense practising, the three left Ireland for London and presented themself to the critical English audience.
The London Marquee Club, the venue where Gallagher started with the Taste, was conquered in no time.


The overwhelmingly enthusiastic audience woke up the employers from Apple studios. The album "Rory Gallagher" was recorded in a very short time, released and appeared recently on the Dutch music market.

---
This article comes from a Dutch publication (I believe it's from Muziek Expres...? 1971)
Thanks to Saxo for translating this article
reformatted by roryfan

267
added 10/10/04