Doug Pugh's Long Beach CA Memories
On February 17, 1974, Rory played one of the greatest gigs I have ever seen in my life, by any performer. The venue was the Long Beach Auditorium in Long Beach, California USA. This was a very historic old building that was torn down shortly after Rory played there. (See http://www.millikanalumni.com/Pike/MunicipalAud.html).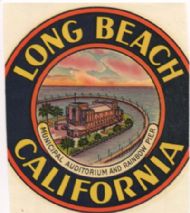 Rory was the headliner for this gig and was backed by the band Kiss, who were in the midst of their very first tour ever, and by a band that called itself "Fleetwood Mac" but it was the BOGUS Fleetwood Mac and not the real one. While we were queued up waiting for the doors to open, this guy with an electronic megaphone came around telling everyone that the Fleetwood Mac band was not the real one and you could have your money back if you wanted. I remember all the people just blankly staring at this guy because EVERYONE was there for one reason and one reason only: Rory Gallagher!! We couldn't have cared less about the backup bands. And nobody had even heard of Kiss.
So, the show opens and after Kiss played their outlandish set (with all the smoke and drum kit rising up 15 feet), they were roundly booed off the stage. I mean robustly booed. I was doing my part! Next, the bogus Fleetwood Mac played their set without incident.
Then our man took the stage before a packed house of 8,000 rabid Rory fans and played one of the most blistering and emotionally uplifting sets I ever witnessed. Now I had already seen Rory a few times before so I knew what he was capable of. But this was unreal! If you want an example of what I'm talking about, go have a listen to Cowtown which was recorded about a month later in Kansas City on the same tour. Rory was on fire and at the peak of his talents! The show was going so well, and then disaster struck about 90 minutes into his show. Rory was about 2 or 3 minutes into "In Your Town" when all of a sudden his PA microphone stopped working. We couldn't hear him sing! So Rory begins gesturing to the PA desk to get things fixed, but it was futile. Rory then started gesturing to the crowd that his mike was busted and there was nothing he could do. So what does he do next? He launches into a 15-20 minute instrumental of In Your Town that absolutely brought the house down! It was unbelievable! Unfortunately there were no encores due to the technical malfunction, but believe me everyone was worn out by then anyway. I remember leaving the venue with my friend totally wrung out and exhausted. The events of this night permanently bonded me to Rory Gallagher and convinced me he was the greatest of all time. I will never forget that night.
Footnote:
This show is referenced in McAvoy's book Riding Shotgun on page 185, although as is typical in that book Gerry has his facts tangled and apparently didn't even realize he was recalling Long Beach and not LA. Kiss and Fleetwood Mac opened for Rory at the Long Beach show in February 1974, not the Shrine show in November of 1975. The Rory Timeline is wrong about that as well. There may have been PA problems at the Shrine in LA on 11/29/75 just like there were in Long Beach a year and a half earlier, but if so it was without Kiss and Fleetwood Mac in the house. Those bands weren't within 500 miles of LA on the November 1975 date.
What Gerry says in the book, in Chapter 9 (which he intended to refer to 1975 touring):
"With a new-found sense of confidence, we set off on our first big American tour as a headlining act, supported for half of the tour by Rush, and for the other half, rather bizarrely, by Kiss. We sold out downstairs at Madison Square Garden - over 7000 people- and that was the sort of size of audience we played to pretty much every night. It was a massive tour lasting almost three months and, by and large, everything went brilliantly well (although I seem to remember Rory's amp catching fire during one of these shows)! Brilliantly well, that is, until the very last gig, which was at the Shrine Auditorium in Los Angeles. There were over 10,000 packed in to see us headlining, supported by Fleetwood Mac and Kiss (who got booed off the stage). But, about an hour into our set, the PA desk broke down and we didn't have a backup. Rory managed to go out and play some acoustic songs on his own and went down a storm, but he was really badly affected by what had happened - we all were - and there was blood flying backstage with the guys from the PA company........"
I am convinced Gerry was recalling the events of February 17, 1974 with that entry, especially since he recounts Kiss being booed off the stage (which would not have happened in late 1975). And Rory didn't play acoustic when his microphone went out because the PA wasn't working. He did that amazing 20 minute electric instrumental I mentioned above.
Footnote 2:
The Bogus Fleetwood Mac backed up Rory on 2/17/74 along with KISS.
The Real Band:
Mick Fleetwood - Percussion
Bob Welch - Lead Vocals/Guitar
John McVie - Bass Guitar
Christine McVie - Lead Vocals and Keyboard
Doug Graves - Keyboards
The Bogus Band:
Elmer Gantry (vocals, guitar)
Kirby Gregory (guitar)
Paul Martinez (bass)
John Wilkinson (keyboards)
Craig Collinge (drums)
http://www.fmlegacy.com/main.html
The RoryON Timeline says November 29, 1975 he played at the Shrine in LA, backed by Fleetwood Mac and Kiss. The Fleetwood Mac tour history web page says that Feetwood Mac were at Winterland that date and they were huge by then anyway and wouldn't have been backing Rory at that time.
Rory timeline says that Kiss backed him up at the Shrine on 11/29/75. Not so. KISS "Alive" tour shows them at Charlotte, NC on that date.
http://www.kissfanshop.de/Tourdates/TourdatesAlive.htm
I believe that Gerry is mixing up events that happened in both 1974 and 1975. Kiss were booed off the stage on Feb 17, 1974, in Long Beach, California (not LA) which was their very first tour of the US and nobody knew who they were. I highly doubt they were being booed off any stage in America in late 1975 because by then they were becoming well known with a huge fan base.
Now I don't know what happened at the Shrine Auditorium on November 29, 1975, but it didn't happen with Fleetwood Mac and Kiss in the house.

35