Dino McGartland's memory of his first meeting with Rory
Frday, January 6, 1984 is a date which I always remember. I picked up my local newspaper a few days previous and saw that Rory's gig which had been previously planned for Enniskillen, had been rescheduled for my hometown, Omagh. I couldn't believe it. To see Rory in my hometown was a dream come true. Omagh has got another Rory connection, Ritchie McCracken bass player with Taste, is from here and still returns from time to time to visit relatives and friends. Indeed Rory would have been in Omagh during the days of Taste and hung out with local musicians who still talk about him to this day.
The day of the gig I snitched off work early and decided I would try and get to the hotel with the intention of maybe spotting Rory or the band. I brought quite a few albums to get autographed. My brother left me at the entrance and I made my way outside to an area that I could see from a window, into the venue itself. I could hear live music and my heart started to speed up a little. I peered through a gap in the curtain from the outside and saw Rory & the band going through a soundcheck!!!
As I made my way into the venue I was hoping no one would prevent me from going in, and no one did. I walked very casually into the club and sat about half way down. I could not believe what I was seeing or hearing....Rory Gallagher was onstage playing with his band!! I sat on, still expecting at any minute to be told to leave. The band were playing and sometimes Rory would signal to stop, make some changes to an amp setting and then continue on. I sat for about 45 minutes having the time of my life, "this ain't real" I said to myself,Rory Gallagher is about 30 feet from me!
The band stopped and put away their guitars etc. Rory jumped off stage and I then made my way towards him. He saw me coming and walked towards me. I held out my hand and we shook hands. I welcomed him to Omagh and he mentioned he had been here before with Ritchie and talked about the town in general. I gave him the albums to sign and I then mentioned the recent passing of Muddy Waters a few years earlier. This led to talking about the London Sessions and then to his current album
Jinx
.
He asked if I was going to the show that night and he said that he might catch me later.
The gig was typical Rory, explosive, 100 miles an hour. I had a new camera with me, front of stage,took many many shots and the night flew past. I waited around after the gig and saw Donal. He told Annie and I to wait for ten minutes or so and then he came back out and brought us into the hotel dining room. Rory was there at a table with Gerry and Brendan and pointed at us to sit down. He had a pint of Guinness in front of him and asked if I wanted one, and another was brought for me. We sat and talked about the gig, music in general, about local musicians whom he had know of. Arty McGlynn, the Irish Traditional guitarist, was one name that cropped up. I managed to get the tour poster signed by Rory, Gerry and Brendan, and also got his plectrum. Donal took my camera and started taking some pictures. One I still have is a treasured possession of Rory, Annie and I at the table sharing a Guinness. We must have stayed for 45 minutes before we decided to leave.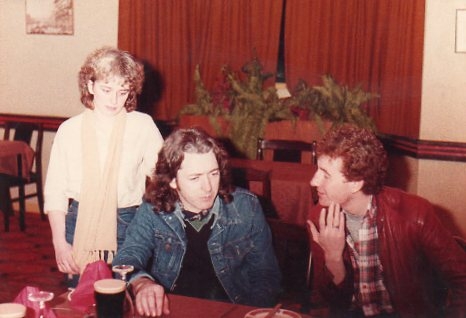 No doubt we were on cloud nine on the way home. "We've just met Rory Gallagher" we looked at each other in disbelief!!!
Dino McGartland


---
A note from Dino: The venue was Knock -Na - Moe, hotel Omagh. Now, the gig was actually supposed to be in The Forum, Enniskillen on Tuesday 3rd January 1984,that's the ticket that i have.This gig was cancelled and Omagh was added instead
---
Below are a few photos of Dino with some other big names in music
| | |
| --- | --- |
| Jack Bruce | Albert Lee |
| Hank Marvin | John Hammond |




33