INTERVIEWS
A word from the musicians who were on the scene
Gerry McAvoy

---
He's been described as... "Gerry McAvoy, splay legged, head banging and writing the rule book for the school of pummeling bass guitar."
A rock and roll pro who spent 20 years providing the fiery bass in Rory Gallagher's explosive brand of rock and blues. Today, he's part of another gutsy, hard rocking outfit called Nine Below Zero.
Gerry fondly recalls his tenure with Rory Gallagher, his new work with Nine Below Zero and lets us in on his experiences and insight after a lifetime of rock and roll.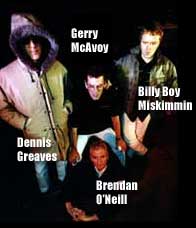 How did you meet up with Rory Gallagher?
I met Rory first of all when he moved to Belfast with his band Taste. I accidentally bumped into him at a music store in Belfast. The first thing that hit me was how polite he was in taking time out to talk to me a young struggling musician. We then met again when the band I was in, at the time, moved to England. We did a lot of gigs with Taste at that time because we were both with the same Agency "Robert Stigwood Organisation". Both bands split around the same time and I received a telephone call from Rory around Feb 1971 to fly to London for a jam little did I know at the time I was going to be playing with him for 20 years.
You played bass in Rory's band for many years, he's one of the best guitarists of all time. What was playing with him like?
Playing bass with Rory was an education as well as a delight. I came from a school were rehearsals were of prime importance and one had to adhere to the structure that we had rehearsed. With Rory of course we rehearsed, but once you hit the stage a completely different attitude took over piloted by Rory no gig was ever the same. Spontaneity and ad libbing were of prime importance.
What was the recording process like with Rory Gallagher? Was it a loose environment, or did Rory come in with very structured ideas.
Rory had very structured ideas but there was still enough room for free-flow. We would
rehearse maybe 14 or 15 songs for any album, but then Rory would walk into the studio with a completely unrehearsed track and would just jam and see what would happen. Two tracks spring to mind Laundromat and Calling Card.
How about performing live? Was there a lot of room in the numbers you would perform? Did you try do something different each night with the songs to keep them fresh?
As I said before the live thing was a different animal. Rory had crafted his live skill over many years playing with guys 10 years his senior in Irish show bands. This gave him an insight into how to woo an audience making sure he would tease an audience and do everything invariably at the right time.
Many say that you and Brendan O'Neill were Rory's best rhythm section. What would you say? How different was it than playing with Rod de'Ath?
It's hard to say, Brendan has an amazing shuffle technique. When he first joined Rory he found it quite hard to reach the power Rory has always required from a drummer, but after a few months he achieved this with great skill. Ted McKenna was probably the loudest drummer I've ever played with. He had a totally different technique to Brendan, more in the heavy rock syndrome, which suited the period when he played with Rory around the time of "Photofinish", "Top Priority" which were more rocky as opposed to blues. Rod de'Ath was the most undrummer drummer I played with. Rod's technique was so strange it added a different dimension to Rory's sound.
Can you relate any of your fondest or most memorable Rory memories and gigs?
This is a hard question. I remember in Toronto Rory was doing a late night radio show being interviewed live and the DJ asked if anyone would like to call the station which I promptly did after having a couple of Molsons at a friends. Before I had two words strung together Rory knew who it was (very perceptive).
What was some of your favorite work with Rory Gallagher?
Another difficult question re: albums I have a fondness for them all Live too many to remember.
Do you know what work, if any, he was most fond of?
Yet again Rory took pride in everything he did.
Your memories of the Irish Tour '74 period, and the making of the movie, that many would say produced one of the best live albums ever.
Could write a book on this one. Irish tour was recorded, I believe, during the Winter of 74. Tony Palmer directed it. He had previously made 200 Motels with Frank Zappa. It was meant to be an uncompromising documentary which I think was achieved. We had some great laughs recording because after the first couple of days you forgot about the cameras and started to act naturally. If you have ever seen it, the last night we all got together in a boat club in Cork, Rory's hometown, and consumed copious amounts of Guinness so what you see is what you get!
This question is from a member of the Rory Gallagher online discussion group "Bullfrog". "From your days with Rory, are you aware of any music still in the vaults? Especially concert recordings."
There is a lot of unreleased material both concert & studio work.
As 1990 approached you and Brendan O'Neill were looking for a project together outside Rory Gallagher's band. Was it time for a change for the two of you?
It was actually earlier. I had always written and obviously could not see an outlet for my
song writing with Rory and that's not being disrespectful it's just the way it was. I also think after 20 years with Rory it was time to move on. Not to say this was an extremely difficult decision to make. Brendan & I both left in April 1991. The last gig was in New York The "Marquee" I believe it was called. A very sad night.
Have you listened to any of the Rory Gallagher re-issues? If so, what do you think of the sound as compared to the originals?
Some are better than others I think the job has been done well.
Your first introduction to Dennis Greaves. Tell us how it came about.
I met Dennis when he had his first band "Stan's Blues Band" which later became "Nine Below Zero". It was in a pub somewhere in the East End of London he definitely had something out of the ordinary at that time. A sort of untapped energy that somehow reminded me of Rory.
When the three of you first played together, was it an immediate musical gel?
There was actually four. Mark Feltham the Harp player with NBZ had been guesting with Rory for about 7 years after the original NBZ split. That was also the connection. We put a gig together under a pseudonym "Bare Wires". I think yes there was a definite chemistry which gave us the impetus to give it a go.
How would you describe the Nine Below Zero sound and style?
Raw energy, punk blues, I don't know you have to see it and hear it...
Tell us about the latest CD "Refrigerator". How long did it take to put together and what was the creative process like?
"Refrigerator" took around three months in total. We started off by recording just drums to get as much drum room on the track as possible. We used three different studios and a great engineer Kenny Jones. Everything was layered drums bass, guitar, harp etc. It's a different way of doing it rather than playing the track totally live and it adds in a different dimension.
NBZ have been on an intensive tour since the release of "Refrigerator" in January. What's that been like and what has the audience reaction been?
The tour has been accepted very well and were still touring.
What's it like being on the road today as opposed to the "early days"?
No different, hotel, gig, drive, fly...
Some musicians find touring to be a necessary evil while others love it. What are your feelings about touring?
Touring is a strange phenomena. Yes, you either love or hate it. I've been doing it for a long time now. Sometimes getting from place to place can be a bind, but otherwise its something you have to do and its great to be in Berlin one night, Paris the next if you know what I mean.
What's next with NBZ?
Touring USA and Canada are next.
Any updates on the status of Nine Below Zero performing at the proposed 20th anniversary show for "Live At The Marquee"?
Yes, it's all in hand. We will be announcing the venue shortly.
Tell us some of your favorite bands and records you listened to when growing up.
My father was a great "Glen Miller" fan so I grew up listening to his records until my sisters, then boyfriend, now husband who both live in Canada introduced me to Buddy Holly, The Beatles etc. I then got into British blues John Mayall, Yardbirds etc. Then I discovered "Muddy Waters" that was it what else can I say the greatest.
What are you listening to now?
Besides Muddy, I try and keep up with trends anything that's good really There is a great pop band from England "Supergrass" great songs.
Many say that the music biz is in rough shape.
What are your views on the music biz today?
The music business is totally removed from music. The whole shop is run by accountants and lawyers! The last rebellion we had was punk nothing since.
If you had the chance to play with anyone, living or dead, who would you have liked to jam with?
The MAN Muddy Waters. I had the pleasure of playing with AC Reed who played with Muddy and Albert Collins. What a night that was in Montreux Switzerland!
Classicrockpage.com thanks Gerry McAvoy for taking the time to speak with us.

---

This interview comes from the Classicrockpage. Thanks to Steve for permission to post it.
Visit http://www.classicrockpage.com/ to look back on 1960's and 1970's Rock & Psychedelic Music and tune into CR Net Radio for online streaming feed of great music from that era at
http://www.classicrockpage.com/crradio/aboutcr.htm
article reformatted by roryfan
117