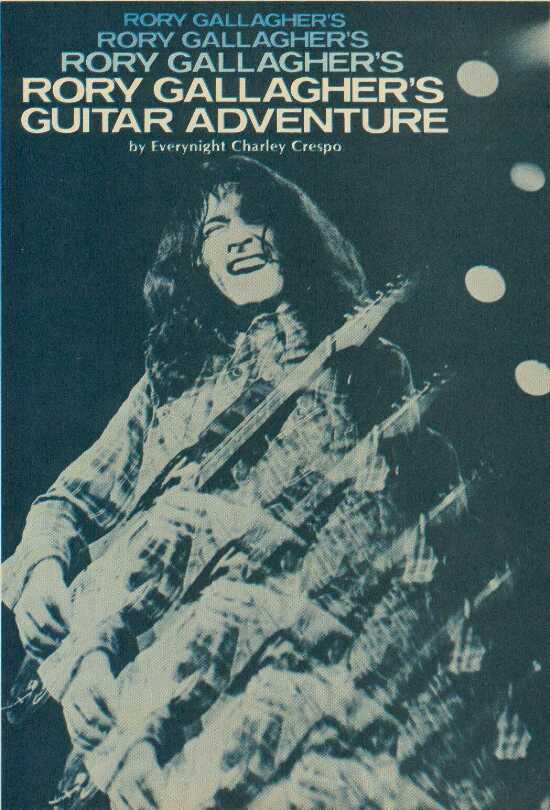 Photo by Fin Costello/RETNA
Over the years, music journalists have described and examined Rory Gallagher's guitar playing from many angles, and the summation has always been the same - Gallagher is a sensational rock and blues guitarist.
"I don't like to analyze my playing; other people are much better at it than I am," said Gallagher in his thick Irish accent while searching for the words to describe his technique and style. He poured himself a glass of red wine and continued, gazing up at the bland walls of the rather small New York hotel suite we were in.
"What I try to do is split the difference between having enough technique to go into tight corners musically and having enough primal madness to keep it gritty. I'd like to be known for playing somewhere in between, as a guy who can keep primitive and physical at the guitar, but by the same token, not be just an aggressive player from the start. I'd like to be a guy who can actually go a little adventurous on the instrument. But I wouldn't like to become just a technician or just a madman." He laughed at the thought.
Gallagher's guitar playing is all of the above and more. Now leading a three piece band again, with his long time bassist, Gerry McAvoy, and his new drummer, Ted McKenna, until recently of Scotland's Sensational Alex Harvey Band, Gallagher whips each song with relentless guitar wizardry. PhotoFinish, his tenth solo album since he left his first professional rock band, Taste, 1970, is a guitar fan's delight. Each of the nine new selections is loaded with jaw-dropping six-string pyrotechnics.
Evident in Gallagher's playing, whether his fingers are swimming up and down the neck of..his 1962 Strat at breakneck speed or slowing up and digging deep for gut-gripping leads, is that on albums and in concert, he has an amazing sense of melody. This becomes particularly impressive in concert, where the jamming gets spontaneous. Gallagher's elongated spotlight leads are never harsh, abrupt or awkward. Unlike other guitarists in the spotlight, he neither has every note memorized nor does he riff away aimlessly.
Instead, he plays extraordinarily imaginative and precise lyrical runs that kick and run with the intensity of T.N.T. By the end of a Gallagher concert or after two sides of PhotoFinish, a guitar fan feels like he's just heard all any guitarist can do, without hearing anything twice. There's enough variety and discovery in the concert and album to qualify both as advanced "how-to" courses for prospective young guitarists. Yet, though talent runs high in Gallagher's corner, he is virtually unsung, having never submitted himself to the starmaking machine.
"I have a hazy ambition," he explained. "I don't want to be as big as Kiss. In America, it seems you have to be clear in your mind as to what type of star you want to be. I've never consciously laid out a plan of action; I've worked by instinct and I've tried to just enjoy what I'm playing. I suppose if I sat down, worked on a campaign, went to the right hairdresser and got the right clothes...!
"We do okay in a moderate sort of way. I mean, everywhere we go, a crowd shows up that knows the records and the songs."
Gallagher's fall concert tour of the U.S. was his first in two years, which for him is an abnormally long time to be away. It has also been two years since the release of his last album, the slightly jazz - oriented Calling Card. The delay has been attributed to various intruding factors, including Gallagher breaking a thumb, which rendered him unable to put the finishing touches on an album he and his previous band were working on in California with American producer Elliot Mazer. While he waited for his thumb to heal, Gallagher became disenchanted with the band, the producer and the product in the can. "I didn't feel convinced when it was finished," he explained. "We put so much into it, but it didn't sound right from a sound point, so I just dropped the album, but not from any prima donna type thing. "I wanted the next studio album to really kick and that was it. It was something that remixing wouldn't cure. It was a pretty drastic measure I suppose, but sometimes it's worth it rather than having me sit here embarrassed, pretending to you that had I released it, I could blame the record company for 'forcing me to release this.' It's better to do it right. It's got to be a record that I can play sometimes myself and enjoy."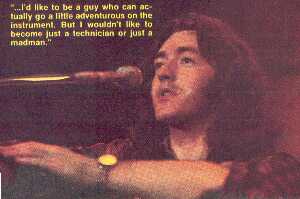 photo by Andrew Putler/ RETNA
Instead of expanding the line-up (there was even talk of a brass section at one stage), Gallagher chose to return to his original guitar / bass / drums vehicle. The new and current lineup took shape, and the trio went to Germany to re-record the album with producer -engineer and fellow Irishman, Alan O'Duffy, whose credits include the Rolling Stones and Paul McCartney.
"I think this album will stand the test of time," said Gallagher over some more red wine. "It just kicks and it's got spice and verve to it -and that's what I wanted."
Gallagher first learned to play guitar in his native Ballyshannon, County Donegal, Ireland, while still a child. At the age of nine, he was playing his first real acoustic guitar, one which replaced an earlier plastic one, and sang cowboy tunes and Irish folk songs for the relatives. About six years later, he joined and toured Europe with the Fontana Show Band. He was more into playing rock and roll than the show band would play, however, so in 1965, he left that outfit to form Taste, a well received three piece band that disbanded five years and three albums later .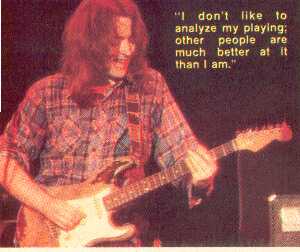 photo by Bob Sorce
Though Taste met with much praise, and at that time was sometimes referred to as Ireland's answer to Cream, it wasn't until Gallagher began working on establishing his own name that he became well noted. By 1972, the readers of the U.K.'s largest music publication, Melody Maker, voted him "Top Guitar Player" in the annual reader's poll, beating out the likes of Eric Clapton and Jimmy Page. Since then, Gallagher has been at the top or in the top ten of the winners lists every year.
Although the details are not quite clear, Gallagher was also one of the guitarists that the Rolling Stones contacted when they were considering a replacement for the departing Mick Taylor in 1974-75. Gallagher jammed with the Stones in what may have been an audition of sorts, but it was clear to all concerned that Gallagher had his own career to look after.
Gallagher continues to be revered by fans and musicians alike. At a recent club appearance in Long Island, members of Kiss were in attendance sans make-up. (They were easy to spot; just about everybody else in the audience was wearing a flannel shirt like Gallagher always wears.) Lenny Kaye of the Patti Smith Group was hooting and hollering at another show. The list of guitarists that have come to witness Gallagher's awesome display of guitar work over the years seems to include everybody. A self admitted guitar fan, Gallagher himself tries to listen to as many other guitarists as possible.
"I like Springsteen's sound actually, though he's more of a sound really than a lead player as such," said Gallagher when asked about contemporary guitarists he admires. "He does some nice bits. A lot of the new wave groups, the punk groups, it's just aggressive rhythm playing, although Wilko Johnson is a nice player. The better guitarists, if you like, are still the people who've been around for quite a few years, like John Hammond, Keith Richards, Ry Cooder, Johnny Winter, Doc Watson, Buddy Guy ...this list is very long.
"With a lot of the new groups, the emphasis is not on the guitar so much. It could be heavy, strong, aggressive chords, but that's a bit limited. That's the same story with Townshend, but Townshend would come up with very interesting little offshoots from his chording, particularly the sound in the new single, "Who Are You," the guitar playing there is really tasty because he normally doesn't do that kind of spikey little blues stuff. It's not a blues record, but it's great, you know? You'd imagine that a guy like Townshend had done it all, but he's still moving on.
"There's many groups I haven't heard, though I've read about them and have seen pictures of them playing Dan Armstrong and Jazzmaster guitars. Elvis Costello's got a nice sort of style. He's not a lead player either as such, but he gets a nice strangeness from his guitar. George Thorogood is kicking pretty good guitar, but he's very much in the tradition of Elmore James and that sort of thing. I think that stuff isn't dated really, no matter what anyone says. That stuff is still valid and will be valid tomorrow when certain mini-fads have bit and died. It sounds like the old fashioned thing to say, but you can't stick Elmore James or Jimi Hendrix in the grave and forget about him. That stuff is too good."
Yes, Rory Gallagher is a guitar fan, and his own guitar playing says it all.
---
This article comes from the May 1979 issue of Hit Parader magazine
reformatted by roryfan


116