by John Carnie


| | |
| --- | --- |
| PART ONE | from Signals Fanzine #2 Christmas 1997 |
This is the first of a series of articles examining Rory Gallagher's guitar style and focusing initially on his acoustic playing. In this article Rory's acoustic technique is introduced with a specific look at his ragtime and country blues playing.

---
Introduction to series
This is the first in a series of articles which will look specifically at Rory Gallagher's music and in particular his guitar playing styles and influences. One of the things which has been evident in Rory's career is the very wide range of colour he brought to his music, and in particular his albums by the diversity and range of his musical expression.

---
Many albums since the first Taste LP in 1969 right through to Fresh Evidence in 1990, featured not only his renowned electric guitar wizardry and strong songwriting, but also his many styles of acoustic guitar playing as well as harmonica, saxophone, mandolin and other instruments.


His versatility and use of dynamics always showed a richness of maturity and styles from jazz and blues through to rock, country, folk and celtic soul. This is perhaps why Rory Gallagher was not only so influential to a generation of guitarists, but also why he was acknowledged and respected by many fellow musicians throughout the entire spectrum of the music industry.


The articles will try and highlight some of Rory's styles by featuring selected songs and various runs and techniques used in his playing. Over- analysis with theory will, however, not be the order of the day here as it is hoped that the series will be enjoyed by musicians and non musicians alike! The first few articles will look at his various acoustic styles including bottleneck before moving on to electric and beyond !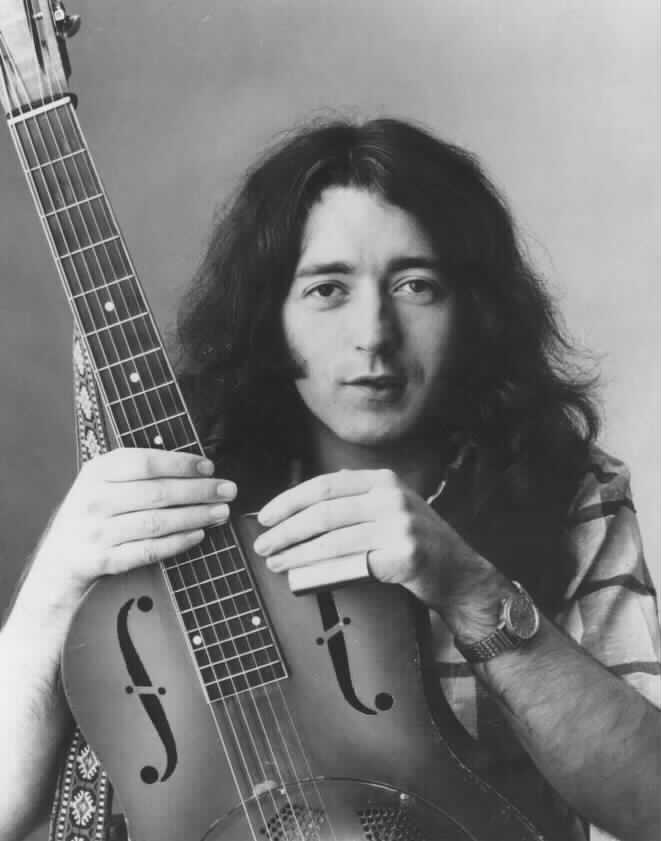 Acoustic Roots
Gallagher's passing in June 1995 robbed the world of one of its finest and most respected blues rock musicians. Whilst most attention has focused over the years on his exciting and driving electric guitar style ­ and here his fans included Muddy Waters, Van Morrison, Gary Moore, Bob Dylan, Slash, Edge and John Lennon - little has been written on his acoustic styles which ranged from ragtime blues and celtic tunings through to bottleneck slide playing covering his own material as well as memorable interpretations of others' songs.


Rory, however, was well known for his acoustic playing and since his first album with Taste in 1969, most albums included at least one acoustic number. His first solo album included no less than four originals, back to back with reflective and soulful heavier songs. Significantly, live shows would always include a 2 or 3 song acoustic set which would never jar with the rocking intensity of his electric showmanship. Such moments in the shows would be eagerly anticipated and give an opportunity to show off his acoustic dexterity and to pay a homage to the blues originators. The sets also afforded a opportunity to pace the show, quieten things down and give the band a break.


Many of the songs in his acoustic repertoire were written by himself, but he also recorded many by well known, and sometimes more obscure, blues artists. The songs covered, however, tended to not to be the well known blues classics, but adaptations of songs from the twenties and thirties which got the classic Gallagher stamp of identity. The same was true for most of his adaptations of electric blues when doing the odd cover version.


Whilst Rory will always be remembered for the searing emotion of his electric guitar playing the spirit of his style was firmly routed in his acoustic guitar playing, although this sometimes varied to degrees at different times throughout his career. In terms of learning the guitar, Rory would always say to players that they should begin with acoustic guitar and constantly refer to it. He felt that the acoustic, having heavier strings and action was the best training ground for students as it toughened up the hands and prevented 'less faking'.


It also provided a reference point for Gallagher's first love for the early ragtime and country blues guitarists and more latterly his own Irish folk influences. He often reserved his most admiration for the old bluesmen who could sit down and hold an audience spellbound simply by plying their trade with their voice and an acoustic guitar. Again, this 'no frills' attitude showed itself in Rory's 'anti- image' image. A long
standing ambition was to record a purely acoustic album and a considerable amount of material had been recorded lately.


| | |
| --- | --- |
| PART TWO | from Signals Fanzine #3 Summer 1998 |
Acoustic Style


In his acoustic playing, Gallagher almost exclusively used a flatpick together with his index and middle fingers to play. This style, although not particularly uncommon, is difficult to learn at first, but with some practice the technique can be mastered and offers a more flexible approach to playing acoustic and also electric guitar.

If you listen to a range of acoustic blues guitarists from the 1920's to the present day, it is noticeable that virtually all use the widely accepted finger picking technique of either thumb and fingers or, equally as common, thumb pick and fingers. The style which Rory mastered and is heard to such great effect on numbers such as 'Pistol Slapper Blues' and 'Barley and Grape Rag' came about due to a number of reasons and influences.

Firstly, the style allows the player to play very fast and precise 'flatpicked' runs. The term 'flatpicking' guitar, as opposed to standard playing lead runs with a plectrum on an electric guitar or strumming on an acoustic, is a style which was developed by bluegrass guitarists in the USA in the 1950's. It involves playing mainly fiddle tunes with the flatpick only and has developed into a highly evolved and popular form to the extent that there are many flatpicking festivals in America today. It has also developed to a lesser extent in Britain and Ireland with players like Paul Brady and Dick Gaughan playing jigs and reels. Doc Watson, one of America's best known exponents of not only flatpicking, but country blues as well, was an influence on Gallagher' acoustic style.

The technique allows fast flat picked and lead runs to be played in a much more effective and precise manner than fingers alone can achieve. It also means that strumming can be combined with delicately fingerpicked notes. Gallagher demonstrated this in the 'Irish Tour 74' film when he specifically talked about this style and played the first few bars of his jazzy ragtime instrumental 'Unmilitary Two-Step'. His use of this technique and choice of material meant that his acoustic style was exemplary, impressive and devoid of being copyist.

In terms of electric guitar, the style is also useful and versatile particularly in a three piece band format where it allows more colour and body to be added to the sound. This approach also forms what Rory described as a 'Celtic influence' to creep into some of his music and often in his electric playing he would keep a lot of the open middle strings 'hanging' such as the D, G and B to create 'a kind of Celtic drone effect'. The start of 'A Million Miles Away' being a case in point .

This Celtic style and approach to his music is not dissimilar to the playing of Richard Thompson, who although not a blues musician, also frequently finds himself with the tag of being 'a folk musician in a rock world '. Thompson is an expert at the plectrum and finger style, similar to Gallagher and they shared a stage together with David Lindley and Juan Martin in a memorable acoustic concert in London in 1984 long before the days of the 'Unplugged' fad.



Ragtime influences and style


Rory Gallagher's driving force behind his music was the blues. The wide range of expression covered by the blues in hundreds of songs since the 1920's - tragedy, despair, comedy and celebration - left a lasting impression on him and after progressing from the ukulele to the acoustic guitar at the age of nine, he soon found himself listening seriously to the blues, albeit at first via the singing cowboys Roy Rogers and Gene Autrey! It was whilst still listening to the Rock 'n Roll of the late fifties that Gallagher discovered the ragtime and country blues of Blind Boy Fuller, Big Bill Broonzy and Leadbelly as well as the electric Chicago blues. His career and vocation as one of the world's top blues rock guitarists continually acknowledged these early guitarists and was to provide some of his most popular material.

Ragtime and country blues , although strictly speaking not the same, can be described as fairly happy sounding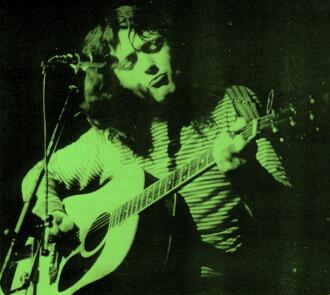 blues with an imitation of the piano based on an alternating bass guitar pattern. The music does not always follow the standard '12 bar' format and often incorporated strong melodic tunes, complicated fingering and typically clever and amusing blues lyrics. The men who played the music came from many different parts of the Southern States and were perhaps the most popular 'race' artists of their time.

Rory Gallagher wrote and covered some classic blues of this style.

'Pistol Slapper Blues' by Blind Boy Fuller from 1972's' Live In Europe!' is a stunning version of what was an obscure recording from the 1920's and remained a perennial stage favourite. The version is totally different from the original and features Gallagher using the plectrum and fingers style to great affect. It is an 8 bar blues in the key of C with a chord sequence of C-G7-C-F-C-F sharp min- G7-C-G7. The opening run is played up at the 12th fret and involves playing the top E and the G on the 3rd string simultaneously with the flat pick and fingers whilst letting the open B string ring out and descending down the fretboard The solos in the song involve flatpicking notes in a style similar to those shown for Barley and Grape Rag below.

Another Blind Boy Fuller tune which Rory covered was 'Rag Mama Rag'. This wasn't often played by Rory' but is featured on a rare recording which was filmed for Rockpalast in 1976. It is a very fast 4 bar rag with the chords A-D-G7-C and imitates the old piano styles of the time.

Fuller, real name Fulton Allen, was one of the most popular players to come out of the Carolinas and learnt most of his technique from the Rev. Gary Davis. On many of his records he was accompanied by Sonny Terry on harmonica and his record company frequently used him as a competitor to Big Bill Broonzy. Broonzy, who is one of the most recorded blues artist ever, was also one of the first bluesmen to have been completely accepted by white audiences until his death in 1958.

"Bankers Blues" by Broonzy was a strong track on Gallagher's 1973 album

Blueprint

and was a popular stage favourite in the mid- seventies. More of a country blues, than ragtime the song' is not difficult to learn and is played as an 8 bar in the key of A. It is a very early Broonzy number from 1930 and features the Broonzy trademark of putting in a fourth chord, in this case B7, at the beginning of the sixth bar to add colour. New lyrics have been added where appropriate by Gallagher, and in his recording, Rory also plays harmonica and slide guitar whilst Lou Martin's piano rolls in the background. Live, Rory would normally play the song in straight tuning, but occasionally would perform it bottleneck style in an open G tuning.

Another acoustic track from Blueprint is 'Unmilitary Two-Step' which is a classic ragtime instrumental written by Gallagher. Played in the key of C, in standard tuning, the number has a strong and catchy tune. It is a rather difficult piece to learn at first, which is not helped by it having a number of different sections in different timings, but which add to its rhythmic appeal!

Further Gallagher penned songs kept up the country blues tradition such as 'I Don't Know Where I'm Going' (Deuce), 'Wave Myself Goodbye' (RG) and '20:20' Vision (Tattoo). The albums of the late 70's and early 80's tended not to feature acoustic songs and from the mid 80's onwards Rory tended to favour the harder and deeper delta bottleneck blues for acoustic rather than ragtime. However. the popular traditional number "Keep Your Hands Off Her" covered by Leadbelly and Broonzy was given a ragtime treatment by Rory and featured in live sets from the mid eighties onwards.


| | |
| --- | --- |
| PART THREE | from Signals Fanzine #4 Autumn 1998 |
Barlev and Grape Rag



The classic ragtime songs which have been written down the years have all had three key ingredients: clever lyrics,
strong melody and well crafted arrangements. Barley and Grape Rag written by Gallagher and featured on 1977's
Calling Card album is no exception and stands up well alongside some of the best ragtime blues ever written. Rory said of the song "It sounds as if it's a throw away song to write, but it's not. The first line sets the tone and whatever comes after that

has

to be good! Its demanding attention right from the first line." The number ended up being recorded in the studio canteen to get the 'right sound and features the whole band with a particularly effective Salvation Army, jug band drum type of feel! It remained a perennial stage favourite, not least because of its potent lyrics.

The Dubliners recorded a version on their 1992,

30 Years a Greying

album with Rory on harmonica.

The song is played in standard tuning in the key of C, but the guitar, in this case the National steel, was tuned down one full tone for the recording effectively making it in the key of Bb. This was done presumably to give the song more of a jug band feel and means that you will need to tune your guitar down in order to play along with the record. The notation below however is written in standard tuning.

(Photo by Bob Hewitt)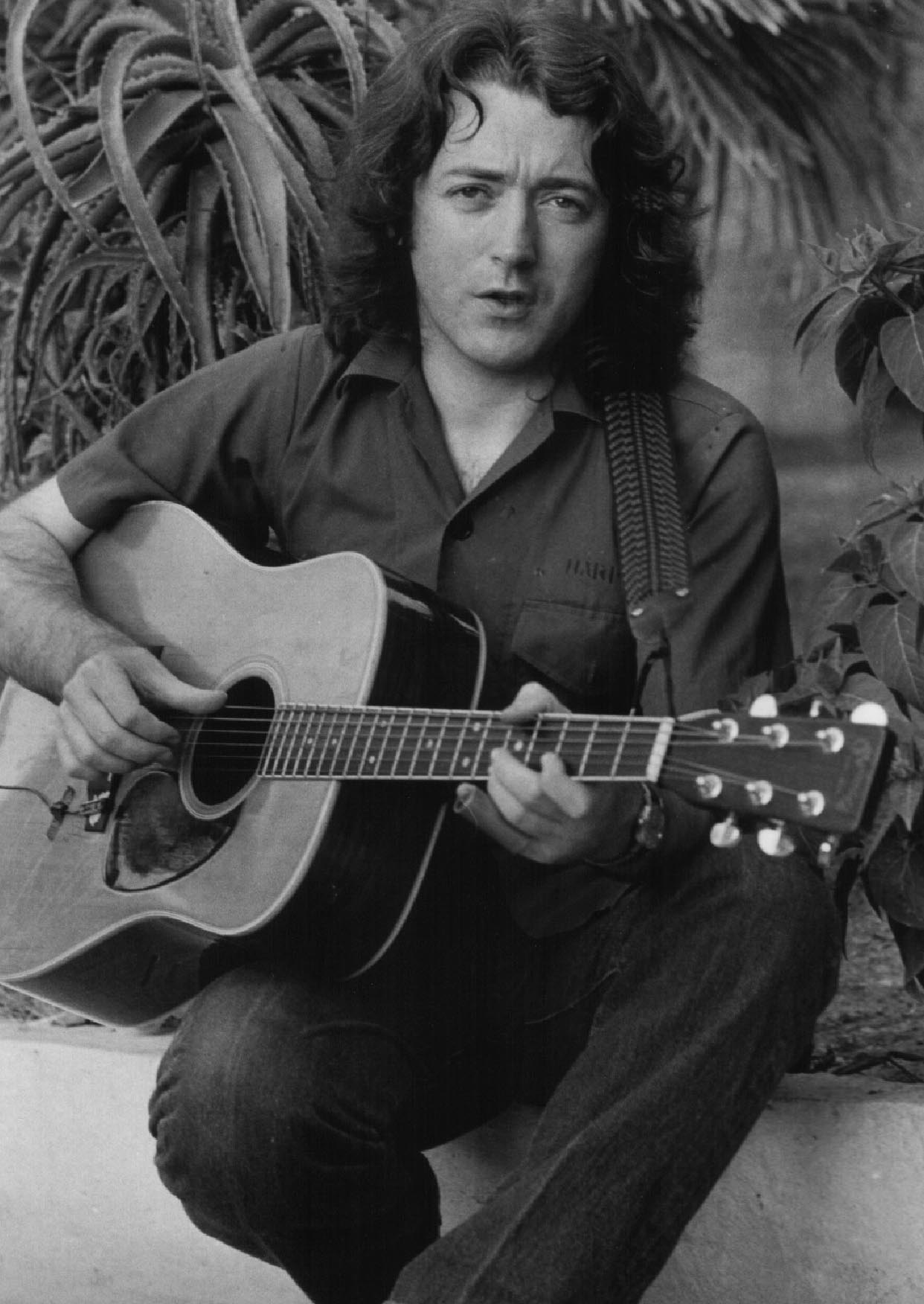 The picking technique and pattern used is worth working at and involves the flatpick
striking an alternating bass pattern with the middle and index fingers playing the three treble strings in the order 3rd string, 1st and 2nd every beat. This pattern is repeated throughout the song over the chord shapes of C and D7, although the song can also be simply strummed. The chord of G7 is phrased with a flatpicked run which follows the melody of the song before resolving back to C.


The opening run of the song, shown in Ex.1, is quite tricky and is a fast flatpicked run over the chord of C.
Timing is of the essence and some of the notes involve hammer-ons and slides. The flatpicking involves both up and down strokes and if you can't get it at first, try to go for the feel of it rather than note for note accuracy. Be sure to
capture the flavour of the introduction of the number by strumming the strings behind the nut and banging the body of the guitar in true country blues style!

Ex 2 and 3 show the solos with the breaks starting off in the C shape pattern. Right hand technique is important and Ex 4 shows the last break with the first 2 bars being played with triplets trilling the notes.

The ninth bar of the song 'I've been so alone...' starts with the common ragtime blues run of the chords C, C7, F and F sharp dim. being played in quick succession with the diminished chord being repeated every three frets up the fretboard. The ' middle-eight' is taken care of with E7 and Am chords.

The tablature highlights some of the runs from the song.

Lyrics:
Barley and Grape Rag
C D7
Well I don't care if I get arrested,
G7 C
Cause tonight they'll need more than a ball and chain.
C D7
Well I don't care who's interested,
G7 C7
I'm coming into town just the same.
C C7
I've been so alone, I've been feeling blue
F F sharp dim
I think I need a little beer or two
C D7
Be my friend tell me where that place is
G7 C
Where the whiskey flows and the dices roll till dawn
My baby's done me wrong you must have guessed it
My heart's so low I think I must be told
That I don't want to know where east and west is
'Cause pretty soon I won't feel the cold-
- Well I'm walking down main street feel no pain
Along comes a cop and takes my name,
And explains to me what a Federal case is,
I've been mixing the barley with the grape again
E7 Am E7 Am
Bright city lights, make me feel alright
D7 G7 C
I'm right or wrong, yet tomorrow never comes.
I don't care if I get investigated
'Cause the City Fathers they all know my name
I'm pretty sure that you can smell the traces
For tomorrow morning I'll take all the blame-
-I've been feeling bad, feeling blue
Think I need a little whiskey or two
Brother you look like you could do with it too
Tonight I'll sleep on a walking cane.

copyright: Strange Music LTD Capo Records

---
This 3 section column was posted to the fanzine, Signals.
Thanks to Stefanos Tsiopanas for sending me copies of the fanzine
articles reformatted by roryfan

312
added 11/26/05