BRITISH BLUES CONNECTION
RORY GALLAGHER
NO MORE MESSIN' WITH THE KID
A personal tribute by Scott Duncan
In a very direct way if it wasn't for Rory Gallagher there wouldn't be a Blueprint magazine.
Back in 1970, a friend of mine returned from the Isle Of Wight Festival raving about a rock band he'd seen called Taste. The band's front man had astonished my pal not only by playing blisteringly fast and fluent guitar, but also and this was the real novelty, by playing a saxophone, which he whipped from behind his back whenever the need arose.
Even in those days I was ever ready to fail to be impressed by the exaggerated claims made on behalf of musicians (plus ca change etc.), but this Rory Gallagher guy did sound intriguing. I decided to check him out. Thus it was that, in early 1971, as a sallow faced 18 year old, the first ever rock/pop event (the terms were interchangeable then) that I went to was a Rory Gallagher gig in the August surroundings of The Queen Elizabeth Hall on London's South Bank. Taste had split up by this time (for that story, see Trevor Hodgett's piece elsewhere in this issue) and, anyway, it was always Rory who inspired most interest. His sidemen post Taste at various times, drummers Wilgar Campbell, Rod De'Ath, Ted McKenna and Brendan O'Neil, Lou Martin on keyboards and faithful servant Gerry McAvoy on bass could have been trained chimps for all anybody really cared.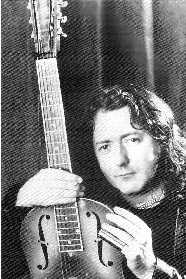 After that Queen Elizabeth Hall gig I instantly became a fan of Rory's. I even began wearing similar clothes to my newfound hero. In an age when tie dyed granddad vests, satin loon pants with enormous flares and sandals were all the rage, you could find me in a 92p (18s/6d in real terms, but we'd just gone decimal!) blue checked lumberjack shirt from Milletts, a pair of drainpipe Levi's and a cheap pair of plimsolls.
Rory was my man! My first axe hero! And I began to attend as many of his gigs as I could possibly get to. I was lucky that I lived in Reading (not too often you hear people say that) and could see him quite often. Throughout the Seventies, Rory regularly headlined the town's annual rock festival (he's featured on 1973's "Reading Festival" live album alongside contributions from the likes of Strider, Greenslade, Status Quo and The Faces - all bands who today mean nothing to me and didn't mean too much more to me at the time).
What I now know, but didn't know then, was that my love affair with Rory Gallagher was a response to the honest spirit of the blues that was an integral part of his music and live shows. Even then it was obvious that he was musically more sincere, and certainly more talented, than the likes of Black Sabbath, Uriah Heep, Wishbone Ash et al, whom we provincial fledgling hippies and cultural crits all went down to see at the old Reading Town Hall when they passed through town. In an age of musical charlatans and phonies, Rory was somehow for real. You could always rely on him to put on a value for money show. His gigs regularly lasted at least two and a half to three hours, a work ethos that he was promulgating long before Bruce Springsteen was hailed for the longevity of his stage act.
And it was Rory's live shows that really mattered. The first three studio albums, 1971's "Rory Gallagher" and "Deuce" and 1973's "Blueprint" were really only worthwhile having as souvenirs of the tunes from them Rory played in live concert: scorching guitar favourites like "Laundromat," "Sinner Boy," "Used To Be," "In Your Town" and "Walk On Hot Coals."
If anything, the definitive Rory Gallagher album was recorded as early in his career as 1972 when "Live In Europe" came out. It's a perfect snapshot of what a live Rory Gallagher show was like at the time. Seven classic live cuts showcase his potent mix of blues rock. Side one opens with "Messin' With The Kid" and "Laundromat," two balls out blues rockers that generate nuclear levels of excitement. "I Could've Had Religion," a slow blues, shows his skill with the slide guitar on the white Telecaster that was as much part of his act as his famous paint stripped Strat; ending the side, "Pistol Slapper Blues" (an old Blind Boy Fuller number recorded way back in nineteen twentysomething or other, as Rory tells us) represents the acoustic segment that was always an important aspect of a Rory Gallagher live act and shows his phenomenal picking technique. On side two "Going To My Home Town" displays Gallagher's versatility and ability to play almost any stringed instrument: it's a mandolin tour de force that regularly brought the house down, especially when Rory inserted the name of the particular town or city he was playing in into the lyrics. It never failed to astonish that he could get such stirring riffs out of such a tiny and tinny instrument. Ending the LP are "In Your Town" and "Bullfrog Blues," the latter probably Rory's most requested number over the years: a blues rock guitarfest that regularly induced audience frenzy when played as an encore or rousing finale to Rory's live gigs.
There were further albums of course (one a year up until 1982's "Jinx") but, to belabour the point, it will always be his live work that Rory Gallagher is remembered for. (Indeed, you could argue that "Live In Europe" and 1974's "Live Irish Tour" are the only albums you need to possess if you want to know where he was coming from musically.)
Rory Gallagher lived to the full the life of the traveling, performing bluesman, emulating heroes like Leadbelly, Blind Boy Fuller, Big Bill Broonzy and Muddy Waters, whose 1972 "London Sessions" album he contributed to. From the early Seventies onwards, right up until his death, he was constantly on the road gigging, a permanent fixture on the UK and European concert and festival circuit. He toured the US several times, too, but he never really cracked it in the land of his blues heroes. So much so, in fact, that the 1992 edition of The Rolling Stone Album Guide fails to list any one of over 20 albums he put out in his lifetime. A sin and a shame. A slur and a calumny.
Mentioning blues heroes, it was through seeing names like "Wells," "Broonzy" and "Williamson" credited on Rory's LPs that I first really became aware of the blues and thus started the long retrospective march through blues history which, in 1988, eventually led me to Memphis, a chance meeting with Paul Jones and the foundation of the British Blues Connection and the establishment of Blueprint magazine. But again that's another story.
I have to confess that I somewhat lost track of Rory in the late Seventies and early Eighties. I still caught the occasional show, but his playing seemed to be concentrating more on his rock, rather than his blues influences, a reversion to his Taste days and by then that kind of music didn't interest me. However, in 1987 he released "Defender" which featured Mark Feltham on harmonica. Around this time I caught a show at, I believe, Reading's Hexagon Theatre, which demonstrated that Rory had returned to a more, mellow blues sound. 1990's "Fresh Evidence" continued the "back to the future" approach and I, for one, was back on board.
The last show I saw of Rory's was at the 1993 Portsmouth Blues Weekend. Headlining the opening Friday night, he pulled out more punters for his one appearance than showed up for the rest of the weekend, testimony not only to his great drawing power, but also to the genuine affection in which he was held.
After the Portsmouth gig the Production Editor and I had the great pleasure of being introduced to Rory, meeting him briefly in his backstage caravan. He was genuinely interested in Blueprint magazine and was "well chuffed," as they say, when I explained to him that it was through his inspiration that the magazine and the blues society had come about.
A few months later I was lucky enough to meet Rory again at a special press reception held at London's Hard Rock Cafe to celebrate the launch of the film and book tie in for the 50th birthday of the Fender Stratocaster guitar. To my astonishment, he picked me out of the milling throng of hacks he had remembered me from Portsmouth and asked me how I was getting along and how the magazine was doing. I was, and this isn't too strong a word, awestruck. I'd hero worshipped this man for almost 25 years and here he was, modest, quietly spoken and almost bashful, asking after my well being. To say it was a special moment in my life one I'll remember forever is an understatement.
On the two brief occasions that we met, we discussed the possibilities of doing an in depth interview for Blueprint. It was something that Rory was genuinely keen to do. However, we could never find the same windows in our schedules, despite several phone calls to his manager, brother Donal, and it wasn't to be a missed opportunity I'll always regret.
Rory played his last live show in Ireland in his native Cork City at the Regional Technical College in November 1993. His rendition of "Going To My Hometown" moved many people in the audience. Little did they realize that this would be his last appearance on home soil.
In many respects, Rory Gallagher was an unsung hero. His deliberately low key approach to his art meant that he never really received the critical acclaim afforded to the likes of British contemporaries like Eric Clapton and Peter Green or white American blues guitarists such as Johnny Winter and Stevie Ray Vaughan. Nonetheless, in many ways, through his honest, unpretentious approach to his music and his willingness to give of himself by his commitment to playing for a live audience surely the crux of the blues experience he was closer to the essential spirit of the blues than many of his more high profile colleagues.
Now he's gone and, in the words of a song from his first album, 'I can't believe it's true'. I just can't believe it's true.
Rory Gallagher, blues guitarist and singer, born Ballyshannon, Co. Donegal, 2 March 1948, died London, 14 June 1995.
---
From the August 1995 issue of BLUEPRINT
Thanks to Brenda O'Brien for sharing and preparing this article
reformatted by roryfan

307
added 9/25/05