At last, Rory's Ace Card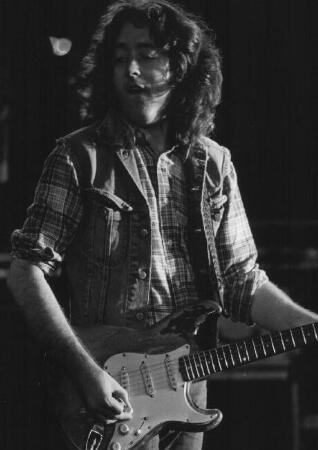 photo by Bob Hewitt
---
RORY GALLAGHER Calling Card (Chrysalis CHR 1124). Rory Gallagher (guitars and vocals) Lou Martin (keyboards). Gerry McAvoy (bass). Rod de' Ath (drums and percussion).
Produced by Roger Glover at the Musicland Studios. Munich.
---
RORY GALLAGHER has long been regarded as the patron of down-to-earth, basic rock and roll. His relatively simple approach has been a distinctive trade-mark, so it is with some surprise that one encounters Calling Card and finds that Rory, uncharacteristically, but successfully, works studio techniques to his advantage.
A few albums ago, on Tattoo, there were hints, mostly on the classic 'Tattoo'd Lady, ' that Gallagher could widen his scope, veer slightly out of the straight-down-the-line rock and blues policy and make his music all the better for it, but for some reason, he shied away from the experiment after that brief flirtation and returned to the rootsy stuff he's revered for.
Perhaps the reason was that he couldn't accomplish the task as a self-producer and required the objective detachment of an outsider to fulfill these ambitions. Hence, former Deep Purple bassist, Roger Glover, who plays such an important part as producer on this album
Glover's role on Calling Card seems to be that of producer, overlooker and adviser, and the result is album of material more diverse than any previous Gallagher release, plus a display of versatile musicianship from the entire band which was never too noticeable when Gallagher produced his own work. But although it is different from anything Gallagher has tackled before, the Irish guitarist's personality still remains indelibly stamped upon it.
His playing her consists of more than just fiery licks and laid-back blues.... there 's more feel, his runs more restrained, a situation best demonstrated in tracks such as Calling Card and the he beautiful 'Edged in Blue', the best cut. It vies with 'Tattoo'd Lady' as the outstanding Gallagher song.
If the playing in those slower songs has improved, then it must also be recorded that the rockers. too, display as much virtuosity. The chugging 'Secret Agent' and the racing 'Country Mile' (which will make a great encore) are predictable adrenaline builders, but the more thoughtful attitude that is the overall mark of Calling Card is really apparent in the the taunting 'Jack-knife Beat' with its interwoven guitar and keyboard riffs.
Gallagher, in fact, has never enjoyed such rapport with Lou Martin, who, apart from one particular clumsy organ line on 'Do You Read me', has a large say in the proceedings, contributing solid piano phrases as well as trading ivory licks with his leader's guitar.
Bassist Gerry McAvoy and drummer Rod de'Ath shouldn't be forgotten, for they give lie to the rumour that they've little more than an adequate rhythm section. Listen to de'Ath on the jazzy 'Calling Card' and McAvoy on 'Edged in Blue' and your realist how underrated they are.
All in all, Calling Card is Rory Gallagher's most commercial album to date, without losing any of the recognisable traits that have earned him respect. I know he thought long and hard before giving the go ahead for 'Card's' release, scared perhaps that the venture into the land of overdubbing didn't suit his style. The fears are unfounded. Gallagher gets thumbs up to experimentation. H.D.
~~~~~~~~~~~~~~~~~~~~~~~~~~~~~~~~~~~~~~~~~~~~~~~~~~~~~~~~~~~~~~~~~~~~~~~``
From the October 13, 1976 issue of Melody Maker
Thanks to Lotte Lieb-Dula for unearthing it
Thanks to Bob Hewitt for the photo (see article #40 on RoryON!!)
reformatted by roryfan

191