Rory, Rory, Hallelujah
It can be safely predicted - after listening to the first records of these born losers – those of the new punk-rock wave that's trying to overwhelm the western world, will float away as it comes rolling on. The Sex Pistols, The Damned, The Stinky Toys and these other entire brand new, coarse grained bands do not have much to offer that will stay for long. Nevertheless, that does not alter the fact that it's understandable why this raw violence scores. Let's be honest, the tragedy of Rock anno-1976 is not that there is that much bad music made, but the fact there are that many perfect, but also terribly boring records released.
The Buzzcocks, Vibrator and all the others would not have any chance if there just were more people like Rory Gallagher: Musicians who are technically perfect, but still appear enthusiastic, raw and catching. Live as well on records, the soul of the former Taste and current band with his own name, always knows how to connect professional skill, devotion and audible joy. He does this in a more than excellent way.
This also explains the hesitation by which Karel put the newest album by Rory and his Irish mates on the turntable. Because after all these years, Gallagher played in the studio without mincing matters. The cover of the new album shows us that this time a real producer (Roger Glover of Deep Purple) took part and there was the news that flew in from England that Rory used the quite normal, but for him unique, effects, like overdubbing. If he, whispered the members of the group to each other (nervous to their self-willed arts peculiarities), with that, has not lost his freshness and spontaneous style.
Well Gallagherists, do not be afraid. Indeed "Calling Card" is built-up somewhat more sophisticated than the previous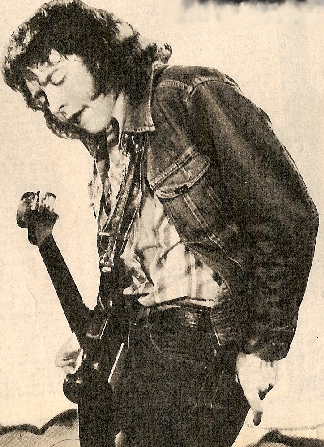 albums. But after all, Rory stays a guitar fanatic who also now again gets very furious sounds out of his Stratocaster, and who, also guided by a real producer, simply compensates his shortage of voice by going very hard at his material. Excellently assisted by Lou Martin on piano, Gerry McAvoy on bass and Rod de'Ath on drums, Rory Gallagher is working himself in an old fashioned way through a "rammer" like "Moonchild", a very good restrained title song, an almost Status Quo like rocker "Secret Agent ", continuing with the out of two tempi "Edged In Blue" (on which the echoing tone is one of the clearest and successful tests of Roger Glover behind the sound panel) and the rushing "Country Mile". Let us accept that "I'll Admit You're Gone" is a just a salt-less balled between all those strong titles.
Rory Gallagher never gave the impression of the need of a producer and real studio effects, and on this "Calling Card", he proves he does not allow it to affect his own uncomplicated musical way of making music. He always will be on his very best if he, in narrow jeans and a chequered shirt, plays live in front of a noisy club.
---
This article comes from the 10/28/76 issue of the Dutch publication, HUMO
Many thanks to Johan Schoot Uiterkamp for translating this article.
Photo is from the article
reformatted by roryfan

331
added 6/25/06