RORY GALLAGHER
By Chuck Lowery with thanks to P. Spencer
Photos by Vince Compagnone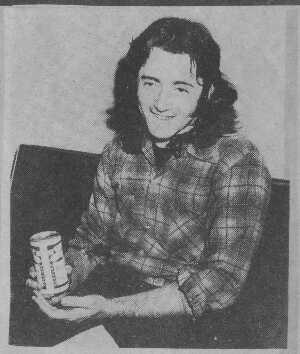 Several months ago, Deep Purple and Fleetwood Mac toured the U.S. with a comparatively unknown group/guitarist named Rory Gallagher. "He stole the show," explained many people afterwards. As I was unable to spend my money or time at the Sports Arena, I just took their words as their opinions. Little did I know that a few weeks later…..
The last concert of the year at San Diego State featured Rory Gallagher in Montezuma Hall. It was free to students, so…..penniless and enrolled, I decided to go. An interview seemed appropriate, so, with Vince, camera, and tape recorder, we went up the hill to that great institution in the sky.
Rory took the stage as though he had lived there most of his life.
"I got into music when I was six years of age. I remember being a stageman at ten, and before that I was singing around my grandmother's bar," he explained. "I had a skiffle group doing 'Lost John,' 'Ramblin Gamblin Man,' 'It Takes a Worried Man,' and songs like that."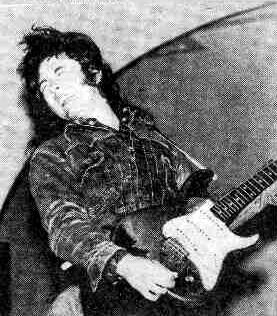 Many of his songs were "jams," which quietly built up to an explosion of sound and energy, unlike anything I had ever seen. High energy rock and roll?
"I was lucky to get an interest early enough to catch the rock and roll thing. I remember hearing 'Rock Around the Clock,' and I was only five or six years of age, honestly. I think it's due to my relations and my parents' musical souls. They sorta stuffed music down my throat. They let me listen; they liked it as well, and it worked out."
It certainly did.
The group played for over an hour and a half, displaying much of what Rory is known for – all sorts of guitar (speed, slide, blues, mandolin playing, and blues harp).
"It's called a mandola," Rory corrected. "…..A long neck electric mandolin. I just play guitar, harmonica, mandolin, sax, and a bit of banjo.
That's all huh?
The band was composed of Rory on guitar, and so on, a bass player, electric pianist, and drummer.
"Gerry McAvoy has been with me on bass for two years. Gerry's been on all four albums. He used to be in a band from Belfast called Deep Joy. I knew him from touring Ireland with Taste. (Rory's first internationally known group.) Rod de Ath and the piano player, Lou Martin, both played in a London blues band called the Killing Floor. Lou is from Belfast and Rod is from Wales. They both joined within a month of each other about a year ago, just before the American trip. The group on the live album was not the same. It was a great group, but a new drummer makes a lot of difference, and a piano player adds a new dimension. I'm biased in favor of the new band."
As I would soon find out, Rory was born and grew up in County Cork, Ireland. It was obvious that his musical background was much different from that of many other known guitarists.
"In Ireland, you have all this traditional Irish folk music as an influence. There's a skiffle singer from Scotland named Lonnie Donegan who was my first big favorite. He did songs by Woody Guthrie and Ramblin' Jack Elliot.
"I don't think music was that different than here. There was less of those singing groups like Clovers and so on. It was more of the one man type artist who was popular. Buddy Holly and Eddie Cochran – it's like they never died over there, in a sense."
"America eats up an artist sooner and it kills them sooner, but the English or European people are a lot lazier about it. They like to hang on to an artist for years, even when he is dead. I speak to a lot of people here in the U.S. about Buddy Holly. It registers only in a very minor way. The 'average' American rock fan doesn't know much about him. The 'average' is not you or me, but the person who listens mostly to the radio. He/she would remember Buddy Holly more for his glasses than his songs. It seems to me that they would remember hearing his song at the high school hop or something.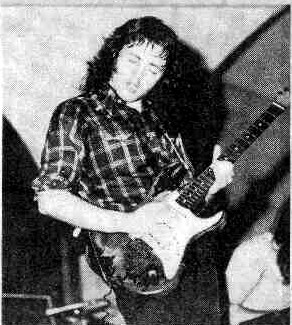 "Different countries have different needs; different people have different needs. The 'average' R and R fan in England could tell you what kind of guitar Holly played and all that. Buddy Holly had hits in England in the sixties, even when the Beatles were big. He had 'Bo Diddley' on the charts. 'Not Fade Away,' 'What do Do,' and a lot of things like that. Eddie Cochran and Gene Vincent had a few hits too."
It seemed strange that Rory and his group would play in such a small place.
"Most of our tours are simply made up of mixtures; we did dates with Deep Purple and some college dates and club dates. It's great, cause I wouldn't just like to do auditoriums or arenas all of the time. You lose touch with everything."
It was very different for me, as a concert-goer, to stand less than thirty feet away from a "rock-star" and enjoy seeing and hearing the performance. I had read and heard that Rory Gallagher was very popular in Europe, but I was sure that he was not well known in the U.S.
"We have had three American tours in two years, with the exception of a Taste trip in 1969, which really wouldn't be included. It was so long ago. Every trip has brought us a bit further in a sense. It will take another two or three trips, and that should do it. The records and audiences are beginning to move, and it's a question of being here and working at it. I can't expect to be any bigger than I am; I'm patient and in no hurry."
Several rock writers had reviewed an album called Jerry Lee Lewis "Session" which features Peter Frampton, Alvin Lee, Rory Gallagher, and others as "session men." Rory plays lead on three tracks, and shares it with Alvin Lee on "Drinking Wine Spo-Dee-O-Dee." I wondered how recording with Jerry Lee was.
"It was good, but he's absolutely a non-rehearsal man. I played on four songs, and I'm sure we did them once and then taped 'em. I'm sure one song I didn't even rehearse. He just shouted the key at everyone and then off we went and that's it.
"He's exciting, and for a man going on forty, except for his country phase, he still rocks and rolls in a completely animal way – as opposed to the glitter and glamour – type rock. He doesn't do it tongue-in-cheek at all; he's still completely delinquent, which I respect. He's all that the great rock and rollers should be. Fats Domino plays, and you can't get in without a suit and tie. Elvis plays in places you can't get into; Little Richard just does all those television shows. Buddy Holly and Gene Vincent are dead. Jerry Lee Lewis is a true rock and roller. Alvin Lee wasn't there when I was; I haven't even met him."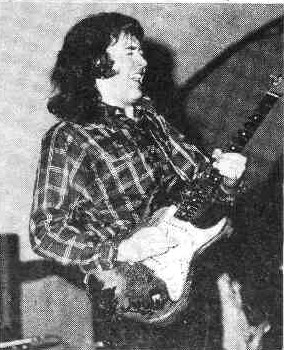 It would be impossible to guess if Rory Gallagher will be known fifteen or twenty years from now, like Buddy Holly and others like him.
"I'd like to be known for a long time, providing I deserve it and I can achieve that situation. You don't say to yourself; 'I'm playing cause I want to be known.' But known for the right things, not just because 'he's the guy who wears that top hat with all the spangles on it and also plays the guitar.' It takes you a bit longer to be known as a famous musician. That's what I want to be known as, without being pious about it."
Different record companies spend huge amounts of money advertising their "artists." (The door even gets a little bit.) The larger a company is, the more full page ads you see in Rolling Stone. (If you can afford it.) Polydor is a relatively small label, when compared to the "Big C." How did Rory wind up on Polydor?
"Our agents, at the time of Taste, were the Stigwoods, who were friendly with Polydor. Of all the companies that came to audition us, they were the most interested and seemed the most appropriate at the time. They're growing slowly in the U.S. It's better than being with a huge company that's too big to worry about a new artist."
The last number was being performed and the audience was on its feet. There's Mr. Jelly wondering what is happening. "Long time no see." Could this crowd of twelve to fourteen hundred college folks be representative of the rest of the United (sic) States?
"They've been pretty good everywhere, I'm glad to say. It's a nice challenge. For instance, in Europe most of the people know the songs, and there's a fairly strong following. Here, it's a complete challenge for me to go somewhere in the Midwest where I'm unknown. It's like a fresh breath, playing for people who never heard of you. If you go down well, then it makes you feel like you can do all right."
Rory Gallagher is certainly able to "do all right" in concert, as he and the audience proved that night. He is one of the most creative rock artists since Jimi, and is equally exciting live.

---
This one comes from a small San Diego newspaper called "the door"from 5/14/73
Thanks to Doug Pugh for sending it along.
reformatted by roryfan
138