STUD
Members often ask me what has happened with Richard (Charlie) McCracken and John Wilson and their band,

Stud

. The following article will give you an idea of this group as comprehensive as possible, made up of the few reports and articles which I've found in my archives.
MARKUS GYGAX
---
Shortly after the split-up of

Taste

in fall 1970, Jim Cregan (guitar, ex-

Blossom Toes

) joined John and Richie. Only a few week later, during which they had their rehearsals, on 5 Jan. '71, they gave their debut at the Marquee Club in London. This was astonishing if you consider the fact that Richie and John had never had their own material while being with

Taste

. Within a few weeks they had written songs and also rehearsed them, which was enough for a whole concert. After the opening concert at the Marquee,

Stud

had some more gigs in England on their program before crossing also the European continent for a small number of gigs. They gave four concerts in Germany from 19-22
Jan.
Richard McCracken's comment on these concerts: "The reaction of the audience wasn't bad in general. The main problem was that the people had expected a rebirth of the

Taste

and in this respect they were disappointed. It is not our intention to go on where the

Taste

stopped."
After that they went straight back to Command Studios in London where the first album was recorded within a few days. The following songs are on this album: Sail On, Turn Over The Pages, 1112235, Harpo's Head, Horizon, Song. Most numbers are a kind of Jazz-Rock. The songs which were written by Jim Cregan (Turn Over The Pages, Song), however, are only for the acoustic guitar, and they'd better left these songs out. The other songs are joint compositions, very good, driving jazz-rock, with drummer John Wilson being the dominant person. He demonstrates it on rather too many solos. The album, entitled simply

Stud

, was published nearly at the same time as the first Rory Gallagher solo album, also on Polydor. Two comments on this album by music magazines: Musik Express: "While Rory Gallagher has even improved with his music his two ex-colleagues seem to be badly off without him. Their new guitarist is good, but he's nothing more than that. However, McCracken and Wilson are both very skilled musicians from who I had expected more, actually." And POP says: "It's true that

Stud

make good music. But when they were

Taste

doing the same thing they were even better. The point is that Jim Cregan is not Rory Gallagher. That's it."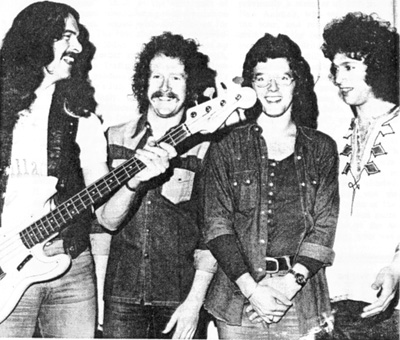 After the studio work, they went back on stage the next album followed already in fall '71. Shortly before John Weider (violin, piano, guitar) had joined the band as fourth member, who had been with Eric Burdon's Animals and the

Family

. This album was also recorded at Command Studios and published at the end of '71, entitled "September". In the meantime, Stud had changed the record company so that this album had the label "BASF". "September" was quite different from the debut album, a fact which might be put down to John Weider, who wrote most of the songs. They had left the jazz-rock style, the new album was remarkably versatile, it was jazz, blues, funk and bluegrass-influenced. Songs like "Good things" ,"Bad handlin'" or particularly "Red Wine" were excellent, whereas others such as "Corner" or "Ocean Boogie" were not so good. Other songs on the album: "God knows", "Life without music"; "Samurai", "Five to Midday", "Prelude".

Having published the album, they did further tours across Europe. However, they toured mainly in England. The fact that

Stud

were particularly popular in Germany can be gathered from the poll of the German magazine Sounds. When the newcomer group of the year was chosen they held fourth place, which was a surprisingly good result. They were listed after Wishbone Ash, Mountain and Pink Fairies and before Hawking, Gentle Giant or Curved Air. They had, for example, twice as many votes as Rory! Their longest German tour started in Hamburg on 12. April 1972. Among other places they played Dortmund, Osnabruck, Emden, Aachen, Recklinghausen 25 and Tubingenn. The tour was finished on 1 May when they gave their final concert in Freiburg. On this tour,

Stud

was supported by Anno Domini, who also turned the fans on a year before on the German tour. It was also they who started the concerts on the last German tour of the

Taste

.

Back in London, they had another meeting at Command Studios, also in May. At this time the split-up of

Stud

was almost decided. Therefore they gave a live concert with audience at the studios, which was meant sort of a farewell present and should be recorded too. There was only one new song on the album, "Big Bill's Banjo Band" a solo performance by John Weider. In addition to these two more acoustics, neither of them longer than three minutes. The other songs (Horizon No.2, Harpo's Head No.2) were first-class jazz-rock. I must admit that, apart from

Colloseum

, I've never heard something more electrifying or better of this kind. On their first album, John Wilson was the dominant musician, on the second one it was John Weider, on the third one John Wilson again. On this live album, Wilson demonstrates for the first time, all his skill to the greatest extent. You can hardly believe that this super musician has disappeared.

July meant the split-up for

Stud

. The main reason was that John Weider got married in the States. John Wilson too, had talked about a split-up here and there. Therefore they gave farewell concerts in Germany and England in June and July. Besides their live album, again on BASF, "Stud Goodbye, Live at Command" was published. And believe it or not, these tours were their most successful ones. Maybe the people had eventually understood that this was not "Taste Part 2." Moreover, they made much more profit on the live album than on the first and second one. But, unfortunately, it was decided that

Stud

would split-up definitely in July. Another interesting matter: each album

Stud

has also been published in Israel!

What have the musicians been doing afterwards? You can find some information on that in the Deuce biographies, at least on Richard McCracken and John Wilson. Before playing with Stud, Jim Cregan was with

Blossom Toes

and

Julie Driscoll.

Afterwards, he played with various bands:

Family

,

Stevie Harley & Cockney Rebel

,

Streetwalkers

,

Linda Lewis

,

Bruce Roberts

, H

inkley's Heroes

, Murray Head, Mike Batt. He's been leading an eventful life. Stud was preceded by

the Animals

,

Brinsley Schwarz

,

Home

and

the Family

, and followed by

Roger Morris

,

Domenic Troiano

,

Moonrider

,

Johnny Kidd & The Pirates

,

Nicky James

and

Flash Fearless

. In addition, he recorded his first solo album in 1976 with Richard McCracken on bass.

And now, what does Rory say about the music of his ex-colleagues? "Richard and John are both most perfect musicians. I like

Stud

. But that's nothing to do with my music anymore. "



STUD

DISCOGRAPHY


Stud (Polydor) STUD, September (BASF) STUD, Goodbye, Live at Command (BASF)
Unfortunately all albums are sold out.
*****************************************************************************************************************************
From

Deuce Quarterly

January 1987 Issue #41


Thanks to John Wainwright for passing it along




reformatted by roryfan


249