RORY GALLAGHER
Irish brogue and Celtic roots.
Rory Gallagher – the former Taste Kingpin has taken the Blues to new realms over a string of critically acclaimed albums.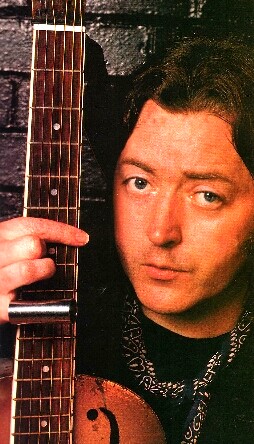 ALL-ROUND Irish gentleman and veteran Blues campaigner, Rory Gallagher, suddenly feels comfortable with the current musical climate. Through the '60s, fronting Irish trio, Taste, and the ups and downs of the two decades that followed, Rory has weathered the roughest storms and emerged only to see current trends turn full circle in his favour.

"Who would have thought ten years ago after the Punk thing that we'd get round to a full-blown Blues revivaI? It's fantastic and it's even getting played on the radio, which is brilliant. When I hear that I feel like making records. I would even make a single if I thought it would change the Pop picture."

While Rory is unlikely to rearrange the sorry state of Pop as we know it, 1990's 'Fresh Evidence' contains enough Blues-soaked gems to set even the most heathen of toes a 'tappin', drawing on a genuine love of the genre rather than any misguided attempt to jump on the tailboard of the Blues boom bandwagon.

"I wish people would understand that there is more to it than the current successes and the obvious influences. I respect people like Albert King, Freddy King and BB King, but that's just the top curve of the Blues. People don't realize that it gets a lot deeper, with acoustic Blues or early electric Blues."

Spontaneity itself is a key word with Rory and it's borne out during the recording of 'Fresh Evidence'.

"When it came down to recording the album I just wanted to get straight into it. I knew I was going to have to tour, but I went in to record without anticipating the tour of the album, the T-shirt and the 185 days on the road. I wanted to do something very raw and do it all in three months maximum. Instead it took about nine months, which is ironic because it's very under-produced. But to keep things primitive, it took us longer than if we used all these studio gadgets that we were surrounded by!" laughs Rory, "When it came down to recording we tended to do everything first take and then repair it. I'm not one of those people who can mess around for six hours to get a particular sound. I get very suspicious of people messing around with things in the studio. I still believe in simplicity in the studio. I also believe that somewhere in a primitive studio someone's going to come up with a raw Blues album that'll be outrageous and that'll change the way things are. The Stones could do that very easily. They could make a great Chuck Berry / Bo Diddley / Jimmy Reed style album, but instead they're using drum machines which is a great insult to Charlie Watts. Them and Clapton could make genuinely great Blues albums and turn things around."

Till then Rory will keep authentically etching into his fret board. The fire that drives him is known as sheer love.

Phil Alexander
---
This article came from the 1990 RAW Yearbook
Thanks to Brenda O'Brien for sharing and typing it
reformatted by roryfan


260