This q & a piece was done in a 1991 issue of the fanzine " Fresh Evidence" published by Noel Lackey.
---
QUESTIONS AND ANSWERS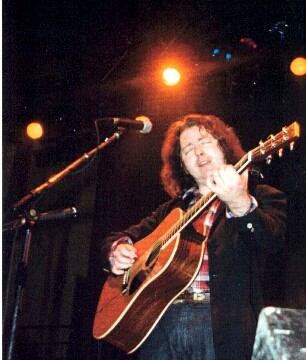 Here are the answers to all the questions I have received from members in England, Ireland, Scotland and Wales. Please send on any questions you may have for Rory. I would like to make this section a regular feature of "FRESH EVIDENCE". The first question is answered by Donal and the rest is answered by Rory.
(1 ) Can we have an up-date on the situation regarding the release of "IRISH TOUR '74.
Answer by Donal: We are still trying to locate missing master, which we believe to be somewhere in Germany
(2) What is the possibility of releasing the long- awaited purely acoustic album
Answer. I' d love to do an acoustic album. I'd like to mix blues songs with more folk material. Getting all the right material is the question. I'll record some tracks I've written for acoustic this year and see what happens.
(3) Have you any plans to release another live album.
Answer: Yes, possibly in' 91, if not after the next studio album. We recorded some live dates at Christmas (Town and Country) which I'm checking. We hope to record some live gigs in America.
(4) How do you spend your time when you are not recording/touring?
Answer : Reading crime fiction and biographies. Also cinema, playing records and playing guitar.
(5) Who is Dashiell Hammett (the Continental Op was dedicated to him)
Answer : Dashiell Hammett was one of the greatest crime- detective writers. He set the style which was followed on by Raymond Chandler et.al. His main character was a detective called the "OP". His best books include: "The Glass Key" and "Red Harvest "
(6) Who is Clifton Chenier?
Answer: Clifton Chenier was the great zydeco accordion player and singer. He died a few years ago.
(7) What is Zydeco?
Answer: It's a style of music from Louisiana, a cross between the blues and creole folk music.
It's played a lot as dance music. The accordion is usually the lead instrument and the songs are mostly sung in French.
(8) Do you still keep in contact with any ex-members of the band?
Answers : Sometimes, Lou Martin played on a track on the last two albums.
(9) Why have you never played any of your song's from the Taste era. After all they are your songs, just as Paul McCartney has managed to lay the ghost of the Beatles to rest.
Answer: Perhaps I should play one or two. I did write them. When Taste split up I was keen to move on with new material.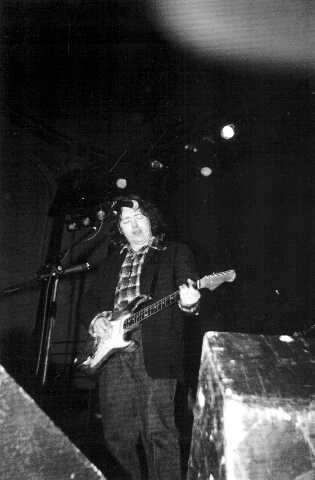 (10) Can you list your top ten favourite songs and state briefly why you have chosen them.
Answer: This is just a random selection.
(1) Blonde on Blonde- Bob Dylan -Maybe his best album with greats like "I want you"
(2) Eight Miles High -Byrds -Great 12 string and production. (45 single)
(3) Source point John Hammond- Very underrated guitar/vocalist.
(4) Exile on main street -Stones- "Ventilator blues" has great feel and riffs .
(5) Rockin' The Blues -Howlin Wolf -A master of the blues with great guitar from Hubert Sumlin.
(6) Chess Masters Sonny Boy Williamson -Tough player and singer, no compromise
(1) Rights of Passage- Martin Carthy ~ Beautiful control on vocals and guitar.
(8) EP -Muddy Waters -Great sound and slide from the king.
(9) EP -Big Three at the cavern -Brian Griffiths, great guitar.
(10) Best of Bo Diddley. Great sound and mood. '
(11) Are there any plans to re-release "Photo-finish" as some fans can't get it in the shops.
Answer: Yes. I'm remixing some of the tracks soon for CD. It should be out in '91. I'm also going to remix some of "Deuce" tracks for re-release . Photo-Finish was a strong album with song's like "Shadow Play" and "Shin kicker". We recorded it in Coln in about four weeks after sessions in San Francisco didn't work out. "Mississippi Sheiks", "Cloak and Dagger" and "The Last of the Independents" would sound better with a remix.
(12) How do you feel about :
(a) Although Fresh Evidence got excellent reviews you were unable to capitalise on this due to ill health.
(b) Despite great reviews it still failed to make any impression on the charts.
Answer: Unfortunately we didn't do a tour to promote the album at the time but we'll catch up in '91. It's selling solidly though.
(13) How do you think your style has changed since Taste when you seemed to play an unorthodox almost jazzy style to a lot of your solos?
Answer: My style has developed over the years. Some jazz phrasing does creep into my playing sometimes even though the recent songs aren't jazz style. My style is still a mixture of many blues styles and rock and folk influences.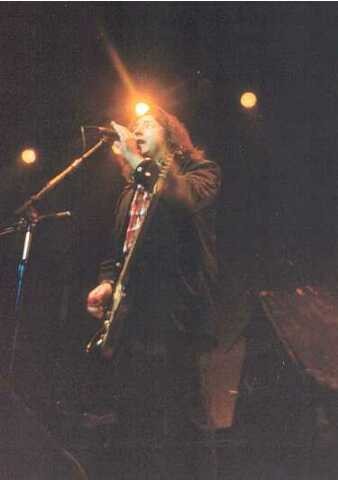 (14) Do you enjoy playing blues "swing" numbers, like "My Baby She Left Me" and are there any more of this type in the pipeline?
Answer: I love the feel of this song. I like the intro and the guitar- harmonica answers at the end.
(15) Do you play any jigs and reels on your acoustic?
Answer: Sometimes to loosen up. I'd love to be better at playing jigs and reels. Ragtime guitar is also good for warming up.
(16) How do you feel your song-writing has changed. Up to "JINX" a lot of the songs involved the usual male/female relationship topics. But "CALLING CARD" etc., seemed to be very introspective and personal.
Answer: I've written on other subjects besides human relationships over the years, such as:
"RACE THE BREEZE" -Endless magical train trip.
"SOUPED UP FORD" -Manic speed in mythical car.
"SEVENTH SON OF A SEVENTH SON" -Faith healer story
"MISSISSIPPI SHEIKS -Song about early acoustic blues group
"BIG GUNS" -Crime story. A man caught between the mob and the law
"SIGNALS" Outer limits idea ,
"LAST OF THE INDEPENDENTS" Gangster manhunt
SINNER BOY" Helpless vagrant
etc etc
Around the 'DEFENDER' songs I felt a new feeling in my songs and imagery
"KICKBACK CITY" - Big city menace and depression
"CONTINENTAL OP"- Wry song about tough P.I.
"DOIN' TIME" - Revenge/prison tension theme
"SMEAR CAMPAIGN" Dirty tricks, election fever
There is general unity to this album. "FRESH EVIDENCE" also has a mood to it with emphasis on ethnic blues sound etc.
Also ,"MIDDLE NAME", "HEAVENS GATE", "KING OF ZYDECO", "THE LOOP"
(17) Have you any thoughts on playing saxophone again in the studio or live.
Answer : Unfortunately I haven't played it since we recorded "AIN'T NO SAINT" when I overdubbed two sax parts. I really should practice.

---
Thanks to John Wainwright for sharing this article
All photos by John at Hanley Victoria ( Stoke on Trent) 7/12/88
reformatted by roryfan
153